A confidential letter addressed to the Railway divisional security commissioners in Madurai, Thiruvananthapuram and Palakkad has pointed to a mass movement of Rohingya people, an ethnic tribe from Rakhine state in Myanmar, from northeast states of the country to Kerala through several long-distance trains.
"All Rohingyas are travelling in groups along with their families. Officers and staff under your control may be sensitized about their movement. If they are found in trains, they may be handed over to the police having jurisdiction for further action. Action taken report may be sent to this office at the earliest for the perusal of the PCSC," the letter, signed by P Sethu Madhavan from the office of the Principal Chief Security Commissioner of the RPF said. Read in Malayalam here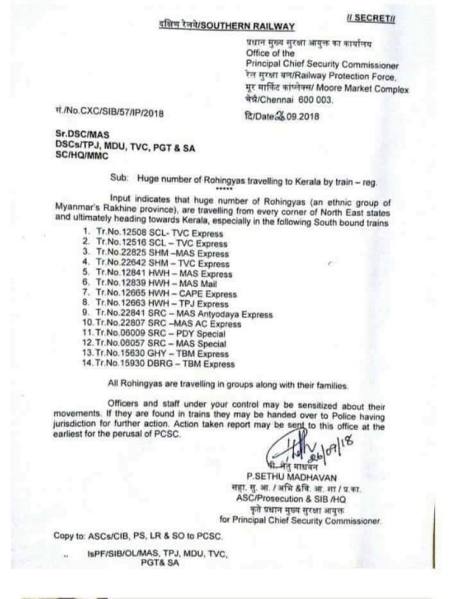 The letter also lists 14 trains traversing the northeast-Kerala route such as Howrah- Chennai Coromandel Express, Howrah-Chennai mail, Shalimar-Thiruvananthapuram Express, Silchar-Thiruvananthapuram Express and Dibrugarh-Chennai Egmore as potential trains to carry suspected Rohingyas to Kerala. Many of these trains run on what's popularly known as the migrant corridor which sees on a daily basis mass movement of labourers from states like Assam, West Bengal, Odisha and Bihar to the southern state in search of work.
The veracity of the letter has been confirmed and both RPF personnel, as well as local police, are said to be on guard to track the movement of the Rohingyas. Arrests of any kind have not been recorded so far.
While there has been a presence of these people from Myanmar in Kerala in small numbers for some time, the Railway's communique suggests that a mass movement is likely.
The RPF letter stems from similar intelligence inputs from the Home Ministry of the country. There are fears that the identity of the Rohingyas would be hard to trace if they mix seamlessly into the migrant population in Kerala.
A 2013 study had said that the state easily hosts 25 lakh guest workers from other states.
The Rohingyas are often referred to as world's most persecuted minority, having settled for generations in Myanmar's restive Rakhine state. Since August 2017, a heavy Myanmarese Army crackdown on civilian families of Rohingyas, in the name of rooting out terrorist elements, has resulted in large-scale migration of the tribe to nearby Bangladesh and also to India.
The present Bjp-led government has taken a stern position on the issue making it clear that they cannot be given refugee status in the country on account of national security dangers.
The Indian Express website has been rated GREEN for its credibility and trustworthiness by Newsguard, a global service that rates news sources for their journalistic standards.