Kerala election results 2019 highlights: The picture is clear in Kerala. The Congress-led UDF coalition has registered a remarkable victory with wins in 19 out of the 20 parliamentary constituencies. Party president Rahul Gandhi had a lead of over 4 lakh votes in Wayanad in the final rounds of counting, though he was defeated in his family's pocketborough seat of Amethi. The UDF has also retained all it's sitting MP seats like Kozhikode, Thiruvananthapuram, Ernakulam, Kottayam and Mavelikkara.
For the CPM-led LDF, the results are harrowing. The coalition won the lone seat of Alappuzha, where AM Arif triumphed over Shanimol Usman. It has suffered massive defeats in traditional bastions like Palakkad, Alathur, Kannur and Attingal. In the 2014 polls, the LDF had secured wins in eight constituencies.
Track election updates in Malayalam
Once again, Kerala's political waters have proved to be unsuitable for the BJP brand of politics. Even as the saffron party registered thumping victories in the country's north, west and east regions, it has still not been able to secure it's first Lok Sabha win in Kerala. Despite the agitation over Sabarimala and the popularity of prime minister Narendra Modi, the BJP has hit a dead-end here. It's candidate is set for second position in Thiruvananthapuram and third position in all other seats.
In the 2014 Lok Sabha elections, the UDF and the LDF had shared the spoils in the state, winning 12 and eight seats respectively and extending the BJP's electoral drought in Kerala.
Express data: Election dashboard
Live Blog
Kerala Lok Sabha election result 2019 highlights: The LDF has been restricted to just one seat in Kerala as UDF sweeps the southern state.
So that's a wrap! Final numbers below
The picture in Kerala is clear: UDF has won 19 seats leaving 1 seat for the LDF. The BJP once again has failed to win a single seat.
It's a wrap from our side. Thanks for staying with us through results day. On indianexpress.com, there are detailed explainers on the Kerala results that you don't want to miss.
Shashi Tharoor's lead crosses 1 lakh votes
His lead a fragile 15,000 votes last time, Congress leader Shashi Tharoor has extended it this time to a fantastic 1 lakh votes in Thiruvananthapuram. BJP nominee Kummanam Rajasekharan comes second.
So, who are the next elected MPs from Kerala?
Kasaragod - Rahmohan Unnithan (UDF)
Kannur - K Sudhakaran (UDF)
Wayanad - Rahul Gandhi (UDF)
Malappuram - PK Kunhalikutty (UDF)
Ponnani - ET Muhammad Basheer (UDF)
Kozhikode - MK Raghavan (UDF)
Vadakara - K Muraleedharan (UDF)
Palakkad - VK Sreekandan (UDF)
Alathur - Remya Haridas (UDF)
Thrissur - TN Prathapa (UDF)
Chalakkudy - Benny Behanan (UDF)
Ernakulam - Hibi Eden (UDF)
Alappuzha - AM Arif (LDF)
Kottayam - Thomas Chazhikadan (UDF)
Idukki - Dean Kuriakose (UDF)
Pathanamthitta - Anto Antony (UDF)
Mavelikkara - Kodikunnil Suresh (UDF)
Kollam - NK Premachandran (UDF)
Attingal - Adoor Prakash (UDF)
Thiruvananthapuram - Shashi Tharoor (UDF)
Alappuzha, the saving grace for the Left in Kerala
AM Arif, the popular CPM MLA from Aroor, has battled extreme odds and a UDF wave to win the prestigious Alappuzha constituency, a seat which has been with the Congress for the last ten years. Even as the party lost traditional bastions, where it would have predicted better results, Alappuzha has been a saving grace. He has defeated Shanimol Usman, a senior woman leader of the Congress.
4,00,000 - That's the lead of Rahul Gandhi in Wayanad
When 93.22% of votes were counted in Wayanad, Rahul Gandhi's lead has crossed 4 lakh votes. His CPI rival, PP Suneer, has 2,55,031 votes with Gandhi securing 6,58,043 votes.
By the way, he's set for a humiliating defeat in Amethi against Smriti Irani of the BJP.
Congress candidates triumph in Thrissur and Idukki seats
In the end, CPM holds on to just one seat
What a fall this has been for the CPM. From winning 7 seats in Kerala in 2014, CPM is now down to just one seat - Alappuzha where it's candidate AM Arif is holding onto a fragile lead of 8500+ votes.
The Left parties have suffered a troubling rout in many of it's traditional bastions like Palakkad, Kannur, Attingal, Kasaragod and Alathur. It's popular sitting MPs like MB Rajesh, A Sampath and PK Sreemathy have lost from their respective constituencies.
Pinarayi Vijayan must resign today: Ramesh Chennithala
Ramesh Chennithala, the Leader of Opposition, demanded Pinarayi Vijayan's resignation after the LDF rout across the state. He asked the chief minister to meet the governor and hand over his resignation.
Results are shocking: Veteran CPM leader VS Achuthanandan
Former chief minister and veteran CPM leader VS Achuthanandan remarked that the election results are 'shocking'. "It's similar to making a thief stand guard," he wrote on Facebook. He added that it is heartening that the people of Kerala have shut the doors on the BJP.
I scored a century, but team lost: Shashi Tharoor
As my lead nears 50,000 with 72% counted, i feel like a batsman who has scored a century while his team has lost! It's a bittersweet emotion I will take some time to reflect on. #TharoorForTvm

— Shashi Tharoor (@ShashiTharoor) May 23, 2019
Rahul has the biggest lead in Wayanad!
That's right. Across Kerala, Rahul Gandhi, who was expected to win from Wayanad, has a lead of 3.30 lakh votes with 77% of the polling booths counted. He has so far won 544,514 votes. This is the biggest lead of any UDF candidate across the state.
In Malappuram, PK Kunhalikutty comes second with a lead of 2.44 lakh votes followed by Dean Kuriakose with 171,050 votes in Idukki.
Was CPM hit by Sabarimala backlash?
That seems to be the big question doing the rounds as results in Kerala indicate the Congress-led UDF is expected to make a sweep of the state winning 19 out of 20 seats. The Congress, which took a position in favour of sentiments of believers who opposed the entry of women at Sabarimala, seems to have done really well, especially in seats like Trivandrum, Pathanamthitta and Thrissur. The BJP, which ran a strident campaign on the Sabarimala agenda, has failed to capitalise as well. It's candidates are trailing in all 20 seats.
For CM Pinarai Vijayan, this result would be extremely embarrassing. Back from his European tour last week, the chief minister had expressed hope that the Left coalition would do very well in the polls. But even in it's own traditional bastions like Alathur, Kannur and Attingal, it has lost the plot.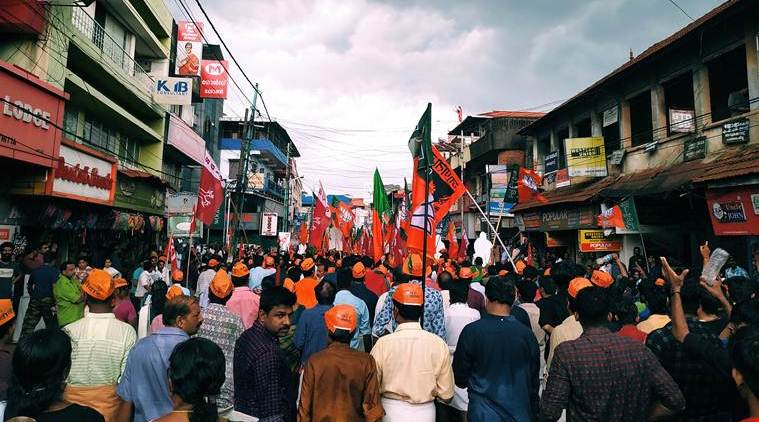 Did you think Thiruvananthapuram will be a cliff-hanger?
It doesn't look like it at all, going by present trends. OVer 50% of the polling booths in Thiruvananthapuram have been counted so far and Shashi Tharoor of the Congress has a massive lead of 21,000 votes over Kummanam Rajasekharan of the BJP. The BJP candidate has narrow leads in three out of the seven Assembly segments. Last time in 2014, it had good leads in four out of seven segments.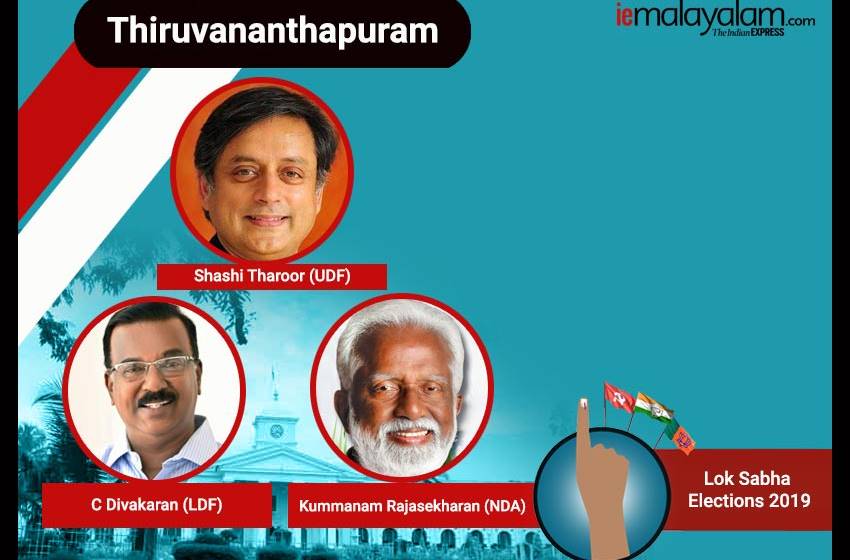 UDF: 19, LDF: 1, NDA:0
These are the present positions of the three main coalitions in Kerala, according to EC trends at 1:10 pm.
If these trends continue, this result will be the exact opposite of the 2004 Lok Sabha results when the LDF swept the state winning 19 seats leaving the UDF in just one seat.
Looking at some of the constituency-wise trends again.
Wayanad - Rahul Gandhi (UDF) leading by 1.41 lakh votes.
Kannur - K Sudhakaran (UDF) leading by 30,000 votes
Vadakara - K Muraleedharan (UDF) leading by 26,000 votes
Thiruvananthapuram - Shashi Tharoor (UDF) leading by 11,000 votes
Ernakulam - Hibi Eden (UDF) leading by 47,000 votes
Pathanamthitta - Anto Antony (UDF) leading by 30,000 votes
In Alathur, Remya Haridas of the Congress is dancing away to victory
Alathur, the CPM stronghold in Malabar, was always a safe seat for the party. But trends at 11:35 am show the young Congress candidate, Remya Haridas, is dancing away with a solid lead of 60,000 votes at 11:35 am according to EC. Remember, this is a constituency where the CPM holds six out of seven Assembly segments. A defeat here will be tragic for the Left.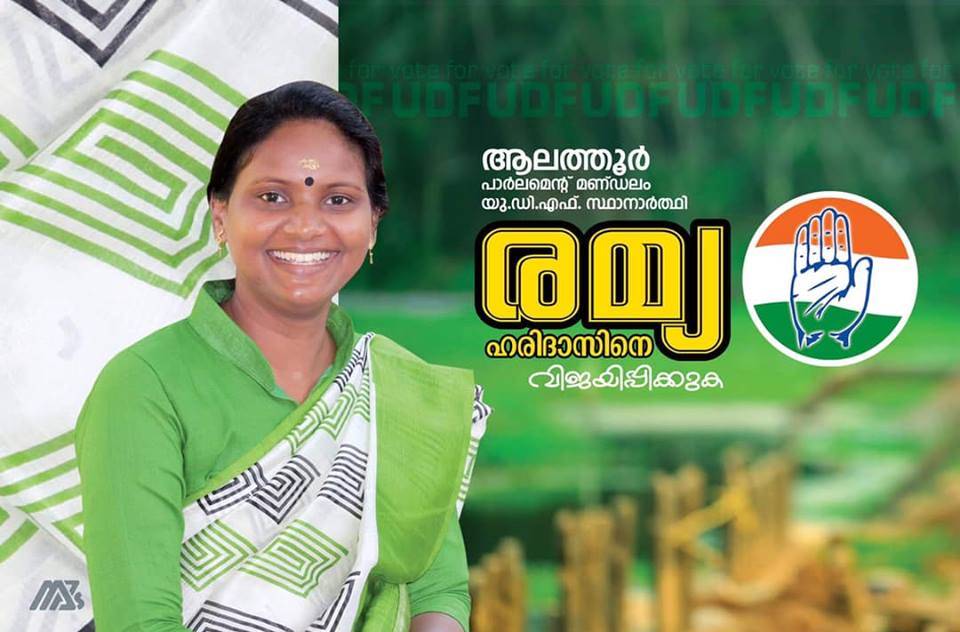 Will it be 20-20 for UDF?
Congress state president Mullappally Ramachandran has throughout said that it will be a '20-20' performance of the party in Kerala. It sure seems to be like that. At 11:30 am, the Congress-led UDF is leading in 20 out of 20 seats in the state.
Close contests are taking place in Alappuzha and Kasaragod where the leads are tumbling between the CPM and the Congress.
Rahul Gandhi surges ahead in Wayanad, lead crosses 1,00,000
Congress President Rahul Gandhi leads the UDF charge in hilly district of Wayanad. He is leading by over 1,02,375 votes over his nearest rival PP Suneer of the CPI. NDA's Thushar Vellapally trails at the third place.
In CPM stronghold Palakkad, Congress is walking away with huge lead
MB Rajesh, the sitting CPM MP from Palakkad, was set to be re-elected again, according to most exit polls. But now, it seems like he's losing out to the Congress candidate VK Sreekandan by a huge margin. At 10:35 am, Rajesh was trailing by 27,000 votes.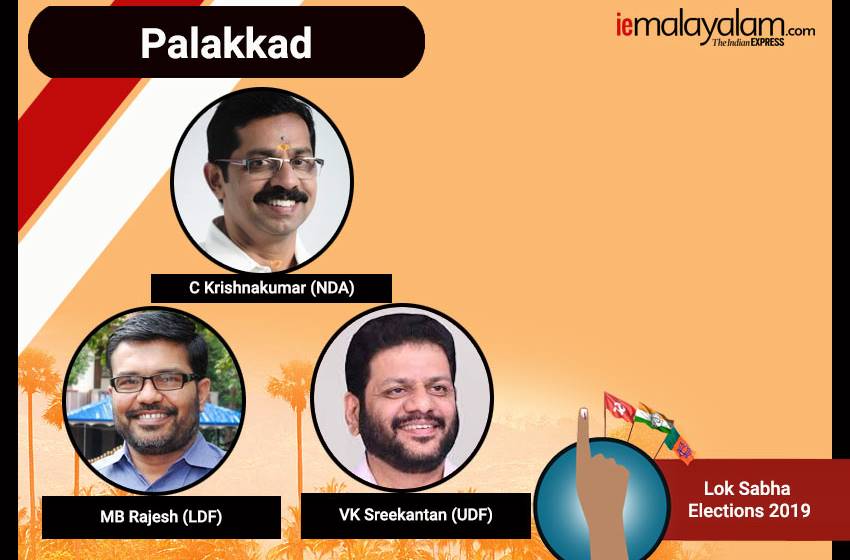 Alappuzha, the only hope for LDF in Kerala
The coastal tourist destination of Alappuzha, home to verdant backwaters and houseboats, is the only saving grace for the CPM in Kerala. There, AM Arif of the CPM is leading by a slender margin of 1639 votes over Congress candidate Shanimol Usman.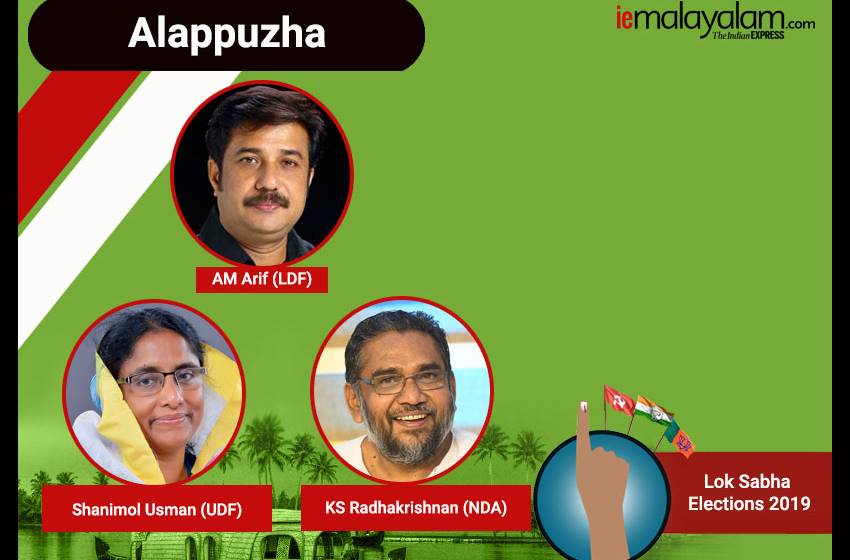 Focus seat: Kozhikode
The sitting Congress MP from Kozhikode MK Raghavan, faces a tough fight against LDF's popular MLA A Pradeep Kumar. Just before the vote, Raghavan faced a television news sting alleging that he was ready to take a bribe in exchange for sale of a real-estate plot. The sting is seen to have hurt him badly. The BJP has a marginal presence in Kozhikode and is not a tough contender.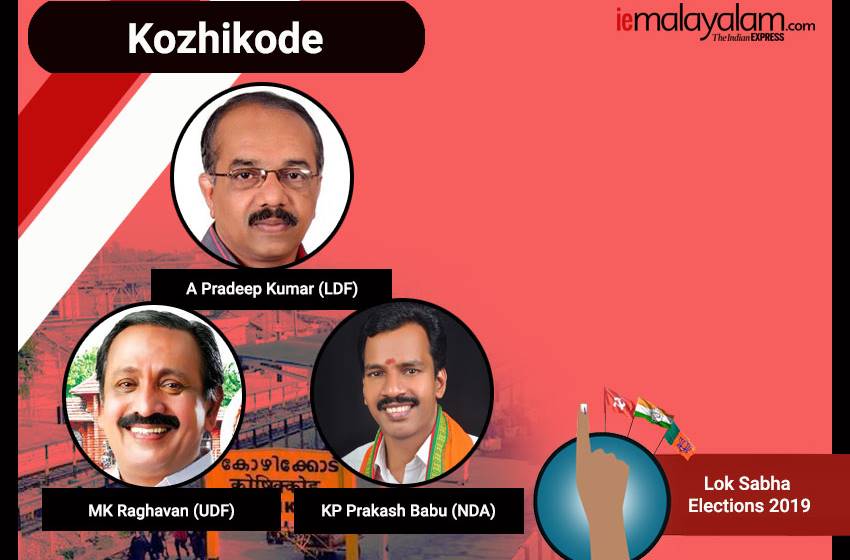 Focus seat: Ponnani
Another stronghold of the IUML, Ponnani in Kerala's Malabar region has been hard to crack for the CPM and the Left parties. In the 2016 Assembly elections, the LDF did very well, making strong inroads into the Muslim vote-bank. As per initial trends, ET Muhammad Basheer of the IUML is leading by 16,000 votes.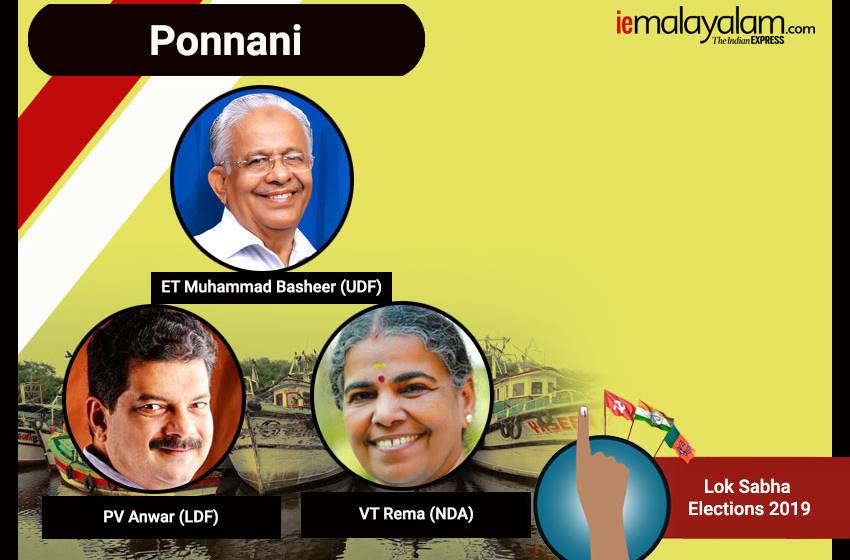 Focus seat: Malappuram
Many have tried to outdo the Indian Union Muslim League (IUML), precious ally of the Congress, in Malappuram and failed spectacularly. The district, home to a majority Muslim population, has always backed the IUML in Lok Sabha elections. This time too, PK Kunhalikutty of the IUML is leading by over 34,000 votes.
Let's look at some constituency-specific leads - Tharoor leading in TVM, BJP trailing in Pathanamthitta
In Thiruvananthapuram, Shashi Tharoor of the Congress is leading by 2452 votes.
In Pathanamthitta, epicentre of the Sabarimala protests, BJP's K Surendran is trailing in second position.
In Wayanad, Rahul Gandhi is way ahead of others by 36,000 votes. The biggest lead across 20 seats in Kerala.
In Thrissur, Congress' TN Prathapan is leading over his CPI rival by 6,000 votes.
In Ernakulam, Hibi Eden of the Congress is leading by 17,000 votes.
In Kannur, sitting CPM MP PK Sreemathy is trailing by 4000 votes.
Congress-led UDF leading in all 20 seats
If these initial trends continue, then the Congress-led UDF should be romping home in all 20 seats of the state. The LDF and NDA is trailing everywhere. This is pretty huge for the Congress. They were expecting 16-17 seats, but if they manage to sweep the state, it's historic for the grand old party. Most seats are between 5%-10% of counting of votes.
Rahul Gandhi is way ahead of others in Wayanad
That's right. The Congress president has been proven right in fighting from Wayanad, a constituency that has been favourable for Congress' prospects. Rahul is leading by 15,000 votes over CPI's PP Suneer. NDA's Thushar Vellappally is in third place.
Let's look at Wayanad constituency
For the first time, a scion of the Gandhi family is contesting from Kerala. Rahul Gandhi is fighting from the party bastion of Wayanad and is likely to win easily.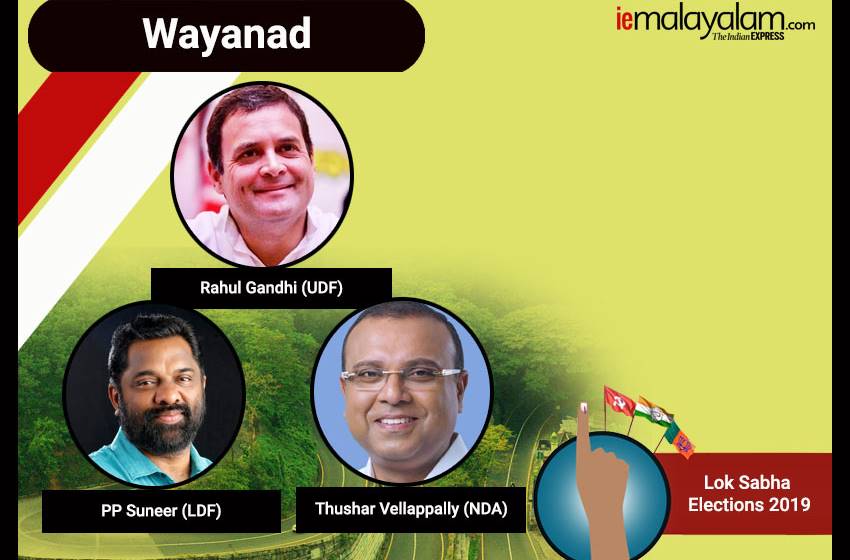 Initial trends are here. UDF surging forward across Kerala
According to the Election Commission, the Congress-led UDF is leading in 10 out of the 12 seats for which results are available. The LDF is leading in just two seats. The BJP is trailing everywhere including in Thiruvananthapuram and Pathanamthitta.
Kozhikode - MK Raghavan (UDF) leading
Malappuram - PK Kunhalikutty (UDF) leading
Wayanad - Rahul Gandhi (UDF) leading
Pathanamthitta - Anto Antony (UDF) leading
Next up, Kannur
The seat, located in Kerala's Malabar, is a stronghold of the Left parties, particularly the CPM. However, the seat has been won in the past by the Congress as well, particularly by K Sudhakaran in 2009. Who will win Kannur this time?
Let's know our candidates across Kerala's 20 seats. First, Kasaragod.
Kasaragod, a constituency that lies at the northern end of Kerala and bordering Karnataka, has had a Left MP for the past two terms. This time, the LDF has fielded KP Satheesh Chandran to retain the constituency. The UDF in a bid to wrest the seat has nominated Rajmohan Unnithan, who incidentally hails from the state's southern region. The BJP, which has a marginal presence in the constituency, is betting big on Ravisha Thanthri Kuntar.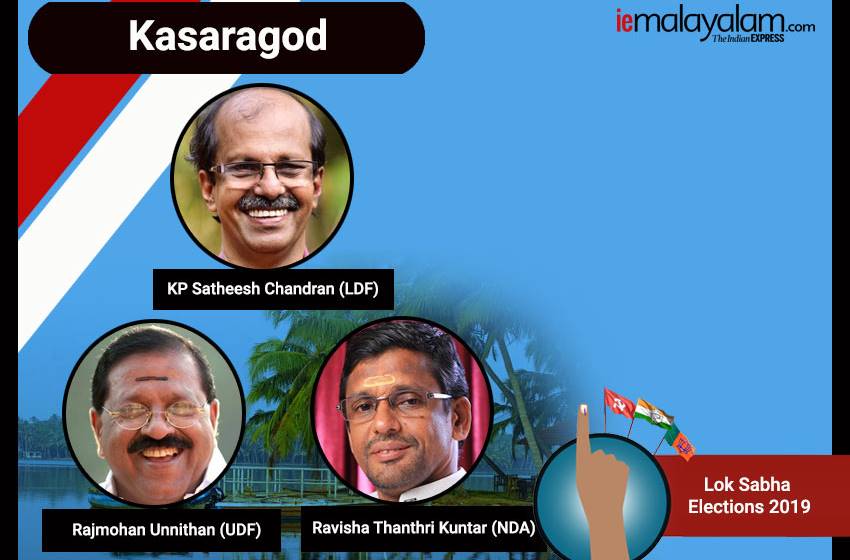 Counting of votes begins, postal ballots first
Yes, that's right. The biggest democratic exercise in Kerala and across the country has begun. Counting of votes has started across 140 counting centres in 14 districts of the state. The postal ballots, as always, will be counted first. Simultaneously, service votes (those of defence personnel) polled through the Electronically Transmitted Postal Ballot System (ETPBS) will be scanned as well.
Initially, the votes polled in all EVMs are counted and a fresh round will begin subsequently. The declared result will be entered in the EC portal. 140 additional Assistant Returning Officers (AROs) have been appointed to supervise the counting of postal ballots and service votes.