Kerala Chief Minister Pinarayi Vijayan on Thursday reviewed the condition of relief camps in Chengannur, Kozhencherry, Alappuzha, North Paravoor and Chalakudy. Over 10 lakh people, including 2.12 lakh women and 1 lakh children below 12 years of age, are taking shelter in 3,200 relief camps. The CM, after visiting several relief camps, addressed a press conference and said that people's problems must be the priority across party lines.
The CM's review exercise comes a day after reports suggested that the government is not keen on accepting UAE's Rs 700-crore financial assistance.  Vijayan, however, refused to be drawn into a controversy over it.
"As I understand, UAE on its own has proposed this aid. UAE cannot be considered as any other nation, as their rulers have underlined. Indians, especially Keralites have contributed immensely in their nation-building. Having said this, I do not intend to enter into any politics over it. Let's study and understand the nuances," he said in an interview with The Indian Express.
With rescue operations coming to an end in the flood-ravaged state, the focus has now shifted to relief and rehabilitation.
Kerala is facing its worst floods in nearly a century that has left at least 231 people dead, and forced 3.14 lakh people out of their homes. The Centre has declared this calamity of 'severe nature'.
Live Blog
Kerala floods: Pinarayi Vijayan will review the condition of relief camps in Chengannur, Kozhencherry, Alappuzha, North Paravoor and Chalakudy. Follow live updates 
Destruction in Kerala would have been limited if Gadgil report implemented: Experts
The miseries and destruction caused by the rains and floods in Kerala would have been less severe if the government had taken the initiative to implement the recommendations made in the Gadgil Committee report on the preservation of the Western Ghats, a noted environmentalist has said. Ecologist Madhav Gadgil's report had suggested checks on quarrying, discouraging cultivation of yearly crops on hill slopes and planting fruit-bearing trees there and restriction on construction in the area, according to Prof V S Vijayan, a former chairman of the State Biodiversity Board. "Climate change is a reality and heavy rainfall leading to floods witnessed in Kerala and droughts would occur in future also," Vijayan, also a member of the committee, told PTI.
Reports of defence forces halting rescue ops after dark 'baseless', says state police chief
Terming as "baseless" the reports that the Defence forces halted rescue operations after dark, Kerala Police chief Loknath Behera on Thursday said the role played by the forces was "praiseworthy" during the rescue mission in the flood-ravaged state. "It is clarified that the Kerala State Government, the Police Department, the Defence Forces, Para Military Forces, were all working hand in hand, and in total unison, which was the main reason for the success achieved in the rescue operations," senior IPS Behera said in a press statement. Read More
Pakistan new PM Imran Khan expresses concern over Kerala floods, offers humanitarian assistance
On behalf of the people of Pakistan, we send our prayers and best wishes to those who have been devastated by the floods in Kerala, India. We stand ready to provide any humanitarian assistance that may be needed.

— Imran Khan (@ImranKhanPTI) August 23, 2018
Adani Foundation commits Rs 50 crore for Kerala flood relief
Adani Foundation, the CSR arm of the Adani Group, has committed to giving Rs 50 crore for relief and rehabilitation of the Kerala flood victims, the group said Thursday. It will provide Rs 25 crore for immediate relief to the Kerala Chief Minister's Distress Relief Fund and an equal amount for rehabilitation and resettlement. Adani Group employees have also pledged a day's salary to the effort, it said in a statement here. "The financial assistance will be dispatched in phases to aid the state in its herculean task of reconstruction and rehabilitation," the statement said.
Kerala CM address press after reviewing relief camps: Watch LIVE
Will do our best to ease suffering: Vijayan
Kerala Chief Minister Pinarayi Vijayan today assured the flood-affected people in Kerala that his government will do everything possible to help them start life anew. Taking off on a helicopter from the state capital along with a cabinet colleague and senior officials, Vijayan first touched down at Chengannur and visited a relief camp, reports IANS. From there, he went to camps in Pathanamthitta district and Alappuzha. He flew later to Paravur in Ernakulam district and rounded off his visit at Chalakkudy in Thrissur district.
Should India accept financial aid from UAE for Kerala Flood Relief? : The Indian Express Poll
Should India accept financial aid from UAE for Kerala Flood Relief? Give your response



#POLL | Should India accept financial aid from UAE for #KeralaFloodRelief ?


— The Indian Express (@IndianExpress) August 23, 2018
Give Kerala Rs 2,600 cr if you want to reject UAE's offer: CPI to Centre
If the Centre wants to reject the Rs 700-crore offer of the UAE to Kerala for flood relief operations, it should give a Rs 2,600-crore interim assistance as sought by the southern state, the Communist Party of India (CPI) said on Thursday, reports PTI.
Suravaram Sudhakar Reddy, the national general secretary of the CPI — the second biggest constituent in the ruling Left Democratic Front (LDF) government in Kerala — also accused the Centre of "standing on false prestige" on the issue of foreign aid at times of natural disasters.
He said when a country faced a natural calamity, it was normal for other nations to offer aid, and recalled that India had helped Nepal and Bangladesh in such situations in the past and even made an offer to Pakistan when there was an earthquake in the neighbouring country. "In such circumstances, we can accept from the UNO and the UAE…whoever supports unconditionally without strings…we should accept it," Reddy told PTI.
Kerala Flood Relief Update: State govt requests for additional medical teams, setting up of field hospitals
Kerala Government has requested for additional medical teams and setting up of field hospitals. The Army is moving medical assets in addition to the 12 teams already deployed. A total of approximately 3,000 people have received medical aid till now.
Kerala floods: Dos and Don'ts for the people of Kerala after returning home
Kerala has battled one of the worst floods in 100 years. People have been stranded, houses have been demolished and hundreds have died. While the situation right now isn't as bad as it was in the last few days, the problems are far from over. The calamity has left behind a residue of problems.
Water will be contaminated after the flood. There are also chances of the sewage water or even rat's urine being mixed with the available water. This might lead to high risks of developing leptospirosis. Read on to know more.
EU announces Euro 1.9 lakh to Indian Red Cross Society for Kerala flood relief
The European Union on Thursday announced an assistance of Euro 190,000 (Rs 1.53 crore) in aid funding to the Indian Red Cross Society for providing immediate relief to flood-affected people in Kerala. The announcement was made by the office of the grouping, comprising 28 European countries, reports PTI.
"In response to the devastating monsoon floods that swept across large parts of the southern Indian state of Kerala, the European Union has allocated an initial contribution of Euro 190,000 in humanitarian aid funding to support the Indian Red Cross Society (IRCS) for immediate relief assistance," the EU said in a statement.
Group of acid attack survivors in Mumbai contribute relief material for Kerala flood victims
Contributing towards Kerala flood relief, a group of acid attack survivors in Mumbai has collected relief material for the victims. They are providing daily use items such as toothpaste, food items, sanitary napkins etc.
#Maharashtra: A group of acid attack survivors in Mumbai has collected relief material for #KeralaFlood victims. Members say, 'we are providing daily use items such as toothpaste, food items, sanitary napkins etc. In this hour of need, we need to stand by each other.' pic.twitter.com/u0W0Yazr2u

— ANI (@ANI) August 23, 2018
Kerala CM Pinarayi Vijayan also visited Panampilly Memorial Government College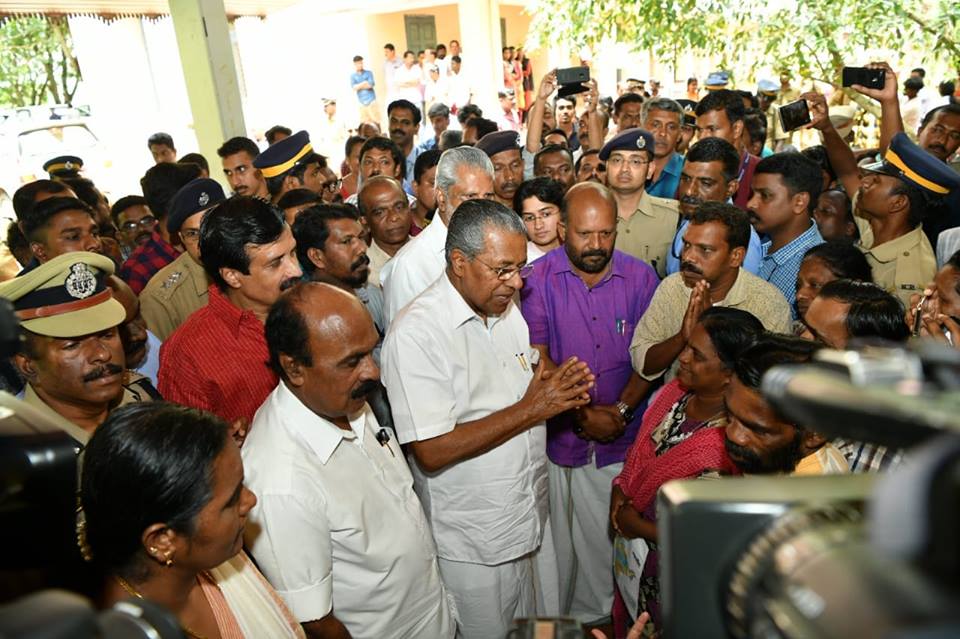 Earlier today, Kerala chief minister Pinarayi Vijayan also visited a relief camp at Panampilly Memorial Government College and interacted with flood victims lodged there.
Photos from areas near Adimaly in Idukki district which faced heavy impact from landslides.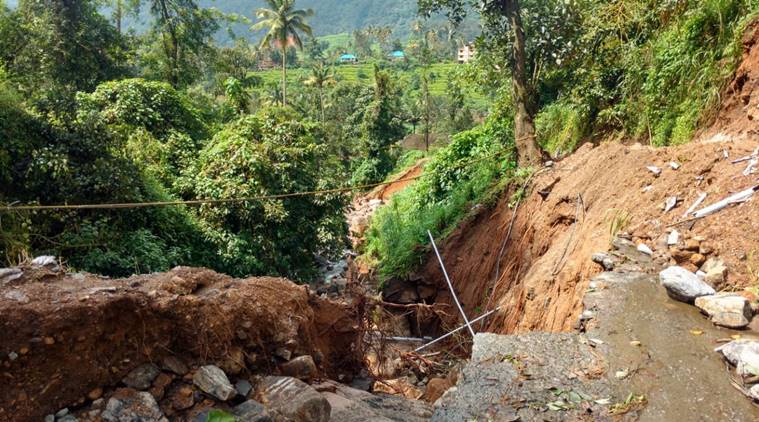 Visuals from Kathipara in Idukki district
Forest Minister K Raju apologises for his Germany trip
Kerala Forest Minister K Raju on Thursday issued an apology for taking a trip to Germany while the state faced its worst flood in nearly a century.
'I left for Germany on August 16 to attend a programme of the World Malayalee Council near Bonn. I returned in four days but by that time, the flood situation in the state was already out of control... The timing of the trip was ill-timed and wrong,' said Raju, according to IANS.
Pictures from CM Pinarayi Vijayan's visit to a relief camp in Chengannur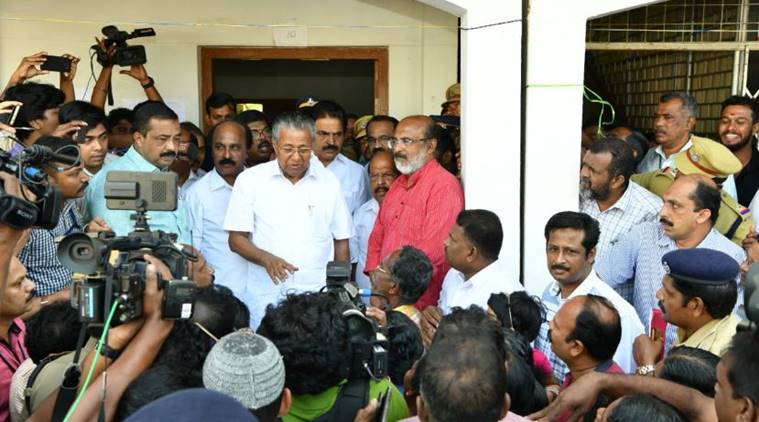 (Source : Twitter/CMOKerala)
Delhi HC Chief Justice and other judges to contribute to Kerala CM's relief fund
Reconstruction of NH 185 under progress in Idukki district
Clean-up operations across Kerala at full swing
The government has set up a control room in Thiruvananthapuram to coordinate the cleaning process across the state. According to PTI, civic bodies have been consigned with the task of managing the work.
Haritha Kerala Mission, a mission integrating waste management, organic farming and water resources management, plans to deploy 50 high-power pump sets in different areas by tomorrow to pace up the cleaning process.
Goa CM Manohar Parrikar sanctions Rs 5 crore to Kerala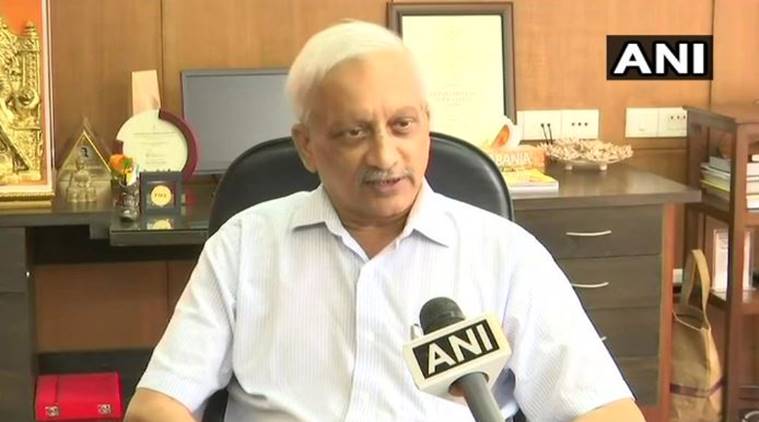 Goa CM Manohar Parrikar sanctions Rs 5 Crores as towards Kerala CM's relief fund for Kerala flood relief operations, as per ANI.
Kerala CM Pinarayi Vijayan visits relief camps in Chengannur