Amid the ongoing tussle between the Delhi Government and Lieutenant Governor's office, Kerala Chief Minister Pinarayi Vijayan on Thursday wrote a letter to Prime Minister Narendra Modi and sought his intervention to find a solution to the impasse. The sit-in by Delhi Chief Minister Arvind Kejriwal and his three cabinet colleagues entered its fourth day today, even as the AAP government was backed by several regional parties, including the Trinamool Congress.
The Kerala Chief Minister mentioned in his letter that people from his state living in Delhi are also facing problems due to the current situation in the national capital. He sought PM's intervention to resolve issues related to the sit-in by Delhi CM and expressed his concern over the image of Delhi in the world. Follow LIVE UPDATES here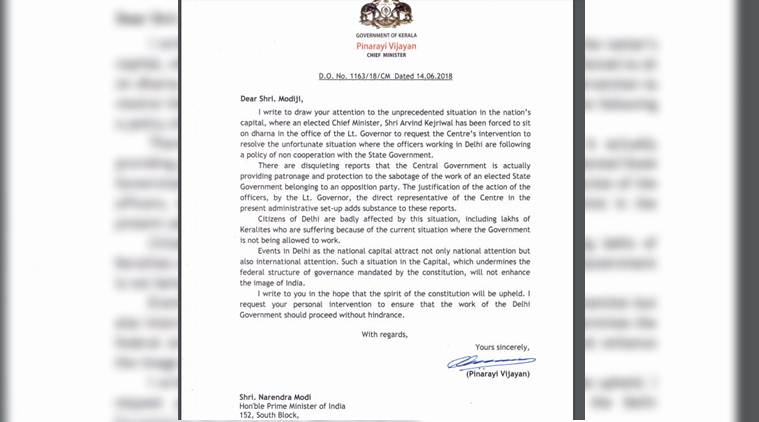 Kejriwal and his ministers are staging a protest at Delhi LG Anil Baijal's office to press for their demands. They are demanding the LG to direct the IAS officers to end their "strike" and also his approval for the proposal for doorstep delivery of ration.
Terming the situation in Delhi as 'unprecedented', Vijayan said that an elected chief minister has been forced to sit on a dharna at the office of Lt. Governor. He also indicted the bureaucrats in Delhi for following a policy of non cooperation with the state government.
He said there are disquieting reports that the Centre was actually providing patronage and protection to sabotage the work of an elected state government belonging to an opposition party.
"I write to you in the hope that the spirit of the Constitution will be upheld", he added.
Before the Kerala CM, West Bengal Chief Minister Mamata Banerjee has also expressed her support for the sit-in by Kejriwal and his colleagues. "Elected Chief Minister must get due respect. May I appeal to the government of India and the LG to resolve the problem immediately so that people do not suffer," she tweeted yesterday.
Rashtriya Lok Dal (RLD) leader Jayant Chaudhary also called the situation in Delhi a "governance failure". Former BJP leader Yashwant Sinha also joined the AAP workers during their protest on Tuesday. "Had Atal Bihari Vajpayee been the PM, he would have ordered the Home Minister to open a dialogue with the elected CM," Sinha said.