The horrific crimes in Kathua and Unnao have led to massive outrage across the country with protests being organised in Delhi, Mumbai, Kolkata, Uttar Pradesh and other places. The Central Bureau of Investigation (CBI) early this morning detained BJP MLA Kuldeep Singh Sengar in connection with the Unnao case in which a 17-year-old girl was alleged raped and her father later died in judicial custody;  in Kathua in Jammu and Kashmir, meanwhile, the brutal rape and murder of an eight-year-old has assumed a political colour. The local BJP here is rallying against the police in support of the accused.
Making an statement in the Unnao rape case, Uttar Pradesh Chief Minister Yogi Adityanath said, "Investigation has been handed over to the CBI. I believe the CBI would have arrested the MLA also. Our government will not compromise on this, no matter how influential the accused is, he will not be spared." Prime Minister Narendra Modi is yet to make any statement on either of the incidents.
Congress president Rahul Gandhi along with his sister Priyanka Vadra Gandhi led a midnight candlelight march to India Gate on Thursday seeking justice for the victims.  A number of student and women organisations, too, protested in Delhi and other places
Ensuring justice for the eight-year-old girl, J-K Chief Minister Mehbooba Mufti on Thursday said, "I want to assure the entire nation that I stand committed not just to ensure justice for the minor girl but also seek exemplary punishment for those responsible for a crime whose brutal savagery has shamed humanity." "The Jammu and Kashmir government will introduce a new law to ensure death penalty for those raping minors across the state," she asserted. Also Read | Kathua rape-murder case: BJP to Congress, all part of outfit targeting J-K police probe
Live Blog
Follow Kathua, Unnao cases LIVE updates
Swati Malliwal tweets to PM Modi
सर ये सिर्फ पिछले 2 दिन की घटना नही है। रोज़ देश में हज़ारों लड़की निर्भया बनती हैं। सिस्टम उनका रेप करता हैं। शर्म ठीक है, पर PM होने के नाते बताएं कि कब ऐसा सिस्टम बनाएंगे की पुलिस की जवाबदेही, संसाधन & फ़ास्ट ट्रैक कोर्ट बढें जिससे छोटे बच्चों के रेपिस्ट 6 महीने में फांसी हो। https://t.co/PgEKCtwTws

— Swati Maliwal (@SwatiJaiHind) April 13, 2018
"Pakistani infiltrator was involved in raising Jai Shri Ram slogans"
Only half of my statement was reported. She was a daughter of the nation. I only said I suspect that Pakistani infiltrator was involved in raising "Jai Shri Ram" slogans as no Hindu group can do this after raping and killing a minor girl, says BJP MP Nandkumar Singh Chauhan.
Medical Superintendent at Unnao District Hospital suspended
Medical Superintendent and Casualty officer at Unnao District Hospital have been suspended and a departmental inquiry has been initiated against three other doctors.
PM Modi assures justice will be done
देश के किसी भी राज्य में, किसी भी क्षेत्र में होने वाली ऐसी वारदातें, हमारी मानवीय संवेदनाओं को झकझोर देती हैं।
मैं देश को विश्वास दिलाना चाहता हूँ की कोई अपराधी बचेगा नहीं, न्याय होगा और पूरा होगा।
हमारे समाज की इस आंतरिक बुराई को खत्म करने का काम, हम सभी को मिलकर करना होगा: PM

— PMO India (@PMOIndia) April 13, 2018
PM Modi breaks silence
जिस तरह की घटनाएं हमने बीते दिनों में देखीं हैं, वो सामाजिक न्याय की अवधारणा को चुनौती देती हैं।
पिछले 2 दिनो से जो घटनाये चर्चा में है वो निश्चित रूप से किसी भी सभ्य समाज के लिये शर्मनाक है। एक समाज के रूप में, एक देश के रूप में हम सब इस के लिए शर्मसार है: PM

— PMO India (@PMOIndia) April 13, 2018
CBI investigates Unnao rape case
Statements of all family members were taken separately. They said they will collect evidence later. We will go to Lucknow tomorrow. Team (CBI) has called us there, but we don't know the reason: Uncle of Unnao Rape Victim.
Yogi Adityanath speaks on Unnao rape incident
Uttar Pradesh Chief Minister Yogi Adityanath on Friday insisted that his government had not deviated from its zero-tolerance policy on crime and corruption. "As soon as the matter came to the notice of the government on April 9, we immediately constituted a SIT (Special Investigation Team) and initiated action in the matter…the policemen and doctors found guilty in the SIT report were suspended." READ HERE
Kathua rape-murder: Gujjars demand death penalty for accused
Gujjars today took to streets in Jammu demanding rape and the accused in the case be given death penalty. Protestors also raised slogans against the Bar Association of Jammu and Kashmir High Court (BAJ).
-PTI
DCW Chief Swati Malliwal launches indefinite hunger strike
Delhi Commission for Women chairperson Ms Swati Maliwal started her indefinite hunger strike after offering prayers at Rajghat, demanding the government to take concrete actions to curb sexual crimes against women. Former union minister Yashwant Sinha also reached Rajghat to express his support to the DCW chief.
AAP's Atishi Marlena reacts on Minakshi Lekhi's comments
Meenakshi Lekhi has let slip their plan for India: destroy the lives of Dalits, minorities and women and show them their place. She mentions India's three most disadvantaged groups and mocks the effort to seek justice for them? Her behaviour reeks of entitlement and arrogance.

— Atishi Marlena (@AtishiMarlena) April 13, 2018
Students protest against the increasing cases of rape in India
CBI team reaches district hospital to investigate Unnao case
Home Minister breaks silence on Kathua rape case
Home Minister Rajnath Singh on Sunday spoke on the Kathua rape case and said that the victims family should get justice.
Congress on PM Modi's silence over rape cases
PM Modi likes to use catchy slogans like "Beti Bachao Beti Padhao" to win elections. But, typically, he goes unusually silent when betis are raped, brutalized, and murdered. Mr PM: how many more atrocities will it take for you to #SpeakUp? pic.twitter.com/Ed1ay4ZmNi

— Congress (@INCIndia) April 13, 2018
Rahul Gandhi questions PM Modi
Mr Prime Minister, your silence is unacceptable.

1. What do YOU think about the growing violence against women & children?

2. Why are accused rapists and murderers protected by the state?

India is waiting.#SpeakUp

— Rahul Gandhi (@RahulGandhi) April 13, 2018
CBI team visits Makhi Police Station in Unnao
Congress to hold candlelight marches across India
On the instructions of Congress President Rahul Gandhi, party members will hold candlelight march at capitals of all the states against Kathua and Unnao rape cases.
Congress hits back on Minakshi Lekhi
"BJP MP Meenakshi Lekhi's insensitive remark is an insult to Indian citizens standing up for their rights. Her statement reflects her party's regressive ideology. She must take back her words and apologize immediately," tweets Congress.
Guilty should be shot dead: BJP MP
The guilty should be publicly hanged or shot dead, there should be no leniency with rapists. Even if the guilty is found to be a BJP member, he should be executed publicly, says RP Sharma, BJP Assam MP on Unnao rape case, reports ANI.
Judiciary springs to action
Supreme Court issues notice to Bar Council of India, Jammu and Kashmir Bar Association, Jammu High Court Bar Association and Kathua Bar Association on a plea against lawyers allegedly blocking filing of chargesheet in the Kathua Case. Meanwhile, Allahabad High Court has asked for a progress report by May 2 in the Unnao rape case and will monitor the probe. Court also said the MLA should be arrested and not just detained.
Omar Abdulla calls out CM mebooba Mufti
The ministers who supported killers of #KathuaRapeCase victim & threatened police not to make arrests, have no right to stay in the cabinet. Mehbooba Mufti should take action just like she took against Haseeb Drabu (ex J&K FM), whose crime wasn't this heinous: Omar Abdullah pic.twitter.com/2AE2UoeCOg

— ANI (@ANI) April 13, 2018
Assam BJP MP RP Sharma said, "The guilty should be publicly hanged or shot dead. There should be no leniency with rapists. Even if the guilty is found to be a BJP member, he should be executed publicly."
"Rahul Gandhi earlier stood in support of Gayatri Prasad Prajapati. It's just his compulsion to take a stand this time but Amethi knows the truth. I have faith that justice will be provided, said Smriti Irani on Congress' candlelight march on Unnao and Kathua rape cases, on Thursday.
Ghulam Nabi Azad, Congress said, "Yes he(Jammu Bar Association chief BS Slathia) was my polling agent, and also Lal Singh (BJP J&K minister) was in Congress, they were secular then but BJP has vitiated the atmosphere so badly in J-K that these individuals have now turned communal."
Maneka Gandhi said, "Media wants the investigation to be completed in one or two days. The action is being taken by state govts. Also, we are contemplating an amendment in the law which awards death penalty to rapists of minors below 12 years of age."
"Party has already condemned this act, 2 individuals (BJP J&K ministers) were mislead and misguided by people. Lesson to them is not to believe one side or the other and let the law take its course," said Lekhi.
Meenakshi Lekhi also said, "You see their plan, first shout 'minority minority', then 'Dalit Dalit', and now 'women women' and then try to somehow fix blame of state issues on the centre. All this while ignoring the strict action being taken by state govts."
BJP's Meenakshi Lekhi said, 'A fair probe was done in Kathua case. SIT was formed and 6-7 people were arrested. Also, I would like to say it on record that the Jammu Bar Association president BS Slathia is the polling agent of Ghulam Nabi Azad ji.'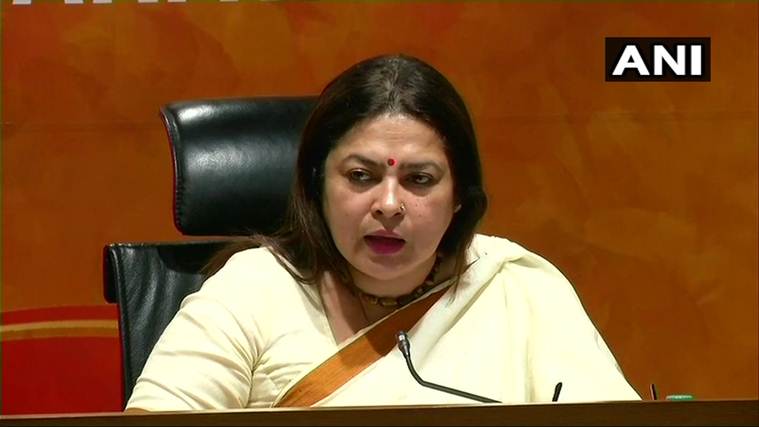 According to the rules, the CBI re-registers FIRs of the state police while taking over the probe but remains at freedom to come to its own conclusions which are filed before a special court in its final report. The final report can either be a closure report or a charge sheet.
The CBI officials said Sengar, an MLA from Bangarmau, had not been arrested yet. They said a team of officials would visit the scene of the crime and question jail officials, police officials and family members of the MLA.

The first FIR pertains to the alleged rape of the girl in which Sengar and a woman Shashi Singh have been named as accused.

The second one pertains to rioting, in which four locals have been booked, and also the alleged killing of the victim's father in judicial custody. Since the murder charge was added later by the police, it does not reflect in the CBI FIR.

The third case pertains to the allegations against the victim's father who was arrested under arms act and put in jail by the local police where he mysteriously died. He also suffered serious wounds as per the post-mortem report.


Rahul Gandhi thanks 'thousands' for joining him in 'battle for justice'
Congress president Rahul Gandhi today thanked the "thousands of men and women" who stood with him in protesting the rising acts of violence against girls and women and said their battle for justice would not be in vain.
Thousands of men and women stood up to be counted in the battle for justice and to protest the rising acts of violence against girls and women.

I thank each and every one of you for your support. It shall not be in vain. pic.twitter.com/IWMtQSXV4m

— Rahul Gandhi (@RahulGandhi) April 13, 2018
Protest outside Rajghat led by Delhi Commission for Women against Unnao Case and Kathua Case.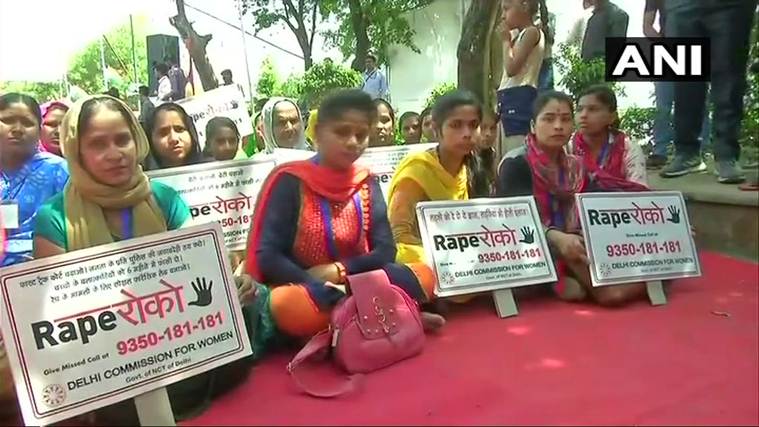 Now going back to the protests, organisations like the All India Progressive Women's Association, National Federation of Indian Women, JNU Students' Union and the Students' Federation of India held a protest at Parliament Street over the gruesome incidents in Kathua and Unnao On Thursday. The protesters alleged that the BJP's motto of "Beti bachao, beti padhao" rang hollow in the light of these cases. "Two incidents of rape have shocked the nation not just for the horrific nature of the crime but also for the ruling party trying to shield the accused, with its ministers even going on to support bandhs and rallies against arresting of the rape accused," All India Students' Association state secretary Niraj Kumar said.
The rape and killing of the girl, who belonged to the nomadic Bakerwal Muslim community, has become a national issue. The gory details of the heinous crime surfaced following the filing of charges. The girl had disappeared from a spot near her house close to Rasana village in Jammu and Kashmir's Kathua on January 10. A week later, her body was found in the same area. A Special Investigation Team, formed to probe the incident, has arrested eight people, including two special police officers (SPOs) and a head constable, who was charged with destroying evidence.
Omar Abdullah asks PM Modi to break silence over Kathua incident
Former Jammu and Kashmir chief minister Omar Abdullah today asked Prime Minister Narendra Modi to break his silence over the rape and killing of an eight-year-old girl in Kathua district of the state. Taking to twitter he said, "Hon PM sir, there isn't a day when we don't hear you speak about things that are important to you yet there are times when you are completely silent about things that are important to others. Please don't let the minor girl be someone you choose to remain silent about."
Dinesh submitted that the apex court should take note of bar's actions and issue directions to them and the Bar Council of India to ensure that the rule of law prevails. The bench assured the lawyer that it would consider the matter if adequate material is brought before it.
The Supreme Court today asked a lawyer to bring materials on record to take judicial note of a strike call given by Kathua and Jammu and Kashmir bar associations in relation to the gangrape and killing of an eight-year-old girl in Jammu region. A bench headed by Chief Justice Dipak Misra asked lawyer P V Dinesh to furnish some material with regard to the actions of the bar bodies for enabling it to take suo motu judicial note of the strike call.
Dinesh referred to the decisions of the local bar that had allegedly come in support of the people who had allegedly gangraped and killed the minor in Kathua. "Something must come on record. We have nothing on record," the bench, also comprising justices A M Khanwilkar and D Y Chandrachud, said and asked the lawyer to file some material in support of his contention.
Kamal haasan says he felt
Actor-politician Kamal Hassan has also expressed anguish over the rape and killing of an eight-year-old girl in Kathua, saying he felt 'angry' for failing her. Hassan, founder-president of Makkal Needhi Mayyam, said he felt 'angry' as a man, father and as a citizen for 'failing' the minor girl.
Haasan tweeted: "Does it have to be your own daughter for you to understand? She could've been mine." "I am sorry my child, We didn't make this country safe enough for you. I'll fight for justice at least for future kids like you. We mourn you and won't forget you," he added.
"I miss my daughter everyday. Those responsible for killing my daughter should be hanged till death," says the father of Kathua rape and murder victim.