With the passing away of DMK stalwart M Karunanidhi, the party finds itself at a crucial junction in Tamil Nadu's politics — the post-Karunanidhi and post-Jayalalithaa era, when new battlelines and ideologies are taking shape in the state.
In the year and a half that MK Stalin has led the party without his father's active directions, his strengths and capabilities have been tested. It was under his leadership that the DMK fought the May 2016 Assembly elections, which the party lost to the ruling AIADMK, its second straight defeat. What came as an even bigger shock was when the DMK failed to capitalise on a strong anti-government wave and ended up third — and its candidate lost his deposit — in the R K Nagar bypoll last year.
That election threw up a new challenge for Stalin — TTV Dhinakaran, nephew of Jayalalithaa's aide V K Sasikala — at a time when the AIADMK under Edappadi Palaniswami and O Panneerselvam offered no competition to the DMK. With Dhinakaran emerging as a popular leader, many watching the DMK camp say Stalin may have to rethink the party's highly centralised power structure which is controlled by him and his group of handpicked people, including his son-in-law Sabareesan.
Ramajayam, a leading political analyst with the Centre for Study of Social Exclusion and Inclusive Policy in Trichy, says what's worth watching is how the party deals with this very decisive phase in Tamil Nadu's politics as the BJP tries to make inroads into the state.
READ | PM Modi, Rahul Gandhi, Amit Shah pay tribute to Karunanidhi
"The DMK has to go in for a complete revival under Stalin's leadership. The party needs leaders at the district-level who can instil hope in the minds of people. What will be crucial is how Stalin deals with the party's district secretaries who used to abuse power and who lost the support of masses in the last decade. The party also has to recapture its ideological and intellectual face with new personalities. Because those were the qualities that kept the party vibrant and alive when it was out of power for over 13 years in the 1970s and 80s," he added.
Ramajayam says the situation in the DMK is very different from what the party was in after the death of founder Annadurai in 1969.
"During that period, there was an equally competent second-rung leadership with intellectual and ideological capabilities. Among them, it was Karunanidhi's organisational skills and influence among masses that helped him emerge as Annadurai's successor," he said.
See Pics |  Rare and unseen photos from his political journey
On the family front, the only niggling trouble for Stalin remains his elder brother M K Alagiri. Sources in the party, however, say that if at all Alagiri does revolt, Stalin can easily deal with him as Alagiri's hold on the party, even in his former stronghold of Madurai, has weakened considerably. "If he stands as an Independent candidate, he may get 5,000 votes at best, nothing more," said a senior DMK leader from Madurai.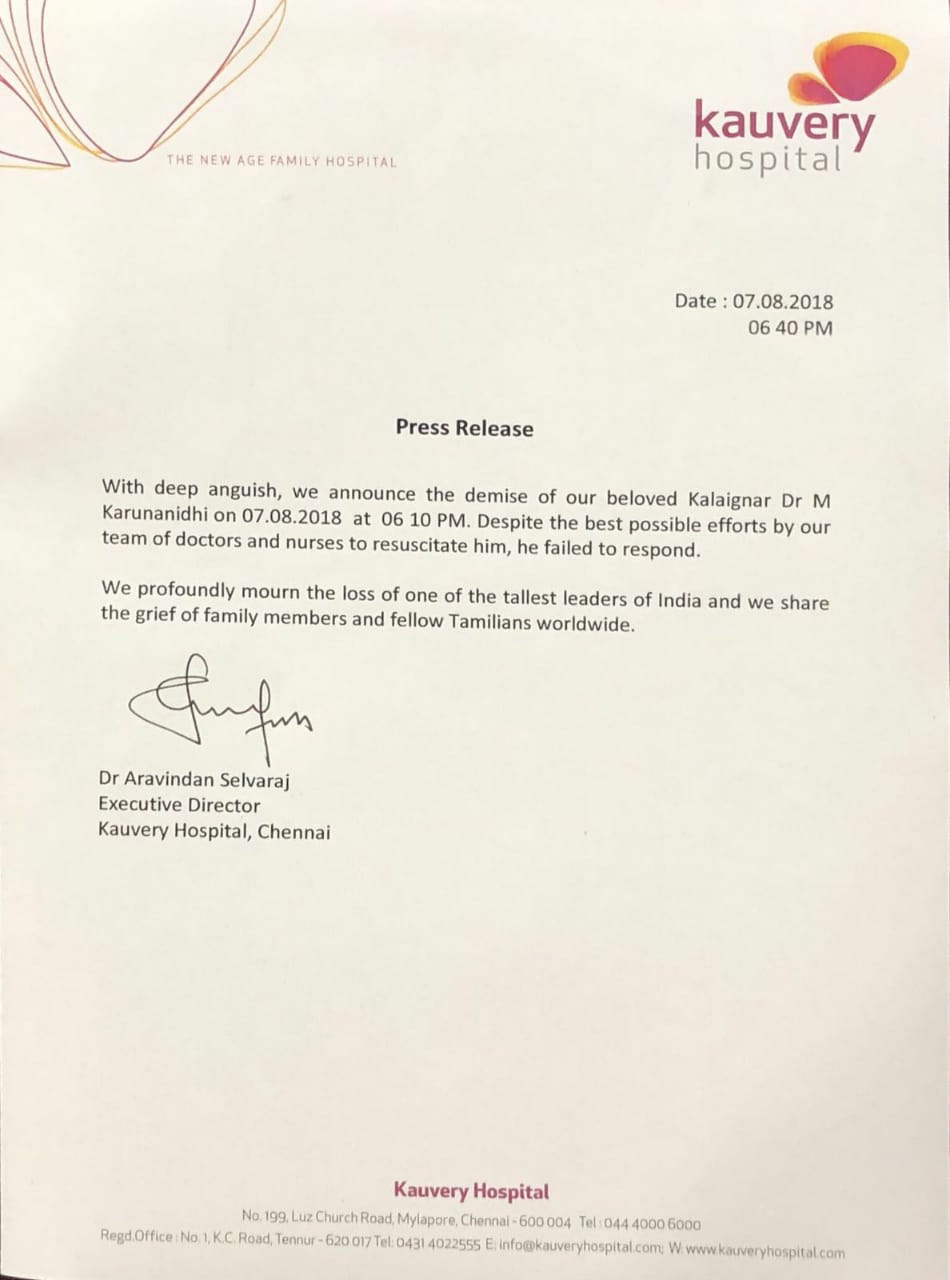 Sources in the party say none of the other leaders, including Rajya Sabha MP Kanimozhi, A Raja and Dayanidhi Maran, would dare take on Stalin. Kanimozhi born to Karunanidhi's third wife Rajathi Ammal, is likely to be the party's face in Delhi, a role earlier played by Karunanidhi's right hand, the late Murasoli Maran.
READ | Karunanidhi politicised cinema with Dravidian ideology
None of Karunanidhi's other children are politically active. M K Muthu, born to his first wife Padmavati, lives in Chennai after a failed acting career in the 1980s. Four children born to Karunanidhi's second wife, Dayalu Ammal, are out of politics too. Stalin's brother Thamizharasu runs a successful vehicle dealership business in Chennai while their sister Selvi runs Sun TV's Kannada channels.
The Indian Express website has been rated GREEN for its credibility and trustworthiness by Newsguard, a global service that rates news sources for their journalistic standards.