Written by
Sibu Tripathi
| New Delhi |
Updated: August 8, 2018 1:30:20 am
Former Tamil Nadu CM and DMK patriarch M Karunanidhi passed away after battling illness at the Kauvery hospital in Chennai on Tuesday. The 94-year-old leader was earlier shifted to the hospital on the intervening night of July 27-28 after his blood pressure fell.  On July 31, the hospital said Karunanidhi would require an extended period of hospitalisation due to "decline" in his general health, although his vital parameters have normalised.
Earlier in the day, Kalaignar's health deteriorated and the hospital said, "Despite the maximum medical support, his vital organ functions continue to deteriorate. His condition is extremely critical and unstable." Follow LIVE Updates HERE
July marked 49 years of the leader taking charge as the party chief. Karunanidhi was the first leader to enter the 50th year as the president of a political party. He became Tamil Nadu's CM in 1969 for the first time and had held the position in the state five times, with the last tenure being in  2006. The patriarch had retreated from mainstream politics in 2016 after being diagnosed with a drug-induced allergy and his son, M K Stalin, took over as the working president of the party.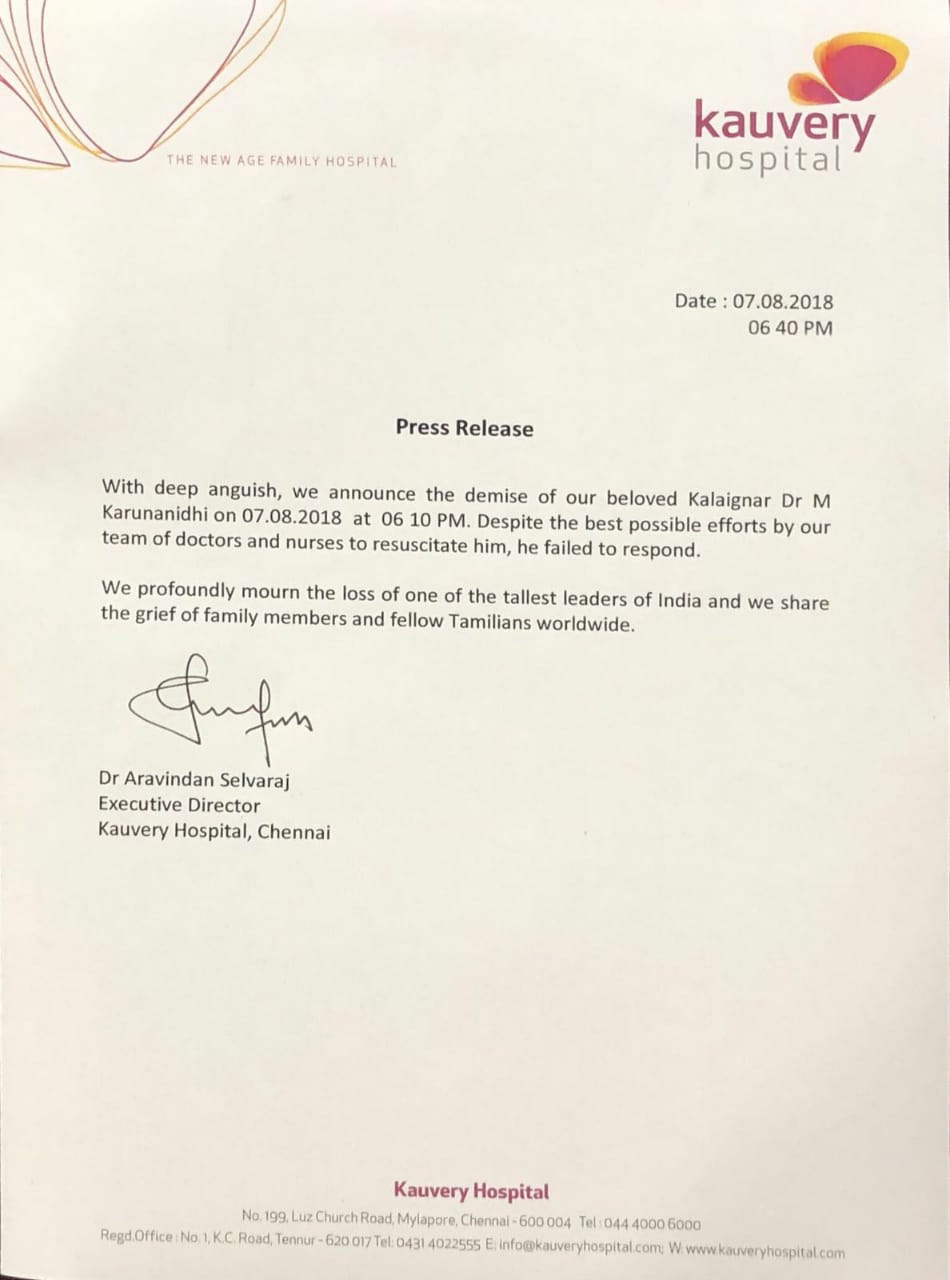 Karunanidhi had not been keeping well since October 2016 and recently had undergone a procedure to change his tracheostomy tube, to help him breathe. Working DMK president and Karunanidhi's son, M K Stalin had said that Karunanidhi was suffering from fever and doctors were providing medication as he assured there was nothing to worry about the 94-year-old leader's health. A medical bulletin released by the Kauvery hospital on August 6 read, "There has been a decline in the medical condition of Kalaignar Dr M Karunanidhi, DMK President and former Chief Minister of Tamil Nadu. He is on continuous monitoring and being treated with active medical support. His response to the medical intervention over the next 24 hours will determine the prognosis."
A controversy brewed hours after the death of Kalaignar over his final resting place. While Karunanidhi's family had requested a burial place near Anna samadhi at the Marina beach, the state government refused the permission and offered a piece of 2 acres of land in Gandhi Mandapam near Guindy. Reacting to the development, Congress said, "Tamil Nadu Government should not play politics. On such occasions, Government and parties should be above politics, and Kalaignar should be given his due. He deserves a rightful place even after his demise."
Following the government's rejection, DMK moved Madras High Court seeking space for Karunanidhi's burial on Marina beach near Anna Samadhi. DMK lawyers have sought an emergency hearing challenging the reasons cited by the state government for denial.
See Pics |  Rare and unseen photos from his political journey
Several senior DMK leaders, including M K Stalin, daughter Kanimozhi, his family members and other frontline leaders were present at the hospital when the leader breath his last. Karunanidhi's estranged son and former DMK leader M K Alagiri, who was expelled from the party by Karunanidhi in January 2014 after a prolonged struggle for power with his younger brother Stalin also visited him in the hospital.
Following the death of the Tamil leader, Prime Minister Narendra Modi expressed his grief and tweeted, "My thoughts are with the family and the countless supporters of Karunanidhi Ji in this hour of grief. India and particularly Tamil Nadu will miss him immensely. May his soul rest in peace." Congress chief Rahul Gandhi tweeted, "Kalaignar strode the stage of Tamil politics, like a colossus, for over 6 decades. In his passing, India has lost a great son."
Meanwhile, actor-turned-politician, Rajinikanth called it a 'black day' in his life and said, "I lost my Kalaignar. I pray for his soul."
Earlier, President Ram Nath Kovind, Vice President Venkaiah Naidu, Congress president Rahul Gandhi among other senior politicians had visited the DMK patriarch in Kauvery hospital and prayed for his speedy recovery. Pm Modi will visit Chennai on Wednesday to pay his tributes to the DMK leader.
Karunanidhi, who enjoyed a cult figure in the state, had been known as one of the fierce adversaries of late AIADMK chief Jayalalitha, post-MGR period. His first election speech in 2016 had created a stir and momentum when he nicknamed Jayalalithaa a 'Maharani' (princess).
Known for his oratorical skills, Karunanidhi identified himself with the common man. "I am one of your brothers, I am one of your children. I am talking from my heart. Only if Dravida rule comes, Dravida makkal will get a good life," he would say, adding that he came to visit them not to seek votes alone, but to bring a change.
📣 The Indian Express is now on Telegram. Click here to join our channel (@indianexpress) and stay updated with the latest headlines
For all the latest India News, download Indian Express App.
The Indian Express website has been rated GREEN for its credibility and trustworthiness by Newsguard, a global service that rates news sources for their journalistic standards.