It started as a Rs 2-per-litre subsidy to Karnataka's milk producers by the then BJP government under B S Yeddyurappa in July 2008. On May 13, 2013, the day the new Siddaramaiah-led Congress administration assumed office, the "incentive" — given to farmers over and above the procurement price paid by dairy cooperative societies — was doubled to Rs 4 per litre. And in November 2016, it was further raised to Rs 5 a litre.
But Siddaramaiah's government hasn't stopped with Ksheera Dhare — as the subsidy/incentive scheme for dairy farmers is called. In August 2013, it launched a Ksheera Bhagya scheme. This one provides a 150-ml glass of free milk daily to around 1.04 crore children: 65 lakh studying in government/ government-aided schools and another 39 lakh in pre-school anganwadi centres. The free milk was initially given for three days of the week and, in July 2017, extended to five days.
Both schemes cost money. An amount of Rs 1,206 crore has been budgeted for Ksheera Dhare this fiscal, the same as in 2017-18. The outlay for Ksheera Bhagya was Rs 700 crore last fiscal, which is projected to go up to Rs 840 crore in 2018-19 because of the free milk being made available for more number of days. The combined outgo will, thus, be well over Rs 2,000 crore.
But the two schemes, Ksheera Dhare in particular, have definitely given a huge boost to dairying in Karnataka. Between 2007-08 (before Yeddyurappa set the ball rolling) and 2012-13, milk procurement by the 14 district unions affiliated to the Karnataka Cooperative Milk Producers' Federation (KMF) rose from an average 30.25 lakh kg per day (LKPD) to 49.06 LKPD. In the period after Siddaramaiah enhanced the producer's subsidy, the average procurement rose to 70.77 LKPD in 2017-18. In other words, a more than 2.3 times jump in 10 years! Milk production in the state, too, has gone up from 42.44 lakh tonnes to 65.62 lakh tonnes between 2007-08 and 2016-17.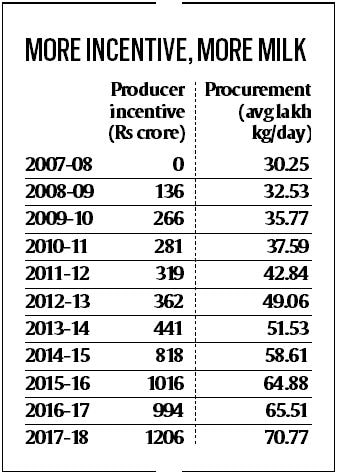 "Our unions paid farmers an average price of Rs 24 per litre for cow milk (with 3.5% fat and 8.5 % SNF or solids-not-fat content) during 2017-18. The state government's Rs 5/litre incentive was in addition to this and credited directly into their bank accounts," said a top KMF official. There are 24.5 lakh farmer-members of the nearly 14,200 village societies that are part of KMF's district-level dairy unions. "Out of the 24.5 lakh, there would be around 9 lakh active pourers at any given point," he added.
The Karnataka government's annual subsidy/incentive paid to KMF's milk producers has gone up from Rs 136 crore in 2008-09 to Rs 362 crore in 2012-13 and to Rs 1,206 crore in 2017-18. The subsidy has protected Karnataka's dairy farmers, even as their counterparts in neighbouring states such as Maharashtra are currently realising just Rs 19-22 per litre for milk with 3.5% fat and 8.5% SNF and there is no Ksheera Dhare-like scheme being implemented by their governments. Dairy farmers in parts of Maharashtra are, in fact, planning to even start a novel 'Gandhigiri' protest, by offering their milk free of cost to dairies from May 3.
The milk being procured through the KMF network is what is also feeding the Ksheera Bhagya scheme. "We supply roughly 3,000 tonnes of whole milk powder every month. This powder (equivalent to 8.33 LKPD of 3.5% fat and 8.5% SNF milk) is produced at our dairy plants and delivered at the doorstep of schools and anganwadi centres. The scheme is operated by the departments of Education and Women & Child Development, respectively. A child's daily milk quota of 150 ml is made by adding hot water to 18 grams of powder," explained the official.
In two districts — Mysuru and Raichur — KMF has even started supplying milk powder in chocolate and cardamom flavours. And most children would obviously that over plain milk.