The first phase of the Jammu and Kashmir urban local body elections saw a bleak voter turnout as only 8.3 per cent eligible voters in militancy-hit Kashmir Valley came out to exercise their franchise on Monday, PTI reported. Pollings in 321 wards of 11 districts of J&K, which started at 7 am and continued till 4 pm, were largely peaceful despite few incidents of stone pelting being reported from some areas. Some 1,204 candidates were in fray for the first phase of the polls.
Kargil and Leh regions recorded high voter turnouts of 78 per cent and 52 per cent respectively, an official told PTI.
In north Kashmir, the Kupwara Municipal Committee recorded a high voter turnout of 36.6 per cent, while the Handwara Municipal Committee recorded voting figures of 27.8 per cent.
After the National Conference and the PDP announced to boycott the municipal polls, the contest is largely between the Congress, the BJP and a large number of independent candidates. Of the 598 seats in the Valley, at least 236 will be uncontested. Another 184 have received no nominations.
Live Blog
Voting begins for the first phase of the Jammu and Kashmir urban local bodies elections. Get LIVE UPDATES here.
Kupwara Municipal Committee recorded a high voter turnout of 36.6 per cent
Polling was held for only 83 wards in the valley Monday as 69 were won uncontested.
In north Kashmir, the Kupwara Municipal Committee recorded a high voter turnout of 36.6 per cent, while Handwara Municipal Committee recorded a voter turnout of 27.8 per cent.
Only 8.3 per cent voters turn out in the Valley
The first phase of the Jammu and Kashmir urban local body elections saw a bleak voter turnout as only 8.3 per cent eligible voters in militancy-wrecked Kashmir Valley came out to exercise their voting rights on Monday, PTI reported. Polling in the 11 districts of J&K started at 7 am and continued till 4 pm.
Kargil and Leh regions recorded high voter turnouts of 78 per cent and 52 per cent respectively, an official told PTI.
Election in Valley: Pictures of the day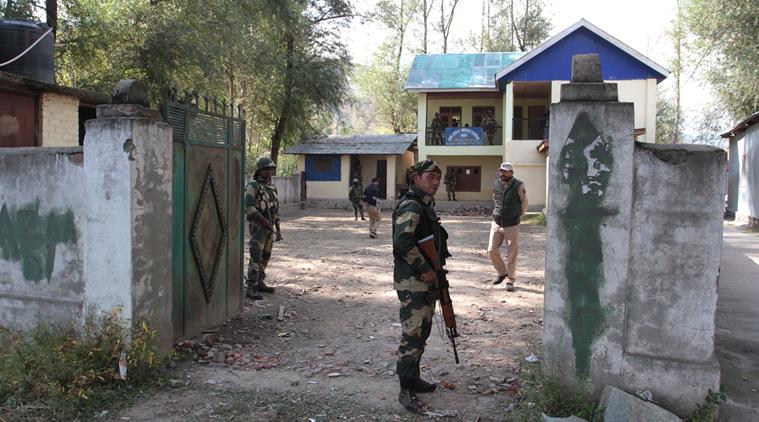 Empty polling station in Baramulla (Express Photo by Shuaib Masoodi)
Election in Valley: Pictures of the day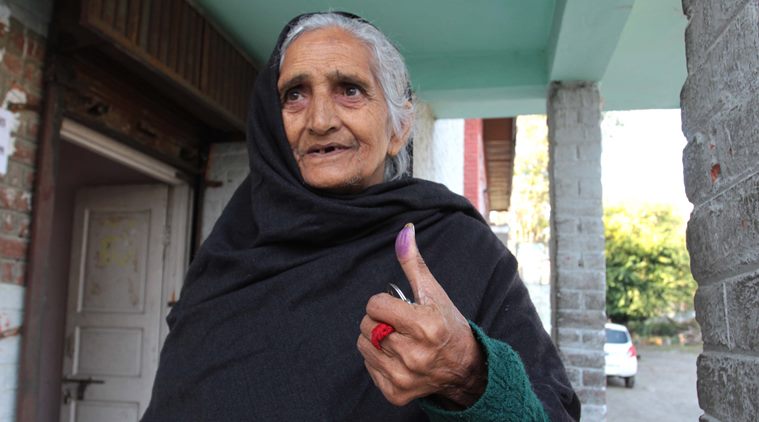 A sikh old woman leaves a polling station after casting her vote in Baramulla. (Express Photo by Shuaib Masoodi)
First phase of the Jammu and Kashmir urban local bodies elections concludes
First phase of the Jammu and Kashmir urban local bodies elections has concluded, news agency ANI reported. Eleven distrcits went to poll during the first phase as the voter turnout remained very low at different polling stations.
Normal life affected in the valley due to separatists strike
Normal life was hit in the Kashmir Valley Monday due to a strike called by the separatists against the holding of the local bodies' polls, the first phase of which began Monday morning across the state.
Shops, business establishments, private offices and fuel stations remained closed here in the summer capital of Jammu and Kashmir, officials said. They added that public transport was off the roads, while a few private cars, taxis and autorickshaws were seen plying in some areas of the city.
The separatists, under the banner of the Joint Resistance Leadership (JRL), had called for a shutdown on Monday against the holding of the local bodies' polls in the state. The JRL -- comprising Syed Ali Shah Geelani, Mirwaiz Umar Farooq and Mohammad Yasin Malik -- asked the people to observe a complete strike against the "so-called elections".
Only one vote registered in Janbazpora
98 votes polled in Kokernag
Till 1:30 pm, 98 votes were recorded in Kokernag; one vote was registered in two booths respectively. Meanwhile, internet services have been restored in some areas of Baramulla district.
J&K BJP releases manifesto
In its 15-point manifesto which was released last week, the BJP highlighted issues such as restoration of Dal Lake, sanitation, prevention of vector-borne diseases and improvement of healthcare by opening evening clinics. While addressing a press conference in Srinagar, BJP leaders said that their priority will be to develop districts through municipal committees and corporations.
BJP candidate injured in stone pelting
BJP candidate Adil Ahmad Buhru from ward 15 of Bandipora district was injured after a group of miscreants pelted stones at him while he was on his way to cast his vote at Dachigam, officials told PTI. Buhru was rushed to a nearby hospital, the official said, adding stone pelting was reported from several areas of the district. Condemning the attack, BJP spokesman Altaf Thakhur said those who indulge in violence are scared of democracy.
Voter turnout in Handwara at 11.30 am
Till 11:30 am, Handwara witnessed a poor turnout of 56 out of 852 voters in polling booth number 2. In booth 3, 129 out of 445 votes were polled.
'1,600 voters polled till 9 am'
"Nearly 1,600 voters have exercised their franchise till 9:00 am at the 150 pollings stations set up in 83 wards across Kashmir Valley where polling is going on today," an official was quoted as saying by PTI. Around 85,000 voters including 40,800 women are eligible to vote in the valley. Out of 30,074 voters in three wards of Srinagar Municipal Corporation, only 417 turned up at heavily-fortified polling stations.
16.5 per cent turnout in Handwara
Till 11:15 am, a voter turnout of 16.5 per cent was registered in Handwara municipality.
Union Minister Jitendra Singh, ex-deputy CM Kavinder Gupta cast vote
NC, PDP bocotts polls over Article 35-A
The urban local body polls were announced last month but two major political parties - National Conference and PDP - had boycotted the elections accusing the Centre of not taking a firm stand on the protection of Article 35-A of the Constitution which is facing a legal challenge in the Supreme Court.
Weather affects voter turnout in Ladakh region
Sources in Leh and Kargil towns of Ladakh region said biting cold kept voters away, though the process was expected to pick up as the day progressed and warmed up, IANS reported.
Secrecy drapes J&K local polls
No campaigning, door-to-door canvassing, poll rallies were held in the Valley prior to the elections. Even the names of candidates who had filed nomination papers or their political affiliations were not disclosed until the names of a few of them got leaked on social media last week. Officials had cited "security reasons" for the veil of secrecy over the conduct of the "faceless" poll process, especially in the troubled south of the Valley. They said the disclosure of candidate details would make them vulnerable to threats, even endanger lives. Read full story here.
BJP fields advocate who lost party post after seeking CBI probe into Kathua case
Meanwhile, Advocate Vijay Sharma, who was removed as BJP state secretary six months ago for spearheading an agitation seeking a CBI inquiry into the Kathua gangrape-murder case, is now the saffron party's main face for Hiranagar Municipal Committee elections. If the party gets a majority in the municipal committee, Sharma is tipped to be its chairman. When contacted, Sharma told The Indian Express that he was initially reluctant to contest, but had to obey the party directive as he is its sincere and dedicated worker. "They had only removed me from the party post, I continued to be an active member," he said. Sources close to Sharma said that he agreed to contest when senior party leaders promised him a BJP ticket for Hiranagar Assembly constituency whenever fresh elections are held. The constituency is at present reserved for Scheduled Caste candidates, but it is getting de-reserved, they added. Read full story here.
Voter turnout in Kokernag at 10 am
At 10 am, 61 votes have been registered in South Kashmir's Kokernag. The voters include 23 females. There are a total of 1,639 voters registered in the area.
No elections in following areas:
Polling is not being held in Chadoora (Budgam), Khansahib (Central Kashmir) and Kulgam, Devsar, Qazigund, Achabal in South Kashmir since there are either no candidates or not contests.
Media not allowed in Kupwara
The media has been barred from entering Kupwara district as there is a threat to both the voters and the media, Kupwara Deputy Commissioner of Police Khalid Jehangir told The Indian Express.
Areas where polling is underway today
The first phase of elections is being held in North Kashmir's Bandipore, Baramulla, Handwara and Kupwara Municipal Corporations and South Kashmir's Kokernag Municipal Corporation. Polling is also underway in three wards of Srinagar.
Zero voter turnout at Humhama so far
In Srinagar, 74 votes have been polled at Hamdania Colony while one vote has been polled at Bagh-e-Mehtab. No voters have turned up at Humhama so far. In Kokernag (South Kashmir), 49 votes have been polled till now.
Visuals outside a polling booth in Baramulla
Voter turnout at 9 am
After two hours of polling, zero votes were registered in two booths of Janbazpora in Baramulla district. A total of 587 and 1,097 voters are registered under the two booths respectively. At Khawaja Bagh Baramulla, 37 votes were registered out of 900. In another polling booth of Khawaja Bagh, zero votes were polled out of 924.
Low turnout expected in Srinagar Municipal Corporation
Though 294 candidates are in fray for 74 wards of Srinagar Municipal Corporation, the turnout is likely to be low, especially after the killing of two National Conference workers by suspected militants. Set up as a municipal committee in 1886 by Dogra ruler Maharaja Pratap Singh, the corporation is one of the oldest municipal bodies in the country. It became a council in 1956 and a corporation in 2003. But in its long history, it has witnessed polls only four times — 1952, 1972, 1977 and 2005. In 15 years as a corporation, it has been run by Mayors for five years — 2005 to 2010. The rest of the time, it has been run by a Municipal Commissioner, a government officer. "Legislators have always tried to put off local body polls," Salman Sagar of NC, a two-term Mayor, said. "They want all power in their hands. Omar sahib wanted decentralisation of powers. But our party legislators and that of the coalition partner (Congress) didn't let that happen," he added.
15 pull out of local body polls after 2 National Conference workers killed
At least 15 candidates withdrew from the J&K local body polls after two workers of the National Conference, which is boycotting the polls, were shot dead and another injured by suspected militants in Srinagar's old city last week. On Friday evening, the house of a candidate in Hajin in north Kashmir was attacked by unidentified men who, police said, hurled "some type of substance" that set ablaze a pile of clothes. The candidate was not in the house at the time of the incident. Following the incident, there were a total of 23 nomination withdrawals in Srinagar. For the 25 wards that make the Srinagar municipal corporation, 146 people had filed nomination papers.
Security being ensured: Anantnag DCP after data leak
State Congress president Ghulam Ahmad Mir said the administration will be responsible if anything untoward happens to any candidate. "It was the responsibility of the Governor, the administration and the state election commission to ensure that no names come out for a particular time, because security issues are involved," Mir said. "The administration should find out how the names were leaked." Anantnag Deputy Commissioner Mohammad Younis Malik, who is also district election officer, told The Indian Express that they are trying to get details on the list. "Security is being ensured," he said.
State BJP approaches administration over data leak
Senior BJP leader and party MLC Sofi Yousuf said that besides the 13 names of party candidates leaked on social media, names of nine BJP candidates, who had filed nominations from Municipal Committee Ashmuqam in Anantnag district, were made public two days ago. "Their contact details, including phone numbers and personal details, were made public…it has created fear among the candidates," Sofi said. State BJP general secretary Ashok Kaul confirmed that names of 13 party candidates have been leaked. "We have taken up the matter with the administration," he said.
Names of 30 Congress, BJP candidates leaked online
While the State Election Commission and district election officers vowed to maintain utmost secrecy about details of the candidates, details of 30 contestants for the polls in Dooru Verinag Municipal Committee in south Kashmir's Anantnag district were released on social media by accounts associated with militant outfit Hizbul Mujahideen last week. By Tuesday evening, a video was put out on the Facebook page of one BJP candidate from Dooru Verinag announcing her "resignation from all activities". Her name was among the 30 candidates on social media. State BJP and Congress leaders later confirmed to The Indian Express that the names put out on social media are indeed those of their candidates. All these candidates were later provided police protection. The list doing the rounds on social media named 17 Congress and 13 BJP candidates. It also named their parents, residence, ward number from which nomination was filed, and the candidates' respective party.
J&K police on standby
Elaborate security arrangements have been made across districts. On Sunday, senior police officials had told The Indian Express that while security has already been in place for the polls, checking of vehicles has been further intensified in all districts of the Valley, especially in areas where polling will be held Monday. They said 400 more companies of central forces are also engaged for the polls. "Checkpoints have been set up in all areas, and vehicle (checking) has been intensified. We are taking all measures with regard to security and otherwise to ensure smooth polls," a J&K Police officer had said. Candidates have been provided security and accommodated at safe areas, officers had said.
Hurriyat activists under house arrest
The Joint Resistance Leadership comprising Syed Ali Shah Geelani, Mirwaiz Umar Farooq and Mohammad Yasin Malik has called for a boycott of the municipal and panchayat polls. To avoid trouble, police have arrested several Hurriyat activists and put prominent leaders, including Mirwaiz, under house arrest. Geelani was already under house arrest, while Malik was recently arrested.
Visuals from Gorakh Nagar
Baramulla family urges residents to vote
In North Kashmir's Baramulla, a family is making last-minute appeals to voters as three of its members are contesting for the town's municipal council. Tauseef Raina, a 27-year-old contesting the Sangri seat, says the campaign has largely been under the radar. His mother, Fareeda Begum and brother Shahid-ul-Islam, are also candidates in an election marked by boycott and palpable fear across the Valley.
Visuals from Gandhi Nagar's Ward no 2 in Jammu
Mobile internet shut in some areas
Mobile internet services have been suspended in South Kashmir and while the speed has been reduced to 2G in other parts of the valley, ANI reported.
Voting underway in following J&K districts:
According to news agency ANI, voting is underway in the following districts: Anantnag (four wards), Budgam (one ward), Bandipore (16 wards), Baramulla (15 wards), Jammu (153 wards), Kargil (13 wards), Kupwara (18 wards), Leh (13 wards), Poonch (26 wards), Rajouri (59 wards) and Srinagar (three wards).
J&K:Voting begins in districts of Anantnag-4 wards, Budgam-1 ward, Bandipore-16 wards, Baramulla-15, Jammu-153, Kargil-13, Kupwara-18, Leh-13, Poonch-26, Rajouri-59 & Srinagar-3 wards, in the first of the four phases of urban local bodies elections:Visuals from Budgam's Ward no 5 pic.twitter.com/Nfc12xr58n

— ANI (@ANI) October 8, 2018