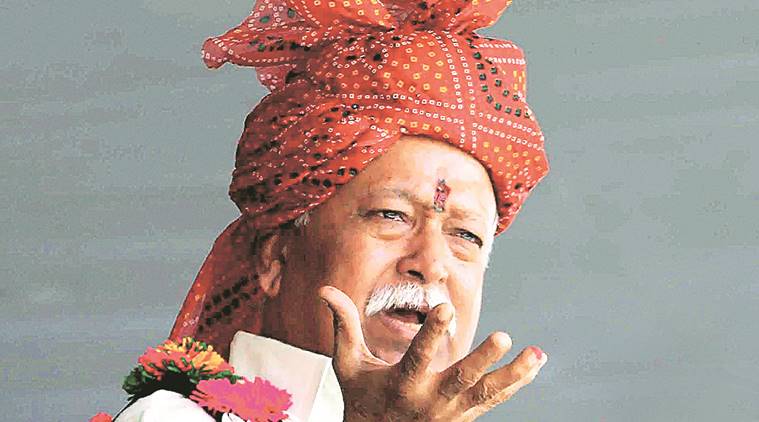 DOES Hindu dharma stress on self-correction, or does it tell followers to strive to lead the world on the path of correction?
The valedictory function of Vishwa Sangh Shiksha Varga (world Sangh training camp) saw conflicting views being expressed by chief guest Bibek Debroy and RSS chief Mohan Bhagwat here on Friday.
While the NITI Aayog member expressed the opinion that Hindu dharma directs followers on the path of self-correction and any attempt to bring about correction in others is reflective of egotism, Bhagwat clarified that the "god-ordained" (ishwar pradatta) duty of Hindus is to "free the world of the ills of unbridled consumerism and hedonism engendered by uncontrolled capitalism."
"We are too insignificant to change the world or the universe. If you feel you have to change others, then it reflects your ego. The Hindu dharma says that if each one of us corrects oneself, the world will automatically get on the path of correction," Debroy said addressing a gathering of 112 young men and women from different parts of the world.
Bhagwat, in his speech, referred to Debroy's opinion, saying, "The chief guest spoke of involvement of ego in trying to bring about change in others. When K B Hedgewar founded the RSS, he was of the opinion that the Hindus should blame themselves for all their ills, not the British or the Muslim rulers. But one of the resolutions pushed by Hedgewar during the Nagpur convention of Indian National Congress, where he was a key organiser as its member before he went on to set up the RSS, was to usher India on the path to help the world rid itself of the ill-effects of unbridled consumerism. So, if we have to carry out that responsibility, we need to spread the Vishwa Dharma named Hindu Dharma by visitors from outside world."
He added: "There is no ego involved in this mission. There is atmiyata (affinity). Like how the squirrel did by contributing its mite in the construction of Ram Setu during the Ramayana war. She didn't have ego, she had affinity for the cause and a will to contribute."