India's first air-conitioned local, stretching between Mumbai's Churchgate and Virar station, ran its maiden journey at 10:32 am on Monday from Borivali station to Churchgate in the southern part of the city.
The 12-coach EMU's inaugural run comes after 65 trial runs over two years at Kurla and Virar car-sheds. According to WR Chief Public Relations Officer Ravinder Bhakar, the last successful technical run of the train, running on broad gauge, was conducted yesterday.
The local was brought to Mumbai from the Integral Coach Factory, Chennai, on April 4, 2016. The services will replace 12 existing non-air conditioned services.
Commuters, excited at the launch of the AC local which is expected to bring them respite during the scorching summer, captured the historic moments by clicking selfies as the train reached the Churchgate station at 11.16 am.
Earlier, BJP MPs Kirit Somaiya, Gopal Shetty, Maharashtra minister Vinod Tawde, Mumbai BJP chief Ashish Shelar and WR General Manager Anil Kumar Gupta flagged off the train.
Gupta said, "This AC local is being run through a prototype coach and we will invite feedback from commuters and incorporate it in our next fleet of coaches."
Here's all you need to know about India's first AC local:
Capacity: It has room for a total of 5,964 people, with the seating capacity for 1,028 and standing space for 4,936.
Frequency: Twelve services of the local will ply each day on the Western Railways. Of these, eight will run as fast local trains between Churchgate and Virar, stopping only at major stations, which are Mumbai Central, Dadar, Bandra, Andheri, Borivali, Bhayander and Vasai Road.
Similarly, three fast services will run between Churchgate and Borivali, stopping at Mumbai Central, Dadar, Bandra and Andheri. The remaining service will run as a slow service from Mahalaxmi to Borivali, which will stop at all stations.
It will not ply on weekends as the rake will undergo maintenance, officials said.
Fares: The fare of a single journey ticket of the AC rake would cost 1.3 times the base fare of a first-class ticket. A Mumbai Urban Transport Plan (MUTP) surcharge and Goods and Services Tax (GST) would be levied separately on total fare. However, passengers will be charged 1.2 times the first class ticket cost in the initial six months.
For example, the present base fare of a single journey ticket between Churchgate and Virar in the first class is Rs 170, then according to the formula, the base fare for AC train turns out to be Rs 204 for the initial six months. It would later increase to Rs 221, based on fare calculation model. Respective surcharge of MUTP and GST would be levied on total AC fare," a senior railway official told The Indian Express. The present MUTP surcharge for card ticket holder is Rs 6 for a journey between 11-150 kilometres. For monthly season pass, it is Rs 60, Rs 90 and Rs 120 for the respective distances.
Weekly, fortnightly and monthly season tickets for the AC train will be charged equivalent to 5, 7, 5 and 10 times a single journey ticket fare of the AC train.
Reserved seats and coaches: The first and 12th coaches from Churchgate end are earmarked as ladies coaches and as many as seven seats in the second and eleventh coach from Churchgate end are reserved for senior citizens while 10 seats in the fourth and seventh coaches from Churchgate end are reserved for physically disabled passengers.
Features: The local train coaches have automatic doors, a first in the suburban system.
Security: The Railway Protection Force (RPF) will ensure the safety of the commuters with the presence of a suitable number of RPF constables in each coach.
Safety measures: Each coach is provided with a passenger alarm indication lights on both sides, which are integrated with alarm chain pulling system. The facility of 'Emergency Talk Back' unit in passenger areas (four in each coach) to communicate with motorman/guard during any emergency, has also been provided.
In case of emergencies, emergency ladders with signage inside the coach are given to facilitate evacuation of passengers. Besides, each coach is equipped with two fire extinguishers with instructions to operate.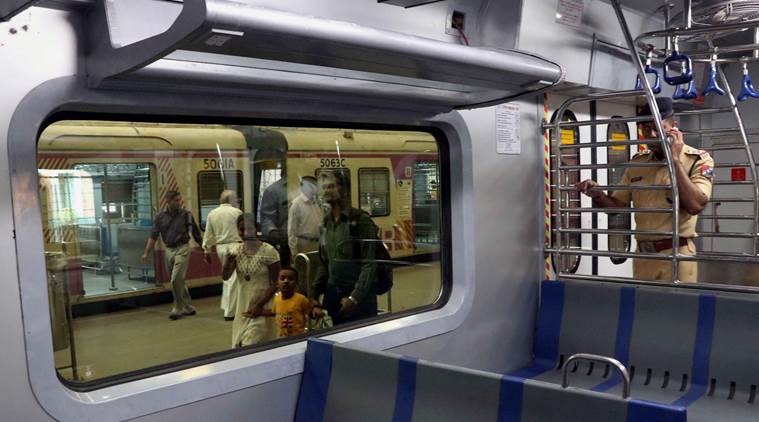 Information system: The AC coach will also be equipped with a GPS-based passenger information system with audio-visual indication of stations for guard-driver/ passenger communication. Added to it is the facility of announcement from motorman and guard cab to passenger area.
📣 The Indian Express is now on Telegram. Click here to join our channel (@indianexpress) and stay updated with the latest headlines
For all the latest India News, download Indian Express App.