"All 39 Indian men abducted by Islamic State in Iraq in 2014 are dead". This statement by External Affairs Minister Sushma Swaraj in Parliament on Tuesday brought down curtains on hopes of the family members of the 39 "missing" Indian construction workers being alive. While some questioned why the government kept them in the dark, others sought refuge in grief and demanded assistance from the Centre. Among the 39 Indians who were missing, most were from different places in Punjab like Amritsar, Gurdaspur, Hoshiarpur, Kapurthala, and Jalandhar, while a few belonged to Himachal Pradesh and Bihar.
Several relatives of the deceased workers assailed the government for not informing them about the incident before making it public. "The government kept us in the dark all these years. Now after four years, they are making such a shocking statement," said Sarwan whose 31-year-old brother Nishan was among those killed. He recalled that Swaraj had met them 11 to 12 times and every time assured that the missing Indians were still alive.
"We met the Union minister (Swaraj) 11 to 12 times and were told that as per their sources, the missing Indians are alive. They have been saying that Harjit Masih, the lone survivor, is a liar. If your sources have been saying they were alive and now suddenly what happened. The government should have told us they have no information about missing Indians rather than making false statements," PTI quoted Sarwan, who last heard his brother's voice on June 21, 2014, as saying.
Gurpinder Kaur, whose 27-year-old younger brother Manjinder Singh was among the missing Indians. (Source: ANI)Calling it the government's "biggest failure", Sarwan said for the past few months they were not given a chance to meet Swaraj. "Most of the missing Indians were from Punjab. When the government could save nurses from Kerala why it completely failed in saving other Indians," he asked.
Himachal Pradesh's Rajesh Chand, whose son Aman was among the 39 Indians killed in Iraq, said he had no demands from the government since he had already lost his loved one. "He had left for Iraq in 2013. He used to talk to me every Friday. The government kept saying that they are all safe. What demand do I make from them? I have already lost him," Chand, who hails from Kangra, said.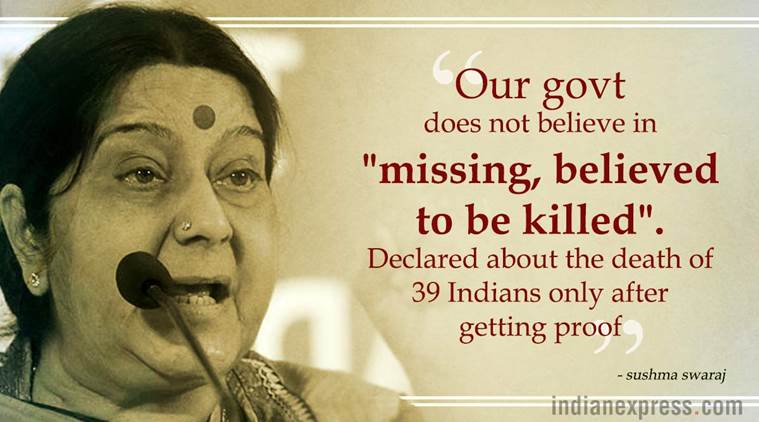 A hapless and dejected Puroshottam Tiwari too seethed at the government's actions. At a loss for words, Tiwari, whose nephew Vidya Bhushan Tiwari was among the 39 dead, said he had been pleading with the Centre since 2014 to bring the "missing" Indians back. "I don't know what to say. Since 2014 I had been pleading with the government to bring him back somehow and today they say that he is no more," Tiwari, who lives in Bihar's Siwan district said.
ALSO READ: Harjit Masih on 39 Indians killed in Iraq: My stand vindicated, case against me should be withdrawn
An inconsolable Gurpinder Kaur, whose 27-year-old younger brother Manjinder Singh was among the missing Indians also asked similar questions. "Initially, they were saying the Indians are alive. Now the minister today made such a statement," Kaur said. Manjinder Singh, who was into farming, was pushed into Iraq by fraudulent travel agents, she claimed. Manjinder Singh wanted to go to Dubai, said Kaur. "I am trying to know from the government how all this happened," she said.
The family of Gobinder Singh learnt about the shattering news also from TV channels. "We have not received yet received any call from the Union ministry about the confirmation of the death of 39 Indians," said Davinder Singh, the deceased's younger brother. "We now request the government to announce financial help and give a government job to the son of Gobinder Singh so he can take care of his family," Singh said. "We just got false assurances from the government," said Dimplejeet Kaur, sister of Dharminder Kumar (27). "All our hopes were dashed today," she said. Kumar went to Iraq to earn for his family in 2014. He was a resident of village Talwandi Jhira in Gurdaspur district.
As many as 40 Indians were originally abducted by terrorist organisation IS in June 2015 from Mosul in Iraq but one of them escaped by posing as a Muslim from Bangladesh. Minister of State for External Affairs V K Singh will be flying to Iraq to bring back the bodies on a special flight.
The Indian Express website has been rated GREEN for its credibility and trustworthiness by Newsguard, a global service that rates news sources for their journalistic standards.