Written by
Shubhajit Roy
| New Delhi |
Updated: March 21, 2018 7:13:18 am
At least six statements by the Centre, over the past four years, underlined that the 39 missing Indians were alive and safe. The news of their kidnapping by Islamic State hit the Narendra Modi government barely weeks into its triumphant entry in the last week of May 2014.  "It was a heady time when the new government had just taken over. And these Indian workers and their families had tried to contact the Indian embassy in Baghdad several times but to no avail," said a source familiar with the developments in 2014. "So the default position was that since there was no evidence to back claims of their death, they may still be alive."
Read | Indians killed in Iraq: For 4 years, swinging between hope, despair
No wonder then that when the Indian embassy was informed that 40 Indian workers were held hostage from early days of June 2014, Syed Akbaruddin, then MEA official spokesperson, in a June 18 press briefing confirmed the information. He had said the government had not received any ransom demands and that its main sources of information were humanitarian agencies.
Consider the following statements:
* June 23, 2014: Akbaruddin said: "We have again received a reconfirmation that Indian nationals in captivity remain unharmed".
* July 25, 2014: Minister of External Affairs Sushma Swaraj's response to points raised in a Calling Attention Motion in the Lok Sabha on Indians stranded in Iraq and steps taken by the Government was: "As far as 41 captives are concerned, then I could say that we do not have direct contact with them, but I could say on the basis of some other sources that they are safe and alive and are also getting regular meals."
Read | Always said they were killed, says lone survivor Harjit Masih
* August 4, 2014: Swaraj told Parliament: "Not one source, but many sources have told me, and I can say responsibly that they are alive and are doing well… I have shared the papers with Harsimrat Kaur Badal (Minister for Food Processing Industries), since I have taken the oath of secrecy, that they are alive and well."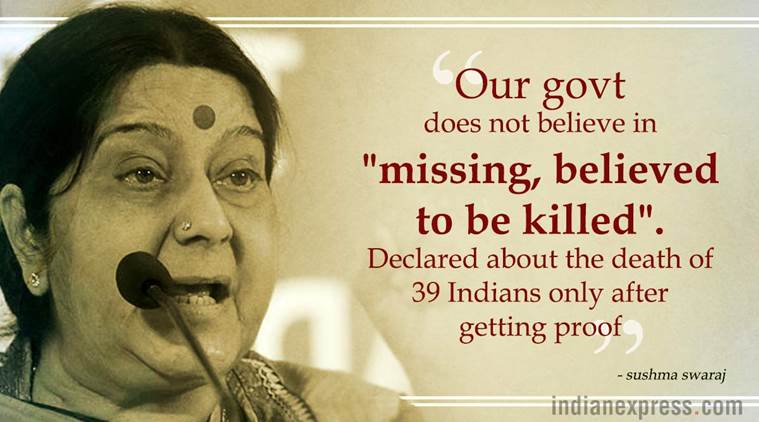 * August 6, 2014: Swaraj told the Rajya Sabha: "As far as the 41 people are concerned, I would like to say here with responsibility that they are alive and safe. We should not believe rumours. I have met their families several times."
On August 6, The Indian Express had first reported that an official of the Kurdish government had said that they had information that "workers, along with many other people were killed by DAIS (Dawla Islami, or Islamic State) and their corpses were thrown into a giant deep hole in the Sahaji area".
* February 22, 2015: After meeting the family members Swaraj said, "Here are some family members from Punjab whose relatives are in captivity in Iraq. Today is my sixth meeting with them. Every time they come, we apprise them with current efforts being made by us to get them released. As I said before, till date we have no evidence if they are alive or dead. But due to the efforts we are putting in, we have been informed by many sources that they are still alive. And we believe that the information is true, so we are still searching for them."
* July 22, 2015: Union Minister of State for External Affairs V K Singh said, in response to an unstarred question in Lok Sabha, "The safety and security of Indian nationals held captive by the ISIS in Mosul, Iraq, remain a matter of foremost concern and preoccupation for the Government of India. The Government of India is in close and regular contact with relevant Iraqi government authorities to obtain information on their whereabouts and safety. As per latest information from multiple third party sources, they are all safe. The government is making all efforts and taking all steps to secure their release."
Defending these statements, a source told The Indian Express, "While the government was in the dark about these Indians, it did not give up hope and kept trying. Among the steps taken to secure their release, Swaraj had personally spoken to her counterpart foreign ministers in the Gulf Cooperation Council (GCC) as well as other friendly countries in the region for assistance in locating Indian nationals held captive in Iraq."
The source said, "We were clear that we do not want to declare them dead, unless there was incontrovertible proof about their death. What would have happened if we had declared them dead, and even one person had appeared?"
But, hopes were dashed soon after the fall of Mosul in July. "When we did not get phone calls from any of them… In July last year, after the liberation of Mosul, we finally gave up hope. That is when we started looking for their bodies in the mass graves and started collecting DNA samples."
The Indian Express website has been rated GREEN for its credibility and trustworthiness by Newsguard, a global service that rates news sources for their journalistic standards.