If the National Green Tribunal's pollution commissioners want to know where some of the 80,000 diesel-belching trucks that enter Delhi every night go, all they need to do is reach the heart of South Delhi at 10 pm.
That's when the first of around 1,500 trucks starts revving up outside the government-run Inland Container Depot (ICD) at Tughlakabad, ready to transport goods to all corners of north and west India.
[related-post]
And there, even after the Supreme Court dismissed a plea against the NGT's ban on diesel vehicles over 15 years old from plying in Delhi, this is what the tribunal's monitors will find:
* At least 1,500 giant containers, many of them 20-feet-long units, are "moved" from the depot every night. They are taken to various warehouses within and outside Delhi from where the goods are carried out in trucks.
* It takes five-six trucks to carry goods from one container, making it a total of at least 10,000 trucks involved in the entire process.
* The depot receives cargo through four rail lines via the Tughlakabad station. But despite having a 2-hectare slot for parking over 750 trailers, hundreds of trucks and container carriers are parked outside.
* The road outside – connecting Faridabad, Mehrauli and Badarpur with the rest of South Delhi – gets clogged by 10.30 pm. By midnight, almost 500 trucks and 100 container carriers would have moved in.
* 20 of the 42 drivers this newspaper spoke to last Wednesday night admitted that their trucks run on fuel that's been phased out in Delhi – forget Bharat Stage IV, some run on BS I and BS II.
* There are no pollution checks, and on the night that this newspaper spent outside the depot, no traffic police either.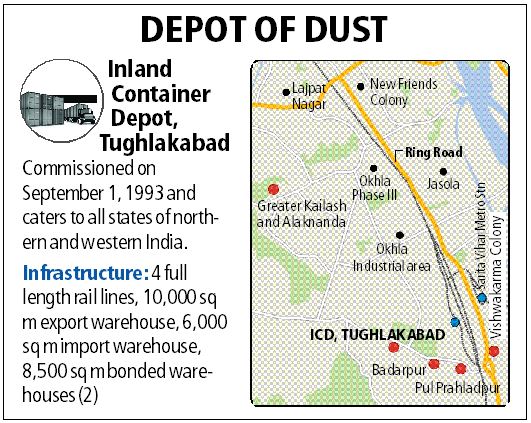 The victims, as always, are the people living next door, the 27,33,752 residents of South Delhi, according to the 2011 census — roughly the population of Jamaica. From urban villages such as Tughlakabad, Badarpur, Pul Prahladpur, and residential complexes such as Vishwakarma Colony, opposite the depot, to Greater Kailash and Alaknanda, a few kilometres away.
Said Sachin Tyagi, a yoga instructor who stays in Vishwakarma Colony: "I have had to abandon my morning jog. Even though there is a park next to the ICD, it's impossible to walk there, let alone run. Your eyes sting if you walk outside when the trucks are moving."
Anand Singh, the owner of a dhaba outside the depot, said the air is so bad that it has forced him to start a home delivery service. "In the winter, you won't see a single person in my shop. Even if the weather is fine, no one will come here to eat because they can't breathe. They would take food from my shop, and go home and eat behind locked doors and windows. So now, I have started delivering food at homes," Singh said.
A top official of the Container Corporation of India Ltd (CONCOR), the PSU navratna that runs the depot, admitted that "of the 80,000 trucks coming into Delhi every night, a substantial number comes to Tughlakabad to pick up the cargo that arrives here by rail".
"We get a lot of cargo in Delhi — for instance, pulses. Once they're here and cleared by customs, they go out to other parts of the city and country on whatever vehicles that are available," Sanjay Bajpai, chief manager, ICD Tughlakabad, told The Indian Express.
It's not just the local residents, the drivers of the trucks too suffer the fallout of the poisonous fumes that their vehicles emit.
"This is how it is every day. In the evening, there's heavy traffic on the road, so there's a lot of smoke. But nothing compares to what happens at night. Drivers who come here for the first time often throw up. You eyes start burning and after an hour, you get a headache," said Misbah Mohammad, a truck driver from Lucknow.
'They must move away'
What business does a container depot have in the heart of Delhi, asks Bhure Lal, chairman of the Environment Pollution Control Authority (EPCA), a body mandated by the Supreme Court to monitor air pollution in Delhi.
"They block the entire road, parking on both sides. Cars can't pass and the entire area gets completely polluted. They must move away from Delhi," Lal said.
"Ideally, this should have been an important public transport corridor, connecting South Delhi with NH 2, Badarpur and Faridabad. But the reality is this has become a huge traffic problem and leads to a lot of congestion every day," said Anumita Roychoudhury, Centre for Science and Environment (CSE).
In August 2014, Delhi's Lt Gov Najeeb Jung, then in charge of the city, had identified the "shifting of Inland Container Depots to other locations" as a crucial long-term measure to fight air pollution in Delhi. Jung had also urged all government departments to take this up "on a mission mode".
Trying, but not enough
Bajpai, the ICD chief manager, said they were "trying to reduce the amount of cargo that is not destined for Delhi".
"What CONCOR is trying to do is set up a ring of ICDs around Delhi to reduce congestion in Tughlakabad. There is already one which is operational at Dadri. There are two more coming up in Neemrana and Panipat. These will become operational in the following months," Bajpai said.
According to officials, cargo for Delhi and adjoining areas arrive from gateway ports such as Mumbai, Nhava Sheva and Chennai via rail to Tughlakabad.
"We get two kinds of commodities coming in. One is destined for factories, where the importer gets his own consignment and picks it up. The others are what is known as 'high sea sales', where the commodity changes hand after arriving. We don't know where it is destined for or the number," said a CONCOR official, who did not wish to be named.
What this means is enforcement authorities in Delhi have no clue about the magnitude of the problem.
No system to check: Police
New Delhi Special Commissioner of Police (Traffic) Muktesh Chander admitted that they "did not have a system to check whether the container trucks conform to pollution control norms".
"Stopping these huge vehicles will lead to congestion. Checks are near impossible to enforce due to the sheer number of vehicles passing through the city," Chander told The Indian Express.
"Many of these are non-destined vehicles, which means they use Delhi as a transit route to travel to other cities. We have conducted surveys at three border checkposts and found that 30 per cent of all trucks use Delhi as a transit route," he added.
ICD in-charge Bajpai said the "real problem" was the lack of enough BS IV-compliant trucks and container carriers in the Indian market.
"I would like to see Delhi being served better by the ICD. This is possible if Tughlakabad eventually serves only Delhi's needs. But the problem is that we don't have too many heavy duty vehicles that follow global standards. I would ideally like to switch over to Euro VI norms and then we will see immediate relief. But there is a technological cap," he said.
"After reading the Indian Express – Death by Breath investigation, I was motivated to contact experts from IIT Delhi to know what can be done to resolve this issue. They will be coming soon and will be giving us suggestions on how we can help improve air quality," Bajpai added
(With inputs from Sarah Hafeez)
The Indian Express website has been rated GREEN for its credibility and trustworthiness by Newsguard, a global service that rates news sources for their journalistic standards.