Although the June rainfall is in surplus, it's only for the month. The Met department has cautioned that the El Nino effect will tell on July rainfall. It has forecast 92 per cent in July and 90 per cent for August with an error of 9 per cent either way. Deficits then would be more significant, for July delivers over a third of the rainy season's total precipitation, compared to less than a fifth in June.
[related-post]
"We have already issued a forecast for July and August and El Nino is definitely going to affect the rainfall," said a Met department official.
SkyMet, a private forecasting agency, however, differed with the Met office prediction. It has issued a forecast on its website for "above normal" rainfall (104 per cent in July) and normal rainfall (99 per cent) in August and (96 per cent in September).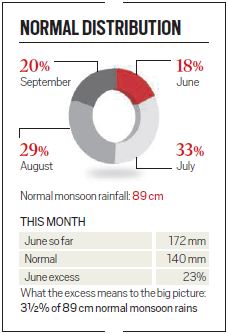 Anything less than 90 per cent of the long-term average is considered deficient rainfall, 90-96 per cent is below normal, 96-104 is normal and 104-110 is above normal and anything above that excess.
However, this year, the monsoon covered the entire country including West Rajasthan by June 26. Monsoon 2015, after hitting Kerala a few days behind schedule on June 5, made sluggish progress in the initial days, the reason being Cyclone Ashobaa, before gaining strength thereafter.