Malegaon 2006
September 8, 2006: 31 dead,
312 injured
ATTACK: Four explosions, three of these at Hamidia Masjid.
PROBE: Nine Muslim youths arrested by ATS, which chargesheeted them and four absconding accused under MCOCA on December 21, 2006. CBI took over in July 2007, filed a chargesheet against same accused on February 11, 2010. NIA took over on April 6, 2011, after Swami Aseemanand had made a confession in the Mecca Masjid blast case that Sunil Joshi (accused) had told him that the blasts at Malegaon were the handiwork of his men. During the NIA probe, all nine chargesheeted by the ATS and CBI retracted their confessions, alleging they were secured under duress. NIA filed a supplementary chargesheet against four accused, all Hindus, on May 22, 2013, in NIA special court, Mumbai.  The nine Muslims moved court and secured bail, unopposed by NIA.
WATCH VIDEO
ACCUSED (ATS and CBI chargesheets) : Noorul Hudah Samsudoha, Shabbir Ahmed Masiullah, Raees Ahmed Rajjab Ali Mansuri, Salman Farsi Abdul Latif Aimi, Farogh Iqbal Ahmed Magdumi, Shaikh Md Ali Alam Anamat Ali Shaik, Asif Khan Bashir Khan, Md Zahid Abdul Majid Ansari, Abrar Ahmed Gulam Ahmed
(NIA chargesheet): Manohar Narwaria, Rajendra Chaudhary, Dhan Singh, Lokesh Sharma
(Also accused by NIA): Sunil Joshi (murdered), Ramchandra Kalsangra, Ramesh Venkat Mahalkar, Sandeep Dange
STATUS: Under trial at NIA special court, Mumbai, charges yet to be framed.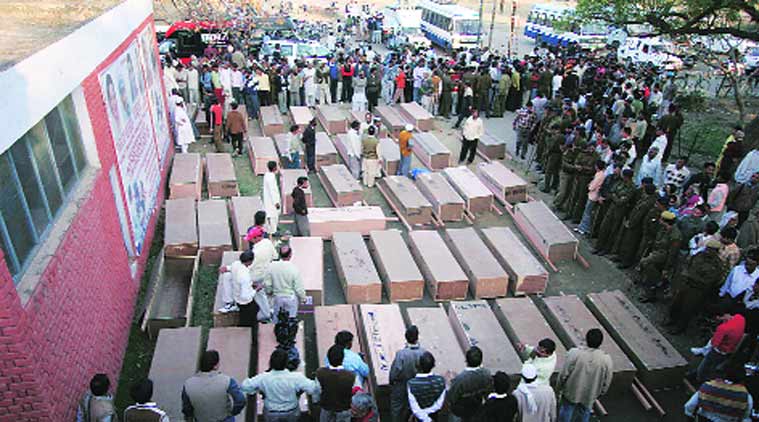 SAMJHAUTA EXPRESS
February 19, 2007: 68 dead,
13 injured
ATTACK: Blast on the train near Panipat. Dead included Indian, Pakistani nationals.
ACCUSED (Chargesheeted): Swami Aseemanand, Sunil Joshi (murdered), Ramchandra Kalsangra, Sandeep Dange, Lokesh Sharma, Ramesh Venkat Rao Mahalkar, Kamal Chauhan, Rajender Chaudhary
(Yet to be chargesheeted): Amit alias Prince, Sadhvi Pragya, Indresh Kumar, Devender Gupta and some others.
STATUS: NIA chargesheet on June 20, 2011, against 5 accused, supplementary chargesheets against three more in August 2012 and June 2013 before NIA special court, Panchkula. Trial on since February 24, 2014.
MECCA MASJID BLAST
May 18, 2007: 9 dead, 58 injured
ATTACK: A blast inside the mosque in Hyderabad during Friday prayers
ACCUSED: Devendra Gupta (RSS, Bihar), Lokesh Sharma (RSS, Mhow), Aseemanand, Bharat Mohanlal Rateswar, Rajender Chaudhary, Sandeep, Ramchandra Kalsangra, Sunil Joshi, Tejram Parmar a.k.a. Khalifa, Amit Chowhan alias Prince
STATUS: Chargesheet on December 13, 2010, by CBI against two accused before a Hyderabad court. NIA supplementary chargesheets in May 2011, July 2012 and August 2013, against five including two chargesheeted by CBI. On February 13, 2014, NIA special court, Namapally, framed charges and summonsed 72 witnesses. Investigation continuing against remaining accused. On March 12, 2014, Andhra High Court granted bail to Devendra Gupta and Lokesh Sharma.
AJMER SHARIF
October 11, 2007: 3 dead, 15 injured
ATTACK: Blast during iftaar on the compound
ACCUSED: Devendra Gupta, Chandrashekhar Leve, Lokesh Sharma, Harshad Mukesh Vasani, Swami Aseemanand, Bharat Mohanlal Ratishwar, Sandeep Dange, Ramchandra Kalsangra, Sunil Joshi, Bhavesh Bhai Patel, Suresh Nair, Mehul a.k.a. Maheshbhai Gohil
STATUS: Rajasthan ATS chargesheet against three on October 20, 2010, before CJM, Ajmer. Three NIA supplementary chargesheets against 12 accused from April 2011 to October 2013. NIA special court, Jaipur, has framed charges; trial likely soon.
MODASA
September 29,2008: 1 dead,
10 injured
IED in storage compartment of a motorcycle exploded in Modasa town of Sabarkantha, a 15-year-old boy died.
STATUS: On June 29, 2010, NIA took over probe, no arrest yet. NIA believes two absconding accused in Malegaon 2008 blast could be involved here too.
📣 The Indian Express is now on Telegram. Click here to join our channel (@indianexpress) and stay updated with the latest headlines
For all the latest India News, download Indian Express App.
The Indian Express website has been rated GREEN for its credibility and trustworthiness by Newsguard, a global service that rates news sources for their journalistic standards.