As mixed reports trickle in from LFW,I got curious about yesterday,as it was declared a dedicated Textile Day at the fashion event. Given that a majority of collections made in India by local designers are indeed fused out of local textiles,why does LFW want a special day for textiles? And how does it choose those showing on this day?
On the one hand,this could give rise to a new selection process,(all selection processes are rife with controversies) but on the other hand,if the card is played well and the property developed,designers will soon start applying to show on Textile Day. That would spell clear competition and we may have the wheat separated from the chaff in the next few seasons.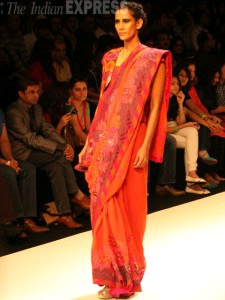 The danger that such the Textile Day idea runs is to become like any other label,smart sounding and focused in name but is not mandatory to follow for participating designers. That is indeed the irony of India's fashion industry. The more it gets engaged with words like Diffusion,Couture,Bridal Wear,Resort Wear,the less it seems obliged to follow these as diktats.
My colleague Afsha Khan,reporting from LFW dished out a photo blog for you. She calls it the Sunday best.
Sunday Best
A short photoblog with the most fascinating stuff seen off-the-ramp on Day 3 of Lakme Fashion Week: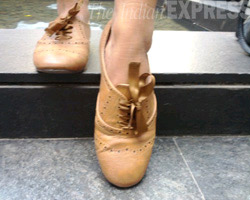 On my second Lakme Fashion Week now,I've come to concur that fashion off the runway is just as fascinating. At times it's even more so.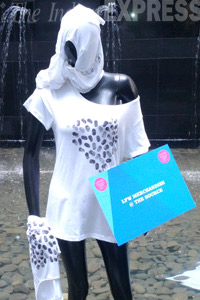 It's all about expressing yourself,making a statement and perhaps telling an interesting story or two. If clothes,shoes and jewellery could talk,you could say that I heard some fascinating tales on Sunday.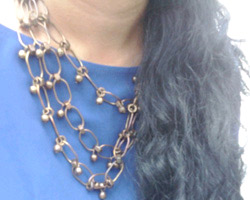 What I liked about the neckpieces,of which there were many,was how detailed they tended to be with contrasting shapes,sizes and colours.
Worn with plain shirts,blouses and dresses,the most interesting necklaces I spotted were in shades gold or bronze with the occasional shocker of colour.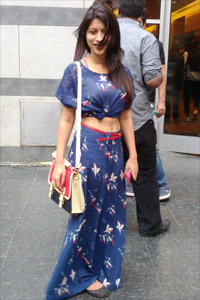 It isn't fashion week unless it's dominated by divas. I met a blogger who totally belted the 90s hipster pants paired with a short blouse. The birds in the print only added to the summer vibe.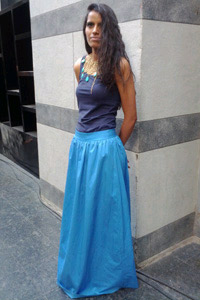 Model Peeti Dhata's blue Zara skirt reminded me of a uniform that my convent school kept threatening to enforce should we misbehave. Back in the 90s,it worked too—well,most of the time anyway. But now,in 2012,I'm strangely gravitating towards this style. It's clean,elegant and looks stunning on her tall frame. The neckpiece in gold and blue – what did I tell you?—really adds a spark of glamour to the simplicity of the look.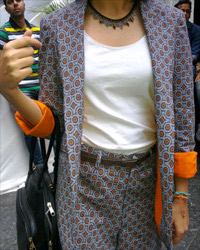 You see the blazer here with the bright orange lining? The fashion writer sporting it assembled it herself but more importantly,she found the right tailor to do the stitching for her.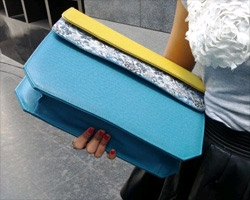 Then there's the biggest clutch bag in the world,possibly,which holds this writer's wallet,phone,data card,MacBook Air and makeup.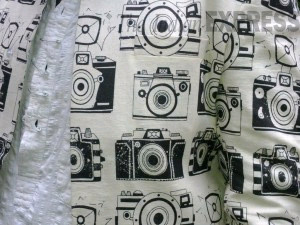 If you follow our tweets on @IndianExpress,you might have seen this Masaba jacket already. It's made from cotton,has cameras in different shapes,sizes and styles and it's from this season's runway.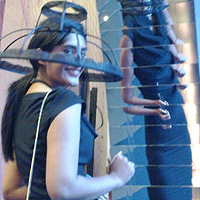 Shivan Naresh's lampshade hats might have looked like gimmicks to add to the drama of their collection. But with this blogger's help they demonstrated that they're quite easy to wear and pair. Of course,the hat didn't keep the sun out but it did add a touch of high fashion to a slow and sleepy Sunday.