Five international NGOs working on wildlife conservation have joined hands to raise £20 million for securing 100 elephant corridors across India in the next one decade. Securing a corridor entails its protection and reclamation of encroachers as well as officially settled persons.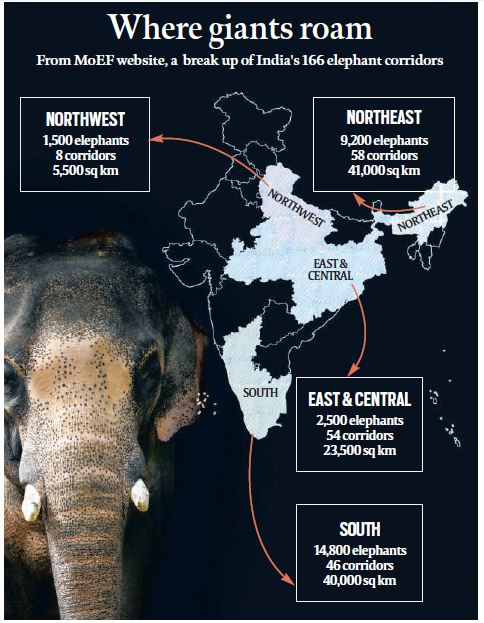 This is aimed at making movement of herds smoother and reducing the human-elephant conflict that has every year been leading to the loss of hundreds of lives – of both humans and elephants.
Elephant Family, International Fund for Animal Welfare, IUCN Netherlands, World Land Trust and Wildlife Trust of India have signed an MoU under the umbrella of Asian Elephant Alliance. The fund-raising that was kicked off at Lancaster House in London on Wednesday was hosted by Prince Charles and Princess Camilla. The latter has a family connection with Indian wildlife; her late brother and Elephant Family founder Mark Shand had not only written several books on the subject but had also served as a brand ambassador for Kaziranga National Park.
The 100 selected corridors — India has 138 within various states, 28 more from state to state, and 17 international ones connecting to Bangladesh, Myanmar, Bhutan and Nepal — have been documented by WTI in consultation with forest departments of the states. Securing the corridors would facilitate unhindered movement of elephants from one fragmented habitat to another, one of the key answers to mitigating conflict.
"Five leading conservation organisations, 100 key elephant corridors but one goal; nothing pleases me more than the coming together of the global community in the fight for this endangered species," said WTI's executive director Vivek Menon. "I am particularly pleased that Prince Charles, who so wanted to see an Asian elephant last time he was in India, was present on the momentous occasion when the fund-raising campaign was launched."
According to estimates, 400 people and 50 elephants are killed in India every year due to conflict, which is increasing due to the rapidly shrinking habitat. While most tiger habitats fall within protected areas, only 22 per cent of elephant habitats has some kind of protection. This means the majority of the wild elephant population in India lives around human-dominated landscapes that have gradually turned hotbeds of conflict.
While the government has been struggling to protect and secure elephant corridors across the country, WTI has already secured three such corridors, one each in Meghalaya, Kerala and Karnataka under its corridor securing project launched in 2001.
In Assam, some tea estates have voluntarily begun clearing bushes to restore natural corridors that pass through them. Tea estates such s Nonaipara, owned by Goodricke, or Hathikuli owned by Amalgamated Plantations Pvt Lt (formerly Tata Tea) have also taken up other elephant-friendly measures such as digging water-holes and keeping clear areas for the wild herds to drink water and take shelter.
Elephants of Kaziranga National Park, which cross over to the Karbi Anglong highlands during the monsoon months, use four designated natural corridors. A CAG audit team, in a joint inspection with Kaziranga officials recently, found "largescale construction" of resorts, dhabas, dwelling houses, parking lots and garages on these corridors as also along the national highway.
Last month, 19 families of Ram Terang village near Kaziranga National Park voluntarily agreed to relocate from inside a corridor to a site near Sar Kro village as part of a community-based conservation initiative undertaken by WTI to reduce dependence on the corridor.
The initiative has been supported by Elephant Family, IUCN-Netherlands and Japan Tiger Elephant Fund. The 19 households will be given additional land for agriculture, subsequently, to further minimise their dependence on corridor resources. Ram Terang had witnessed frequent conflict with regular loss of crops and lives of both villagers and elephants.
The Indian Express website has been rated GREEN for its credibility and trustworthiness by Newsguard, a global service that rates news sources for their journalistic standards.