Today, over 8 lakh take the contentious UPSC Prelims. Many of them have spent hours preparing in 'libraries' in the Capital's Old Rajender Nagar. Little more than rooms with chairs and desks, these are the spaces that provide them comfort in their search for a level playing field by Kaunain Sheriff M photographs by Ravi Kanojia
In a 15×20 ft room, about 75 young men and women sit in rows partitioned by wooden planks, their heads bent over their books, some furiously making notes. It's all quiet. Pin-drop silence as in a library. And that's what it is: 'Vision IAS Library'. But this is no ordinary library. In fact, it's not even a library. There are no books, no book shelves; it's a quiet space in a city where both 'quiet' and 'space' are at a premium — and it's exclusively for civil services aspirants.
While elsewhere in the Capital, civil service aspirants took out marches for weeks last month, sat on hunger strikes and hung out of bus windows shouting slogans against what they said was an exam system biased against aspirants from non-English-medium backgrounds, the 'library' in Old Rajender Nagar in west Delhi was a world far removed.
With the Preliminaries beginning on Sunday, August 24, the exaggerated sound of the ticking clock reminded them that they could afford no distractions. They hardly looked up from their books. When they did, it was to put their weary heads down for a shut-eye, step out for a cup of chai or to discuss a vexed problem from one of the sample papers.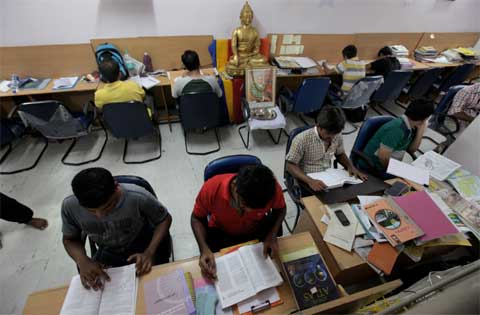 Old Rajender Nagar is the Capital's study centre, that other big draw for civil service aspirants besides Mukherjee Nagar in Delhi. Seen in isolation, Rajender Nagar seems like a pop-up city set up just for those aspiring to join India's elite services club. There are billboards and posters for coaching centres, advertisements for paying guests, and small eateries where young men and women hurriedly down hot paranthas and chai. Over the past two years, several reading rooms such as Vision IAS Library have come up to cater to civil service aspirants — for a fee, ranging from Rs 2,000 a month for a 24-hour shift to Rs 1,300 a month for a 12-hour day shift.
When Shalini Rathod and her husband Sanjeev set up Vision IAS Library in 2011, theirs was among the first few 'libraries' in the area. It now also goes by the name 'Dholpur House'; no coincidence that it is also the name of the UPSC Headquarters on Shahjahan Road in Delhi.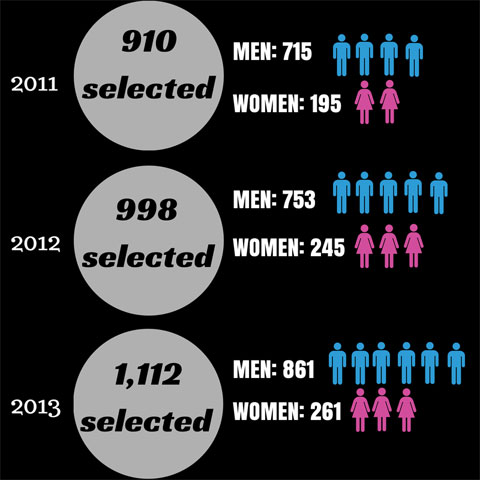 "These libraries are a very different concept. It is probably a misnomer to call them 'libraries'. You do not have access to books here. These are simply reading rooms that provide the ambience and peace of a library. Libraries enhance one's discipline and concentration skills — these reading rooms serve the same purpose, which is why we call them libraries," says Rathod. She says they don't provide reference books because "the syllabus is very dynamic and the exam pattern requires diverse reading material". "Every student brings her own books and refers to them," she says.
A few metres away, the glistening glass façade of a four-storey building marks the space for another 'library'. Run by a Maharashtra-based NGO, this is the Ambedkarwadi Mission Library, also among the earliest 'libraries' in the area.
"The library model that our founder Deepak Kadam started in Nanded was so successful that they replicated it in Delhi. We started this as a single-floor library in 2012 with a seating capacity of 125, but the demand was so high that we had to shift to a four-floor building a year later," says Swapnil Bhadre, who works at the Ambedkarwadi Mission Library.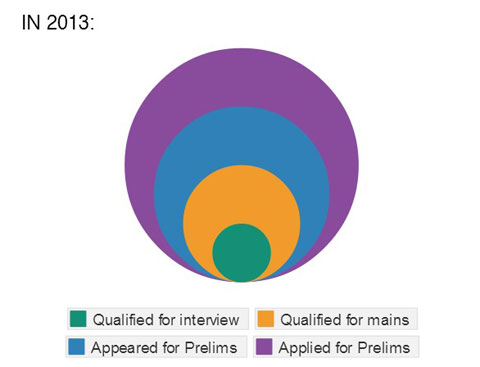 At least a dozen other libraries followed, all with airconditioned halls, WiFi and discussion rooms. Most of these 'libraries' run out of small and congested basements, crammed with chairs and desks that can accommodate between 50 and 120 students. The bigger ones occupy an entire floor in a residential building and accommodate around 200 students, while some like Aryan Library are spread over four storeys and take in some 500 students.
The 'libraries' usually run in three shifts — morning until evening, evening until night and night until the next morning.
"It's tough for these students to find an affordable space in the city. Sometimes, more than four students stay in a single room and that's not the best situation to study in. Moreover, in a city like Delhi, which has such harsh weather, not every student can afford airconditioners. That's how we started the library," says Rathod, director of Vision IAS.

The Rathods first came to Delhi 15 years ago from Maharashtra to prepare for the civil services exam. Despite several attempts, they couldn't crack the exams, but decided they would put their familiarity with the system to use. "As aspirants from outside the city, we faced a lot of difficulties finding our way around here. So we first started a coaching institute in March 2009. In our first year, 17 aspirants mentored at our institute cracked the exam. But we realised that apart from coaching, these students had other problems," Rathod says. So two years later, in March 2011, the couple set up Vision IAS Library.
***
It's 4 am and Suraj Prakash, 24, takes his one last break for the day. He has a couple of hours left of his 12-hour shift at the library and is part of a huddle at the entrance of Aryan Library, taking hurried sips of his tea. The group talks animatedly — navigating effortlessly from modern history to aptitude problems.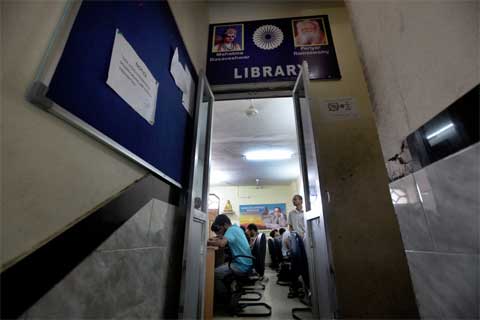 This is Prakash's first shot at the exams. After his MTech in Computer Science, Prakash wanted to join the Indian Police Service. "I had earlier attempted the Combined Defence Services Examination but was unable to clear it," he says. He now travels 20 km from his home in Mayur Vihar, east Delhi, to the 'library'. "I live in a joint family and there is always a lot happening at home. It's very difficult to put your head down and not be distracted. Now I spend 12 hours here every day," he says. Prakash is on the night shift — he starts at 9 pm.
"My body clock has changed. I sleep all day, eat a small meal at home in the evening and then I am off to the library," he says. He pays Rs 1,500 a month to use the 'library'.
"Some students opt for a 24×7 shift, which means they can access the library any time of the day," says the owner of one such space who didn't want to be quoted because most of these 'libraries' fall in the grey area of building regulations, which ban commercial establishments from operating from basements in residential areas.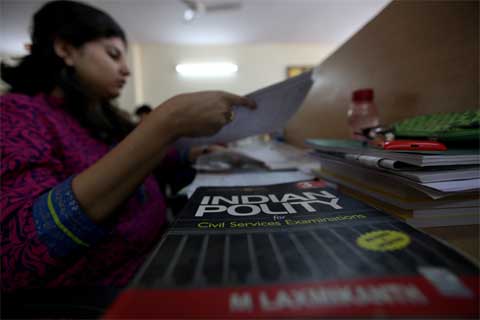 Mohit Gautam is 31 and this is his final attempt at the civil services exam. The techie at a Noida firm is on leave from work and has enrolled at Aryan Library. "I have attempted this exam twice before and this is my last chance. I needed an environment that was peaceful yet competitive," says Gautam who has opted for a 24-hour shift. He spends about 18 hours at the 'library', going to his room in Old Rajender Nagar only to catch some sleep.
"A lot of the students studying in the libraries are either working professionals or are part of some coaching institute. They need flexible timings. That is the reason why these libraries stay open throughout the day," says Bhadre of Ambedkarwadi Mission. "You will see techies opting for night shifts. They come in after work."
Pooja Kedkar, who cleared the Prelims and Mains but failed the interview in her previous attempt, says many students study late night after attending classes in coaching centres. The doctor from Maharashtra joined Vision Library 18 months ago because of the "flexible shifts" they offered her, she says. "I can extend my study hours for a few hours on days I choose to and not have someone waiting for me to vacate."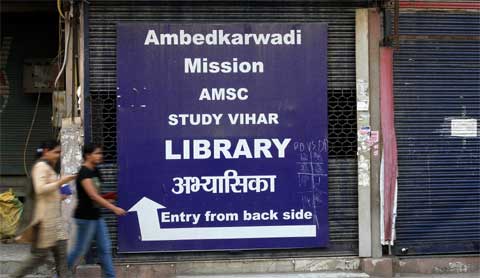 However, while the night batches, with fees ranging from Rs 1,200 to  Rs 2,000 a month, are the most sought-after during the Prelims, after the results are out, the trend changes. Then the demand for the morning batches goes up. "We need to get back our normal sleep routine before the Mains. From September, I will change my batch from night to day," says Prakash.
At the Ambedkarwadi Library, the low whirr of the airconditioner shuts out most distractions — the sound of the autorickshaws and two-wheelers honking in the street outside and the sapping humidity. Some of the libraries advertise "100 per cent power back-up" and charge more for the service.
Aditya Ranjan, 26, admits it is the air-conditioning that draws him to the 'library' where he does a 12-hour shift. An engineer who worked with Oracle in Bangalore, he cleared the exam in his first attempt last year and secured rank 728 in 2013. That would have got him into one of the services but Ranjan is clear about what he wants — the IAS and nothing less — and he won't let Delhi's weather get the better of him.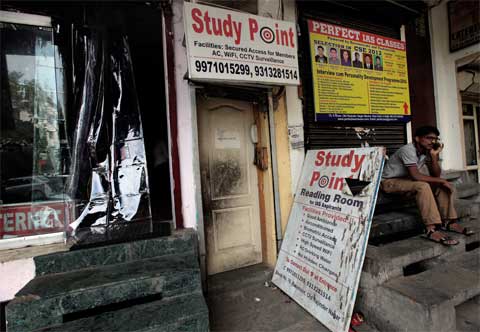 "It is very simple. The extreme weather conditions in Delhi are the reason why people opt for these libraries," he says. "Power outages are common in the city and not everyone can afford AC rooms. I share a room with two other people here in Old Rajender Nagar and it's very difficult to study there. So I spend my day here and go back to my room only to sleep."
The demand for these 'libraries' is, in fact, the highest in summer, a few months before the Preliminary exams. "All the libraries are full now. Also, since the Prelims fall in the month of June or August, some of the hottest and most humid months, students rush to libraries. Once the Preliminary results are out in September, students who do not clear the Prelims vacate," says Rahul Sontakke, the manager of Ambedkarwadi Library.
Around 1.30 on a weekday afternoon, the small living room that doubles as the reception of Vision IAS is unusually boisterous. It's lunch time — dabbas are noisily opened and people start straightaway without ceremony, but no one talks food. Instead, the discussion is all about the exam on Sunday. It's sessions like these that serve as informal study groups, where candidates bounce ideas off each other and discuss sample papers.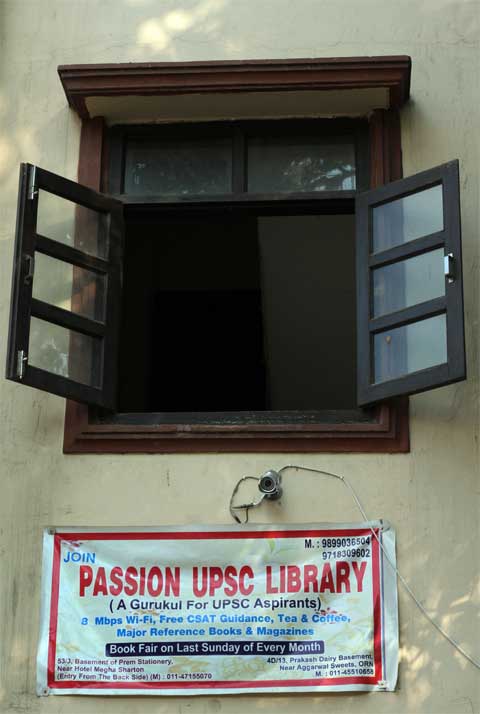 The discussions, like this one, usually happen outside the reading rooms. Some of the bigger libraries, however, have separate discussion rooms and even offer mentors. "Interaction and discussion are a very important part of the preparation. The best thing about these libraries is that you know where you stand when you discuss with others. It makes you more critical about your preparation. Besides, the new syllabus makes it even more important for you to go beyond the textbooks. These discussions also help build confidence," says Dr Sudarshan, an aspirant from Maharashtra.
Sudarshan had moved to Delhi in 2012 after his MBBS and has attempted the exams twice — clearing the Prelims both times, but tripping at the Mains. He isn't taking any chances in his third attempt. "He studies for 19 hours a day. You will not see anyone as hardworking as him," says Sudharshan's friend Ranjit Khade.
***
The 'libraries' do their best to lure students. Aryan, the biggest in terms of seating capacity, offers lockers as an incentive. "I moved to this library four months ago when I heard of their lockers. I used to go to another library earlier and I had to lug my books every day," says Prakash, the aspirant from Delhi.
Vision IAS and Ambedkarwadi Library claim to invite successful candidates as well as civil servants to interact with the students. "We recently had a session with a retired IG from the IPS. These interactions really help us," says Snehal Lokhande, who does a 12-hour shift at Ambedkarwadi Library. Other 'libraries' such as Aspire have mentors whom students can approach for doubts.
The most sought-after libraries also offer 'online applications'. "Due to the huge demand, the application process is now done online. This is purely based on first-cum-first serve basis," says Rathod of Vision IAS Library. The Rathods, in fact, will soon be moving their 'library' out of the present double-storeyed building to a five-storeyed one.
'Libraries' also advertise the 'success rate' of their residents. "Aspirants are fascinated when they hear these success stories. It's all about the right strategy. If we think a particular library has a good success rate, we students flock to that library. That is why you have two to three libraries that are always in demand," says Naveesh G G, an aspirant from Karnataka who came to Delhi last year and enrolled at Vision Library. But this year, he applied too late, by which time the 'library' had no seats left. He now goes to the British Council library, but it shuts in the evening and that leaves him stranded.
Some of the 'libraries' have also installed biometric attendance systems and CCTV cameras. "Sometimes we have had problems of students who are not enrolled with us accessing the facility. So we have had to install biometric attendance systems and have issued students identity cards. Besides, CCTV cameras provide round-the-clock surveillance," says the owner of a 'library' who didn't want to be identified.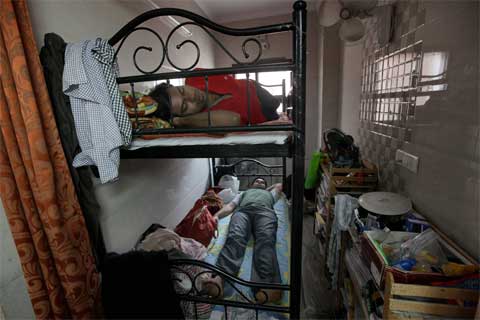 It's 5.30 pm and Gitashree, who only goes by her first name, sits at her "favourite" corner seat at Vision Library.  As she steps out for a chat, she steals a glance at her watch and says the 'library' helps her manage her study hours better. The history graduate from Delhi University had gone home to Assam in 2012 after completing her coaching classes and had attempted the Prelims once before. Two years on, she is back in Delhi and giving another shot at the exams.
"My preparation back home wasn't too good. The atmosphere in the library compels you to put in that extra effort that is required to crack this exam. Besides, I think this is among the safest places in the city. We have these CCTV cameras," she says, looking around. "I feel safe and secure here — day or night. That's important if you have to crack these exams. And it's quiet," she says, before hurrying back in.
The Indian Express website has been rated GREEN for its credibility and trustworthiness by Newsguard, a global service that rates news sources for their journalistic standards.