RANK 1: NARENDRA MODI, 63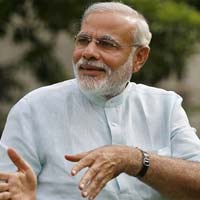 Chief Minister, Gujarat
Rank (2013): 2
WHY
Because as the BJP prime ministerial candidate for the 2014 Lok Sabha elections, he is the face of a high-voltage national campaign that has galvanised the party with its promise to deliver its best win ever. Going for broke (Mission 272+), he has forced others to define themselves on his terms. By scripting a narrative of development and decisive leadership and counting on an electorate that's young and impatient, he has been able to deflect attention from questions on his role during the 2002 Gujarat riots.
Power Punch
Modi's publicity managers have swamped social media sites and the Internet, launching sites, Twitter handles and Facebook pages. To reach out to a larger electorate, the pitch has changed from the Vibrant Gujarat context of a CEO-chief minister. From projecting him as an OBC, the emphasis is now on his beginnings as a chaiwallah — a bid to counter the dynastic roots of his biggest challenger, Rahul Gandhi.
WHAT NEXT
As Prime Minister, all eyes will be on how Modi in Delhi is different from Modi in Ahmedabad, on who all form his inner circle. Even if the numbers elude him, he would have irreversibly changed power equations in the BJP.
BY THE WAY
He loves gizmos and photography. He was one of the first in his party to have started using a digital camera.
RANK 2: RAHUL GANDHI, 43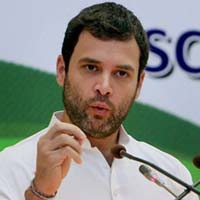 Congress vice president
Rank (2013): 1
WHY
A year after he was made the grand old party's vice president, Rahul is now in command and calls the shots in the party to a large extent. The de facto prime ministerial candidate of the Congress for the Lok Sabha elections, the Amethi MP has stepped out of mother Sonia Gandhi's shadows in quick time to take organisational activities in his grip. From selecting broad campaign themes to candidate-selection and manifesto-making, he is playing a crucial role.
POWER PUNCH
His tearing of the proposed ordinance on convicted MPs and MLAs underlined his pre-eminence and clout in the ruling dispensation. The government meekly surrendered and rolled back its decision to bring an ordinance to protect convicted lawmakers from disqualification.
WHAT NEXT
The outcome of the Lok Sabha elections, whichever way it goes, will not affect his pre-eminent position in the party, but a severe setback at the hustings could impact his plans to bring about major changes in the organisation which he personally believes is inevitable. His operation shake-up, introducing elections at all levels and opening up the system, could face resistance from the old guard.
BY THE WAY
He has two dogs — both Jack Russels — named Piddi and Tashe.
RANK 3: SONIA GANDHI, 67
Congress president and UPA chairperson
Rank (2013): 3
WHY
She still has the last word in the Congress. Although she has passed on the baton to son Rahul amid speculation over her health, Gandhi remains the guiding force and final authority — be it on organisational affairs including selection of chief ministers and policy decisions of the UPA government — and continues to be the UPA fulcrum. Known to be pragmatic, she continues to be the force behind the government's populist measures and will take crucial decisions on alliances.
POWER PUNCH
She pushed for the Food Security Bill in Parliament despite strong reservations by senior party leaders, ministers and allies like Sharad Pawar.
WHAT NEXT
She has rubbished rumours about retiring from politics. Although a walk into the sunset is being ruled out, it is certain that she will play a less active role in organisational matters after the Lok Sabha elections. Will play a pivotal role in the next government formation in the event of the opposition BJP failing to muster requisite numbers.
BY THE WAY
She has a formidable memory, and notices minute details about people, even a hair cut.
RANK 4: ARVIND KEJRIWAL, 45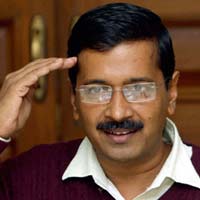 AAP leader, former Delhi chief minister
Rank (2013): 79
WHY
For catapulting a 14-month-old political party to power in Delhi. In an election year, he kept his 49-day government in the news — be it through an ill-timed dharna or by perpetuating his brazen style of politics of naming and shaming. While declaring the Aam Aadmi Party's priorities for the Lok Sabha elections, he put out what he claimed was a list of 28 (later revised to 30) "corrupt" politicians.
POWER PUNCH
Kejriwal's credibility and hard-hitting style is his party's USP. He can draw crowds and that makes him the glue in a political party of limited organisational strength — the AAP top leadership comes from myriad ideological backgrounds and often tends to make disruptive statements.
WHAT NEXT
Kejriwal may soon find out that being the best known face of a party has its pitfalls. As former psephologist Yogendra Yadav leads an increasingly shrill demand from within the party for Kejriwal to be PM candidate, the former RTI activist may have to shed his own reluctance to step out of Delhi just yet.
BY THE WAY
Before his entry into politics, the only time he stood for — and won — an election was for the post of hostel mess secretary at IIT Kharagpur.
RANK 5: PRANAB MUKHERJEE, 78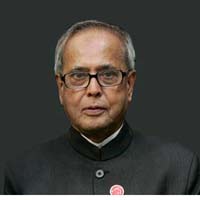 President
Ranks (2013): 8
WHY
As India goes into what is likely to be one of its most keenly fought elections and with pollsters predicting a hung Parliament, Mukherjee, often known as the best prime minister India never had, will hold the key to government formation.
POWER PUNCH
The Union Cabinet's decision to reject the ordinance route for anti-graft bills pushed by Rahul Gandhi is believed to have been influenced by the apprehension that President Pranab Mukherjee would not give assent to these ordinances. His derision for "anarchy" and the strong pitch for a "stable government" are signs that he will be a President like none other.
WHAT NEXT
Crucial role in government formation apart, Mukherjee has shown a penchant for reviving and reliving the Rashtrapati Bhavan legacy, be it by throwing it open to people or his appearance at Beating Retreat in a six-horse buggy. On the anvil is a museum inside the RB Estate, chronicling the illustrious structure and its history.
BY THE WAY
He taught political science in a West Bengal college before joining politics.
RANK 6: J Jayalalithaa, 66
Chief Minister, Tamil Nadu
Rank (2013): 19
WHY
The formula is rather simple but the potion is potent — her party, AIADMK, has an edge in each of the 40 Lok Sabha seats in Tamil Nadu and Puducherry, and is flexible enough to join the NDA or the third front or any other coalition of convenience that may emerge post-election. The ongoing trouble in the rival's family can only help her party. Little wonder that she is sitting smug, reluctant to gift seats to any.
POWER PUNCH
Permanently securing the rights and quantum of water awarded by the Cauvery water disputes tribunal, which would go a long way in establishing herself in the delta districts of Tamil Nadu. She, too, has played it up, calling it the best birthday gift, "a sense of fulfillment and satisfaction" for the first time in her three-decade political career.
WHAT NEXT
Left to her, it would be 'J Jayalalithaa, 7 RCR, New Delhi'. Or, at the very least, the one sitting in Chennai wielding the remote control. It all depends on how fractured a verdict India returns in this general election.
BY THE WAY
A Tamil superstar, she featured in a lone Bollywood movie, Izzat (1968), and performed a sizzling item number, Jagi badan mein jwala…
RANK 7: MAMATA BANERJEE, 59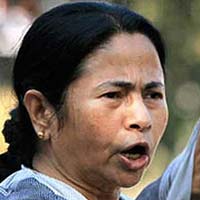 Chief Minister, West Bengal
Rank (2013): 25
WHY
With both the UPA and NDA trying to woo her, Mamata and her Trinamool Congress are all set to play a pivotal role in government formation after the Lok Sabha elections.
POWER PUNCH
As an anti-corruption wave sweeps the country, Mamata has got anti-corruption crusader Anna Hazare to back her for the prime ministerial job.
WHAT NEXT
Trinamool Congress is eyeing a national profile. Besides West Bengal, the party will fight in some other states too and is looking at post-poll tie-up prospects.
BY THE WAY
She is a serious painter and has an attic stacked with her work.
RANK 8: MAYAWATI, 58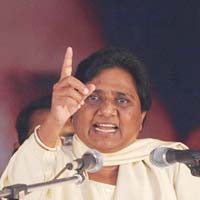 President, Bahujan Samaj Party
Rank (2013): 22
WHY
Her magic may have waned — especially after the drubbing her party got in assembly elections in four Hindi-speaking states late last year — but her support base in UP will make her influential in the event of a fractured national mandate this year.
POWER PUNCH
She escaped re-opening of the disproportionate assets case against her after the Supreme Court rejected a review petition. This now gives her more power to wield in national politics.
WHAT NEXT
With incumbent Samajwadi Party taking a hit in popular perception over its governance in Uttar Pradesh, she will be focussed on rallying BSP's committed support base in UP to project herself as the prime challenger to stall BJP's rise in the state.
BY THE WAY
She always has a chair with a white towel on it reserved for her in every room where she meets people. The chair also has a special leg-rest.
RANK 9: Justice P Sathasivam, 64
Chief Justice of India
(New on the list)
WHY
Author of several path-breaking judgments, Justice P Sathasivam has led from the front to have the apex court get down once again to the serious business of interpretation of laws. While writing an array of judgments on electoral reform and on issues relating to women and children, Justice Sathasivam, after he assumed the CJI's office, revived hearing on constitutional matters and also those pending for years together. Ever since the larger benches have been constituted, the SC has delivered several landmark verdicts.
POWER PUNCH
Evolving a new jurisprudence on the death penalty, Justice Sathasivam ruled that delay in execution makes the sentencing barbaric and extra-legal and hence, a prisoner cannot be hanged. The judgment led to a public discourse on the validity of the death sentence in Indian statutes even as various countries have abolished it. Thanks to his judgment, 18 death row prisoners have already been spared the gallows.
WHAT NEXT
Justice Sathasivam will decide a bunch of cases relating to the government's contentious decision to hike the price of natural gas. The issue will have huge economic as well as political ramifications.
BY THE WAY
The soft-spoken judge was the first graduate in his family.
RANK 10: Mohan Bhagwat, 63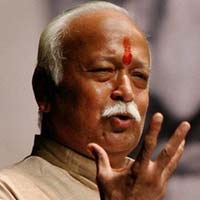 RSS chief
Rank (2013): 32
WHY
With the BJP mounting a fierce campaign to dislodge the Congress-led UPA government at the Centre, he commands authority as the head of the saffron parivar of which BJP remains a part. He has got RSS affiliate organisations to coordinate with BJP in mass mobilisation programmes in an election year. This wasn't the case in the 2009 Lok Sabha elections.
POWER PUNCH
He controlled a potential rebellion within the BJP in the run-up to Narendra Modi's projection as the BJP prime ministerial candidate. He did not allow BJP veteran L K Advani to scuttle the move and offered him an escape route after he resigned in protest over Modi's elevation as chief campaigner.
WHAT NEXT
He will be the final arbiter in terms of organisational reshuffle, of change in  the BJP strategy to wrest power after Lok Sabha elections in case it falls short of numbers.
BY THE WAY
Some of his favourite books are Phantoms in the Brain: Probing the Mysteries of Human Mind by V S Ramachandran and Sandra Blakeslee, The Shiva Trilogy by Amish Tripathi, and Bourne Ultimatum by Robert Ludlum.
📣 The Indian Express is now on Telegram. Click here to join our channel (@indianexpress) and stay updated with the latest headlines
For all the latest India News, download Indian Express App.