Written by
Smita Nair
| Panaji |
Updated: February 6, 2014 3:51:00 pm
Tehelka magazine's former editor Tejpal,who was on Saturday arrested in sexual assault case,sent to police remand for six days following which Crime Branch officials began grilling him.
2.00pm: Tejpal will now be interrogated through the day by a team of officers in Crime Branch.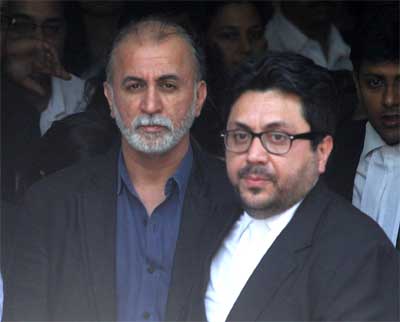 The police will be taking Tejpal to scene of crime within next six days,where he will be asked to identify the lift where the alleged crime has taken place in the presence of two witnesses.
The Goa Police seeking remand said that while the victim's statement is available with the police,they are yet to take the version of the accused on record.
Tejpal's lawyer Geeta Luthra said that the police had sought a remand of 14 days but the defence brought it down to six days. She was "satisfied with the outcome".
1.45pm: Tarun Tejpal taken out of court after being granted six-days police custody.
Tejpal's family provided a security cordon by Goa Police.
1.30pm: Long silence outside court as media waits for Tejpal to exit after court sends him to six-day police custody.
He will be taken to Crime Branch for interrogation. Tejpal has been given a change of clothes by his family,as allowed by the district and sessions court.
1.20pm: Tarun Tejpal is remanded in police custody for six days by a Goa court.
Judicial Magistrate (First Class) Shama Joshi passes the order for Tejpal's remand on police's plea.
Earlier,producing Tejpal in the court,the Goa Police had sought 14 days' custody of the veteran journalist,but the court ordered remand for six days.
Public prosecutor Francis Tavera argued the remand on behalf of Goa Police.
12.13pm: Remand order on Tarun Tejpal is expected shortly.
Tejpal was produced in the judicial magistrate's court. However,Tejpal's family and media was not allowed inside the court.
11.40am: Tejpal,who was arrested on Saturday,arrives in judicial magistrate (holiday court),his face uncovered.
Lawyers for Tejpal before entering court say police may ask for 14 days police custody and they will oppose it.
11.10am: Police bandobast arrives to cordon the perimetre around the judicial magistrate (holiday court)
10.40am: Tarun Tejpal's family arrives at the court of Chief Judicial magistrate in Panaji,Goa.
Senior counsel Geeta Luthra walks in with Tejpal's daughter and senior advocates.
Tejpal,who was arrested in a sexual assault case,spent night in a lock-up in Panaji with two murder accused.
He was referred for mandatory medical check-up at Goa Medical College near here at 12:30 midnight.
He was taken to Panaji police lock-up at around 2 am,after his medical check-up.
The Crime Branch sleuths had posted their guards outside the lock-up.
The dingy lock-up is located inside the Police Headquarters in Panaji,overlooking the office of the Director General of Police (DGP).
A lady journalist,employed with Tehelka,had accused Tejpal of sexually assaulting her twice on November 7 and 8 in Goa. He has been booked under Section 354A (outraging the modesty of a woman) and 376 (2)(K) (custodial rape) of IPC.
(With PTI inputs)
The Indian Express website has been rated GREEN for its credibility and trustworthiness by Newsguard, a global service that rates news sources for their journalistic standards.