Written by
Ruhi Tewari
| New Delhi |
Updated: July 6, 2015 7:42:34 am
Over two out of every three rural households own a mobile phone, the Socio Economic and Caste Census 2011 has found. At the same time, 36 per cent of rural Indians are illiterate, only 10 per cent households have someone with a salaried job and only 8 per cent households earn Rs 10,000 or more every month.
The SECC findings, released last Friday, bring out statistics reflecting the state of poverty and deprivation in rural India as well as crucial social trends such as ownership of assets, gender dynamics, marital status, educational and employment.
The mobile phone statistics contrast sharply with those for landlines. While only one per cent of rural households own a landline phone without a mobile, a whopping 68.35 per cent have mobiles as their only phone(s). In Uttar Pradesh, as many as 86 per cent rural households own no phone but mobiles. Households with both landline and mobiles constitute an additional 2.72 per cent of the rural population, with Kerala the highest among the states at 28.33 per cent.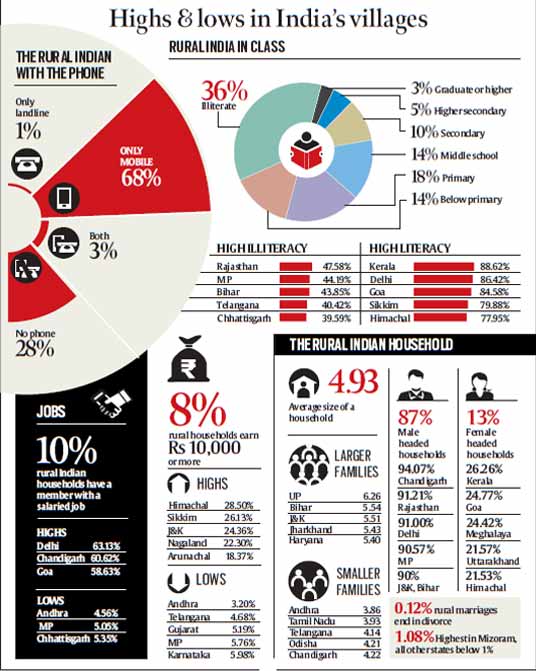 That leaves nearly 28 per cent rural households without any phone. In Chhattisgarh, this is particularly high at 71 per cent, mainly due to lack of connectivity and mobile towers, a reflection of the lack of development in the state, which has witnessed large-scale Naxal violence.
The average size of a rural Indian household is nearly five members — 4.93 — the highest being in Uttar Pradesh at 6.26 and the lowest in Andhra Pradesh at 3.86. An overwhelming majority of households is predictably male-headed, but nearly 13 per cent do have a female head. In Rajasthan, around 91 per cent households in rural areas are headed by men, while in Kerala 26 per cent households are women-headed, the highest among the states.
[related-post]
While divorces are a relatively common phenomenon in urban India, they remain almost rare in the rural landscape. Only 0.12 per cent of the rural population have been divorced, the highest in Mizoram at 1.08 percent. The findings list 41.64 per cent rural people as never married (the highest being in Nagaland at 56 per cent) but do not spell out the age group of these unmarried people.
Educational levels remain dismal, with over a third of rural India illiterate. The proportion of those passing through the primary, secondary, senior secondary and higher secondary stages drops at each successive level, from nearly 18 per cent to 5 per cent, while only 3.45 per cent are graduates or above. The highest proportion for graduates is in the National Capital Territory and Delhi, at 9.6 per cent; among the states, Kerala tops at 8 per cent.
Rural India remains largely dependent on self-employment or the unorganised sector. Less than 10 per cent households are dependent on salaried jobs, of which the majority are in government jobs. Also, 0.09 per cent of rural households are houseless, compared to 0.15 per cent in the urban areas.
The SECC aims at identifying the "multidimensional" aspects of poverty and ascertaining a broad profile of rural households to enable more effective targeting of government schemes.
The Indian Express website has been rated GREEN for its credibility and trustworthiness by Newsguard, a global service that rates news sources for their journalistic standards.