AS the fleet of black Lexus SUVs pulled into the large outdoor tent, the dancers and schoolchildren, some dressed as angels started performing to a bhangra tune blaring from the speakers with the words Ram, Ram, Ram'. Moments later, Gurmeet Ram Rahim Singh Insaan stepped out to roaring applause from followers who had been waiting patiently for hours at the Leisure Valley Grounds, in Sector-29, Gurgaon on Friday afternoon.
It was nothing short of a festival, complete with food stalls. And the gathering comprising over 3.5 lakh followers from various branches of the Dera Sacha Sauda sect left little doubt about the self-styled godman's popularity.
ALSO READ: Dera chief's film gets tribunal nod, with riders
The occasion was to celebrate the Film Certificate Appellate Tribunal's ruling to grant a clearance certificate to "Guruji's" film 'MSG: Messenger of God'. The added bonus: a preview screening of his film.
Although the screening was called off at the last moment due to what Ram Rahim  said was the lack of a written order of the tribunal's ruling arriving in time, it failed to dampen the spirit of his supporters, many of whom had come in buses from Sirsa and other parts of Haryana, Uttar Pradesh and even Madhya Pradesh.
ALSO READ: Leela Samson: 'There comes a point when you realise you can't take it anymore'
Wearing T-shirts with a colourful logo of their smiling "guruji" imprinted on the front, they danced to songs from the film and filled up the tent to listen to him. And he did not disappoint.
"I am just a messenger of god delivering his message to the people. I do not claim to have any special powers and am an ordinary human being just like you," said Ram Rahim, his flowing black beard adding to the aura.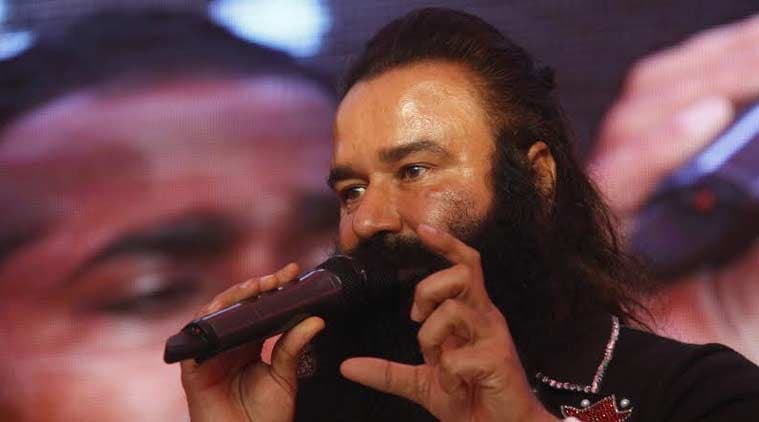 He, however, evaded questions about the controversy surrounding the release of his film, including the resignation of the CBFC chairperson Leela Samson after the tribunal stepped in. "I have not heard this news (of resignation) and I do not know this person. I do not know what objection people had against my film. But I urge the people to watch the film and decide for themselves. I will always support work in which 'desh ka bhala ho'," he said.
ALSO READ: After Leela Samson, CBFC member Ira Bhaskar likely to quit
The Dera chief is the writer, director and star in his own film, marking his acting debut in the process after gaining a steady fan following across Haryana for his rock concerts better known as "ru-ba-ru" nights. His latest album called Love Charger, which released last May, sold three million copies across India.
ALSO READ: 'Messenger of God': SAD holds protest in Delhi
"I wanted to reach out to the youth of the nation. The best way of doing that was starring in a film about myself and my teachings and something that the entire family can watch together. So that parents can now proudly tell their children, 'go and become something'," he said.
Ram Rahim's flamboyance is not restricted to his lifestyle but also his dressing and the ambience around him as he sat on an elevated chair wearing a blue T-shirt with glitzy patchwork, faux jewellery, and a pair of white printed trousers. "In 2006, a young follower requested that I should dress up more colourfully and look better than them to inspire them. I did not want to disappoint their request," he added.
The 195-minute-long film, which was shot in under three months in locations across Sirsa, has "basically no storyline or plot", says the co-director Jeetu Arora Insaan. It shows Ram Rahim fighting "against the evils of society" and uncovering a plot to kill him.
ALSO READ: Censor Board chief Leela Samson quits after controversial 'MSG' is cleared for release
"Since the film has been cleared by the Censor Board, the association will discuss the issue and take a decision after the new date of the release of the movie is announced by the production house," he said.
Meanwhile, nearly 60 workers of Indian National Lok Dal (INLD) were detained in Gurgaon for protesting against the screening of the film.
Gurgaon Police Commissioner Navdeep Singh Virk said, "Nearly 60 INLD workers have been detained to maintain law and order situation in the city and to avert clashes with the supporters of Dera Sacha Sauda, Sirsa who are gathering in large numbers at Leisure Valley ground for the planned premiere show."
The organisers are expecting a big turn out for the one-hour preview of the movie.
"14 large screens have been set up in Leisure valley for the screening. We are expecting a big turn out for the show" Bitoo Insan, spokesperson Dera Sacha Sauda said.
The film was scheduled to be screened by a national exhibitor chain operating screens at various malls in the country, but the spokesman of the group was not available for comments.
According to reports, Union Home Ministry has been concerned that the release of the film may evoke protests as certain Sikh organizations have been opposing the movie.
"It is basically the guruji's teachings and the film outlines seven of his teachings: blood donation; preventing child labour; abolishing drugs from society; stopping prostitution; rehabilitation of widows; and fighting corruption," adds Arora.
While the film was scheduled for a January 16 release, the revised date is still uncertain and will mostly likely be on January 18 or the following Friday. "We were waiting to get a release in the maximum number of halls but did not get it on time," says Arora, who is also the casting director for the film. "The sequel to this film is already in the works and it has nothing to do with the first part. "We will focus on the remaining teachings of the guruji in that."