Following allegations of an AIIMS forensic expert that there was pressure from a former UPA minister to doctor Sunanda Pushkar's autopsy report, former Union minister Shashi Tharoor on Wednesday issued a statement, seeking a speedy end to the investigation so that a "clear and definitive conclusion" can be arrived at which would be "put all speculation to rest".
Upon the tragic loss of my wife Sunanda  and from the very beginning, I have requested for a thorough investigation by the authorities to be conducted and concluded rapidly and transparently. The Pushkar family has taken the same view and we have all fully co-operated with the authorities. I reiterate my request to bring this protracted inquiry to a clear and definitive conclusion at the earliest, so as to put all speculation to rest," Tharoor said in a statement.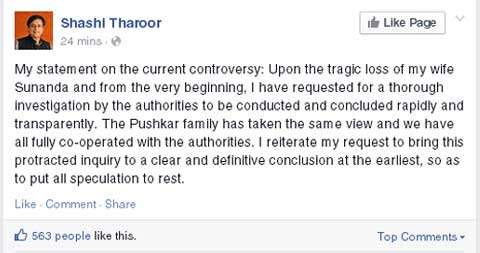 The Congress latched on to the statement given by the AIIMS to defend Tharoor and referred to the CAT proceedings involving the doctor.
Rejecting the charge of Dr Sudhir Gupta, who headed a three-member team that conducted the autopsy on the body of Sunanda, who died in mysterious circumstances in a Delhi hotel in January, the AIIMS denied Gupta's claim. AIIMS spokespersons Amit Gupta and Neerja Bhatla said there was no evidence that any pressure from outside was put on Gupta to alter the autopsy report.
The AIIMS administration categorically denies any such allegation that there was any attempt to pressure Sudhir Gupta to change the post mortem report. We have no evidence that he was under pressure from outside and how he reacted to that," they said at a press conference.
At the AICC briefing, Congress spokesperson Abhishek Singh Singhvi said, "AIIMS, which is a government institution, has completely, unequivocally and roundly denied each and every part of this allegation of Dr Gupta. They have said that there is no basis for it at all." He said even Union Health Minister Harsh Vardhan has said that Gupta has never broached this issue with him before.
"We have noted with a certain amount of satisfaction the reported statement of the Health Minister that he does not remember Gupta ever raising this earlier…. He (Gupta) seems to have done it in the course of his own service promotion proceedings in CAT, six or seven months after the incident. Everybody can draw your own conclusions, but all I am cautioning against is trigger happy reactions in the midst of sensationalism can do grave injustice," Singhvi said.
Union Health Minister Harsh Vardhan denied receiving any letter from Gupta about the alleged "pressure" he was under to give a "natural" death conclusion in the report. "I have not received any letter. I do not know how the news that I have received such a letter spread. I have asked the director of AIIMS to submit a report on the matter," he said.
📣 The Indian Express is now on Telegram. Click here to join our channel (@indianexpress) and stay updated with the latest headlines
For all the latest India News, download Indian Express App.
The Indian Express website has been rated GREEN for its credibility and trustworthiness by Newsguard, a global service that rates news sources for their journalistic standards.