A Fiery Reputation
Ramagundam, some 225 km from Hyderabad in Karimnagar district of Telangana, has always seen scorching summers. The city boasts of National Thermal Power Corporation's 2,600 MW Ramagundam Super Thermal Power Station, the largest in South India. Besides, there are several open-cast coal mines run by the Singareni Collieries Company Limited. The Ramagundam Municipal Corporation covers Ramagundam, Godavarikhani, the mining town that is about 5 km away, and the NTPC area known as Jyothi Nagar, and has a total population of 2,47,903. Ramagundam Rural covers 17 villages and has a population of 32,490.
Seven hundred feet below the earth's surface, in the centre of a quarry that resembles a giant, black frying pan, the temperature has shot up to a scorching 50°Celsius. It's also Kondi Shankariah's workplace. The 35-year-old safety and loading supervisor at the Medapally open cast coal mine at Godavarikhani in Ramagundam town of Telangana, who has to ensure that the huge dumpers don't tip over with too much coal or leave without enough of it, operates from his small tin shelter that's designed just to make sure he doesn't get too comfortable on the job. "I get water from home, but it's of no use; it's just too hot," he says.
It's 11.30 am and Shankariah, who started at 6 am, still has a few hours left of his shift. "Bahut garam hai, lekin naukri hai, kya karen (It's very hot but what can I do, I will have to work)…'' he says as he sits down with a packet of buttermilk and the lunch he has got packed from home.
Since May 18, Ramagundam has been sizzling at over 46°Celsius. Singareni Collieries Limited, which operates the coal mine, has made a few arrangements for its workers to help them tide through this heat wave. The shift now begins an hour earlier at 6 am and the half-an-hour break has been extended to an hour to allow workers to rest. Besides, air-coolers have been installed in rest areas and workers are given Oral Rehydration Sachets (ORS) in the afternoon.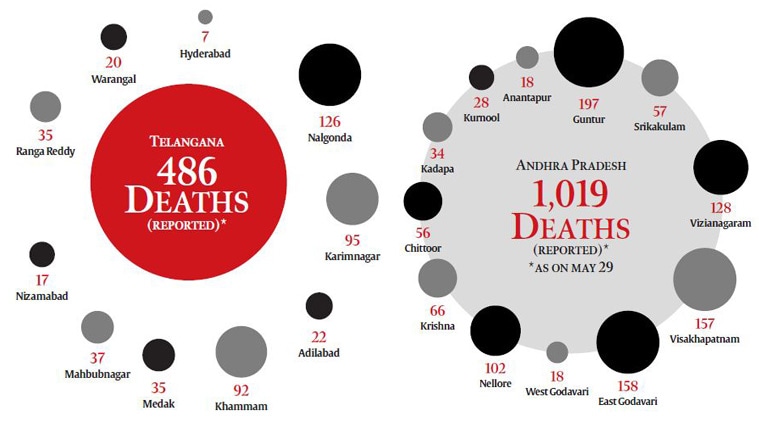 "You have to keep yourself hydrated if you work in the quarry. Those who ignore this golden rule fall to heat strokes. If any worker shows signs of dehydration or heat stroke, we immediately evacuate him after giving him first aid," says Medepally mine's Project Officer Ballary Srinivas Rao, offering a glass of buttermilk. The airconditioner in his office drones noisily as it struggles to maintain the right temperature.
Later, as he leads us deep into the mine, Rao says he has a lot on his hands. "Summer is when production peaks, heat wave or not. In the monsoons, the roads inside the mine get slippery and there is danger of flooding. So we have to brave this heat and extract the maximum possible coal. This heat wave is unusual but we also have a higher target this year,'' he says, hopping off his jeep to inspect coal being loaded on to dumpers.
Next, Rao stops near a huge pile of coal that has caught fire in the heat — "spontaneous combustion", explains Rao. The heat from the burning coal makes the skin burn but Rao doesn't as much as wince. "The temperature in the mine is always a few degrees higher and these fires, the turbo-charged diesel engines of the excavators and the dumpers add to the heat. We will douse the flames and then lift this coal later,'' he says.
* * *
Ramagundam, 225 km from Hyderabad in Karimnagar district of Telangana, is known to be one of the hottest places in this region. The hot, dry winds that sweep through the town during the summer months are made worse by the blistering, arid landmass that has several open-cast coal mines, especially in the mining area of Godavarikhani. On May 11, 2010, Ramagundam had recorded 49°Celsius, the highest in the last decade.
This year, until May 28, Telangana and Andhra Pradesh had together recorded 1,820 deaths. Temperatures in Ramagundam, which is estimated to have seen 14 deaths due to heat, have consistently hovered around the 45°Celsius mark.
As you climb up and out of the mine, the temperature drops to 45°C and for a while, the road leading out of the mine even feels cooler. But the relief doesn't last long as the sun beats down hard.
At the Godavarikhani state transport bus depot, under the shade of a tree, conductors and drivers stand around K Mallanna, the duty controller. The 1 pm sun is unforgiving and the buses parked in the depot have turned into ovens. A woman conductor says she has fever and wants to leave; others wrangle to be taken off day shifts.
Mallanna ignores their attempts to engage him in conversation, reaches under the table and pulls out packets of cold buttermilk from an earthern pot. He hands over the packets to all of them and asks them to leave. "I cannot do anything,'' he says, smiling as he points to a printout of the duty chart for the day. "We are used to hot weather in this region but for the past few days, it has been unbearable. However, work has to go on. The depot provides buttermilk packets which I hand out to the drivers and conductors,'' Mallanna says.
Mohammed Sadik, a driver on the Godavarikhani-Hyderabad route, says he is never sure whether he should keep the window panes of his bus open or shut. "If I close them, there is no air and I feel suffocated. If I keep the windows open, the hot air hits me and I feel sick. It is useless carrying a water bottle,'' he says. The buses that start in the afternoon often have very few passengers, he adds.
On the first floor of the depot, in a small cabin, two computer operators work beside an ancient airconditioner. "The AC is meant to keep the computers cool and we are lucky to be working here,'' says M M Khan, the cash clerk. Drivers and conductors who return from a trip drop in to catch the cold air for a few minutes.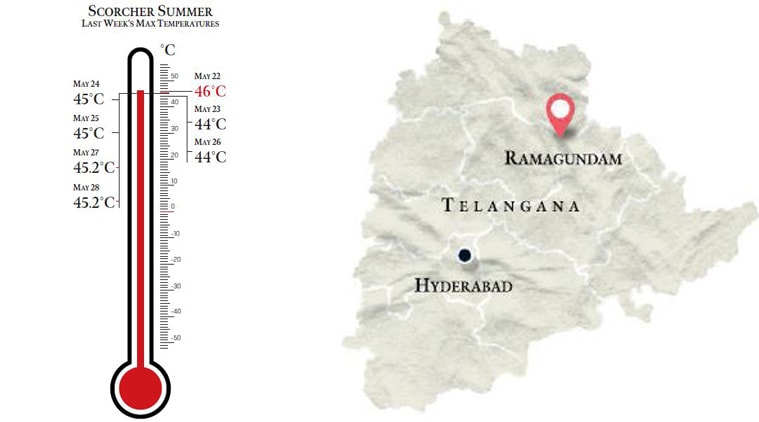 But it's B Venkataswamy who has arguably the toughest job in Ramagundam. The 55-year-old postman pedals 30 km a day, his only shield against the sun a cotton towel that he wraps around his head and ears. He is just back after making 20 deliveries, his shirt dripping sweat and the sun turning his eyes red. "There are letters, money orders, registered posts and parcels that have to be delivered. How can I say it's hot and not deliver them? I will go again after 4 pm if I have to,'' he says.
In the afternoons, the doors to the Ramagundam postoffice usually stay shut. "No, no, we are open. We keep the doors closed to keep out the sun," says D V Swamy, 64, a retired postmaster who dutifully comes to the postoffice every day to help the two other employees. "I get bored sitting at home so I come here to help since there is just one officer and one postman to handle all this work. So though it is extremely hot, I cycle down every day,'' Swamy says.
* * *
Ramagundam (Urban), spread across an area of 40 sq km, has a population of 2.47 lakh, but the roads are deserted today except for a few youngsters wearing cloth masks speeding on their motorcycles. The few people on the road — labourers, cart pullers, street-side vendors, daily-wagers — are those who have no option but to sweat it out. Most shops and businesses have downed their shutters and won't open till the sun goes down. The drone of air-coolers fills every street and lane.
The Telangana government has announced a string of measures to help people tackle the heat wave. "We have issued warning leaflets and sent out messages through the media and health workers, asking people to stay indoors between 12 and 4 pm," says Telangana Revenue Minister Mohammed Mehmood Ali. Besides, all hospitals have been told to install air-coolers in wards.
"We have admitted more than a dozen heat stroke patients in the last few days. Most of the victims are given IV fluids and ORS and discharged from the out-patient wards. Most of the victims are elderly labourers, autorickshaw drivers, road-side vendors, and bus drivers and conductors," says Dr Y Suryashi, Medical Superintendent of the Area Government Hospital.
Bhuttam Devaiah, 50, a labourer working at a flyover that's coming up near the Ramagundam railway station, is applying light-reflecting paint on a tree trunk from where the road takes a diversion.
"The welders and fitters have left for the day. The welders may return in the evening but I am not sure… I am a daily-wage labourer and I have to complete my task for the day to be able to take home some money in the evening,'' he says.
At the NTPC roundabout, the family of Arvindam Sundaram, 59, spends the entire day under a tree. His daughter-in-law Kavitha and grandsons Anil Kumar, 13, and Rambabu, 9, help him at their small lemon-soda kiosk where they also sell sunglasses, scarves and water packets. "I get the kids here because their school is shut and it is so hot at home. It's better here under the shade of the tree," says Kavitha.
By 5 pm, the autorickshaw drivers near the NTPC roundabout get desperate. They have had no passengers from 12 to 4 pm so when a few people finally get off a bus, the auto drivers squabble over them. Tirupati, a driver, initially asks for Rs 50 to drop a passenger to a nearby colony. When another driver starts wooing the passenger, he drops his demand to Rs 40 and finally settles for Rs 30. "Why would anyone want to be out on the road in this heat? I am doing it just to to feed my family. There are few passengers in the afternoon so we have to make most of the evening," he says, weary and sun-beaten.
It's 5 pm, close to closing time, and Deputy Tehsildhar D Srinivas has just walked into his office. The half-broken air-cooler propped up against the window offers little respite. In the room outside, his visitors have started trickling in now. "No one comes in the afternoon. So we take a break and return at 5 pm and stay till 9 pm. Luckily, we do not have any power-cuts,'' he says.
Back at the postoffice, retired postmaster Swamy prepares to wind up. "We are used to hot summers but not of this kind. Something is wrong… the weather is changing for the worse," he says, wrapping the towel around his head as he prepares for the cycle ride back home.
📣 The Indian Express is now on Telegram. Click here to join our channel (@indianexpress) and stay updated with the latest headlines
For all the latest India News, download Indian Express App.
The Indian Express website has been rated GREEN for its credibility and trustworthiness by Newsguard, a global service that rates news sources for their journalistic standards.