With deficient rainfall in many parts of the country raising the spectre of a dip in agricultural production, a concerned Prime Minister Narendra Modi on Thursday said that the Centre and states should proactively mount a coordinated effort in implementing the advance action plan for the monsoon.
The high-level meeting chaired by the Prime Minister took stock of the monsoon situation and it was told that the contingency plan for more than 500 districts was ready. It was learnt that that although monsoon is delayed but it is likely to improve in next two months.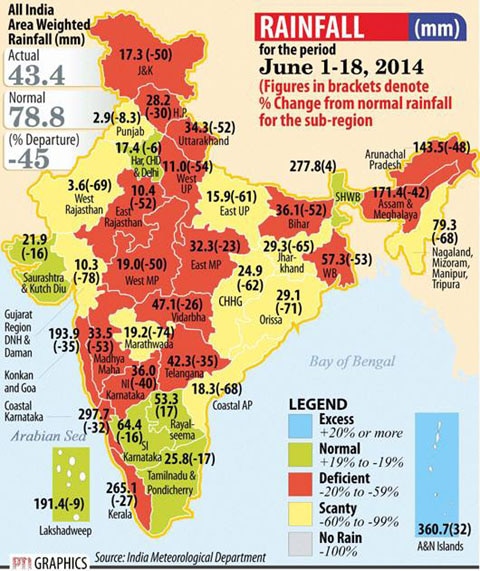 Prime Minister Narendra Modi also stressed that states should set up special courts for speedy trial of hoarders and black marketeers.
With the cumulative rainfall recorded in the country till June 24 being 38 per cent below the long period average, the country has seen a rainfall deficit in all the regions — northwest, central parts, south and eastern parts.
This year will be only the twelfth time in the last 113 years (1901-2013) when there has been over 30 per cent deficiency of rainfall in the country in June.
Meanwhile, the Met department has been hopeful of a revival of the southwest monsoon in the first week of July.
For all the latest India News, download Indian Express App