Written by
Praveen Swami
| Doha |
Updated: June 5, 2015 4:41:23 am
Pakistan's top military leadership had promised Afghan President Ashraf Gani that they would ensure the Taliban leadership called off their annual spring offensive, a diplomatic document obtained by The Indian Express has revealed.
The document shows that President Gani sought commitments from Islamabad on military action against Taliban before signing a controversial intelligence cooperation agreement last month.
The document, called a "non-paper", was written as a basis for discussions ahead of Prime Minister Nawaz Sharif's May 12 visit to Kabul, said Afghan diplomatic sources.
[related-post]
In diplomatic parlance, a non-paper is an unsigned document typed on plain paper, without a letterhead, intended to advocate a set of arguments or proposals — but without formally committing either government.
Following Sharif's visit, President Gani ordered his intelligence services to terminate support for anti-Pakistan jihadists who it had backed to retaliate against Islamabad's support for the Taliban.
But delivery on the counter-demands laid out in the non-paper is yet to materialise, Afghan sources said.
Erroneously reported in Afghan and international media last week to have been an angry letter from President Gani to Prime Minister Sharif, the non-paper was written in late April, a diplomatic official said.
The document notes that in order to "transform the vicious circle of relations", President Gani initiated new steps for "peace between the two states of Pakistan and Afghanistan, and peace between the Afghan state, as represented by its legitimate elected leader, and the Taliban".
Following his visit to Pakistan last year, President Gani "set out February 15, 2015, as the critical date for understanding the capacity and the will of Pakistan" to deliver progress on these issues, it states.
That month, the non-paper states, Pakistan army chief Gen Raheel Shareef provided "a ray of hope" during a visit to Kabul. Later, however, Pakistani generals "asked for more time, emphasising that all efforts were being made to avoid the declaration of a spring offensive by the Taliban".
But in April, the non-paper goes on, the Taliban initiated their spring offensive ? the most intense in years, targeting Afghan forces fighting for the first time without the support of western troops.  In particular, the non-paper states, "massive terrorist attacks have been carried out in the provinces of Badakshan, Khost and Nangarhar".
"The public is asking as to whether there has been any return from President Ghani's efforts to secure enduring peace and cooperation with Pakistan? Regardless of his firm commitment to peace, President Ghani has no choice but to become a war president," it states.
Insisting that "Pakistan's leaders need to put content to General Raheel Shareef's statement that the enemies of Afghanistan are the enemies of Pakistan", the non-paper ends by asking for several specific actions.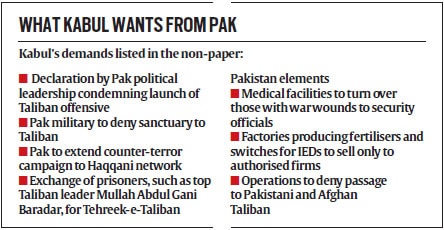 Though Prime Minister Sharif expressly condemned the Taliban spring offensive during his visit to Kabul, there is no sign so far that Islamabad has begun acting on President Gani's other demands, the sources said.
"Pakistan faces risks of creating more enemies among the jihadists if it acts against the Taliban, it now risks jeopardising its entire relationship with Afghanistan if it does not do so," said a senior Afghan diplomat.
"Even though Pakistan resiled on its promises in the past, President Gani believes the intelligence agreement may persuade it that there will be a payoff for acting against the Taliban," he added.
The Indian Express website has been rated GREEN for its credibility and trustworthiness by Newsguard, a global service that rates news sources for their journalistic standards.