Flood waters engulfed vast areas of the delta region of Mahanadi river system in Odisha even as the death toll due to heavy rains and floods in the state climbed to 34.
As many as 9.95 lakh people in 1,553 villages of 89 blocks in 23 districts have so far been affected due to the floods, the Special Relief Commissioner said.
"Though river Mahanadi is flowing above danger mark at several places, there is no threat of substantial damage as the water flow into Hirakud reservoir has come down," Special Relief Commissioner (SRC) P K Mohapatra said.
The death toll due to floods and heavy rain in different parts of the state went up to 34 with seven fresh deaths reported since Wednesday, the SRC said, adding, most of the casualties were due to drowning and wall collapse.
"It is a matter of relief that fear of a major high flood has been averted. Volume of water flowing down Mahanadi at Munduli stood at around 11 lakh cusec as against over 12 lakh cusec anticipated earlier," he said.
The level in Hirakud reservoir stood at 628.08 ft as against its full capacity of 630 ft and 50 of the 64 sluice gates were opened for discharge of excess water, said Biswajit Mohanty, Chief Engineer of Hirakud dam.
However, as flow of water into the river went down, it has been decided to first close three gates and subsequently more gates after assessing the situation, he said, adding flow into the reservoir from upper catchment areas was now around 7.8 lakh cusec.
As river Mahanadi and its tributaries were flowing above the danger level at several places including Naraj, Jobra and Daleighai, flood water submerged many areas where relief and rescue operation was intensified.
Many parts of Cuttack, Jagatsinghpur, Kendrapara, Khurda and Puri districts were hit by flood in Mahanadi, even as situation in Jajpur and Bhadrak districts continued to be grave due to submergence of vast areas by flood in Baitarani though water level in the river is slowly falling, the SRC said.
As many as 9.95 lakh people in 1,553 villages of 89 blocks in 23 districts have so far been affected due to the floods, the SRC said, adding around 26 small breaches took places causing inundation of vast areas.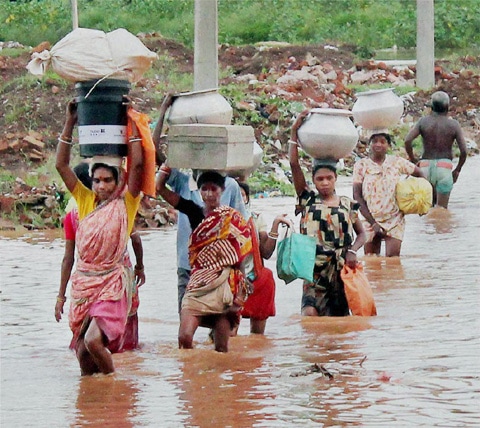 Steps would be taken to repair the breaches soon after the water recedes, he said.
Around 1.11 lakh people have been evacuated from low-lying areas to safe places and about 240 kitchens were now operating to provide them free cooked food.
As many as 2,41,658 people were marooned in 398 villages as surging water of Baitarani and Mahanadi and their tributaries flooded vast areas in Jajpur, Bhadrak, Cuttack, Khurda, Nayagarh, Angul, Kendrapara and Jagatsinghpur districts, he said.
Two helicopters of the Indian Air Force have been kept on stand-by for use in relief operation, if necessary, the SRC said, adding at present the entire operation was being carried out with the help of boats.

Union Home Minister Rajnath Singh on Wednesday called up Odisha Chief Minister Naveen Patnaik and pledged all necessary assistance in relief operations in flood-hit areas.
About a dozen NDRF teams have been mobilised in Keonjhar, Jajpur, Bhadrak, Balasore, Mayurbhanj, Cuttack, Kendrapara and Puri districts to assist in rescue and relief operation. Over 184 boats were engaged in the operation.
Around 30 units of Odisha Disaster Rapid Action Force (ODRAF) were also deployed in vulnerable areas, SRC office said, adding fire brigade personnel were put on stand by.

In Jagatsinghpur, the focus was on relief work as around 20,000 people were marooned while about 7,000 persons have been evacuated, District Collector S K Mallick said, adding areas like Tirtol and Kunajang were affected.
In Puri district, water level in rivers like Bhargavi and Kushabhadra had risen inundating several villages in Nimapara, Kanas, Delang and Gop, while road link between Pipili and Nimapara was snapped, SRC office said.
Mohapatra said now there is no threat of any major breach in the river system.
As districts like Cuttack, Jagatsinghpur, Kendrapara, Puri, Buodh, Khurda and Nayagarh are likely to be affected due to flood in Mahanadi river system, concerned authorities have been asked to take preparatory measures, he said, adding water level in rivers like Baitarani and Salandi are receding.
The flood situation in Brahmani and Subarnarekha rivers was also under control, he said.
Floods in Baitarani have affected around 1,52,721 people in Jajpur district where over 5,500 people have been evacuated to relief centres from marooned villages.
The SRC office said there were some small breaches in Baitarani river system in Jajpur district which have caused flooding in Jajpur, Korei and Dasarathpur blocks. Water would soon recede from submerged areas, it said.
A total of 156 villages were affected and 26 villages marooned due to the inundation in the three blocks.
A report from Kendrapara said road link in Rajkanika block in Kendrapara block was affected as floodwater of Kharasrota was flowing on Cuttack-Chandbali road at Ganjaghati under Aul block.
Similarly, three panchayats of Marsaghai and Derabis blocks in Kendrapara district were surrounded by flood water of Karandia river following a breach in the river embankment at Basapur, it said.
The Indian Express website has been rated GREEN for its credibility and trustworthiness by Newsguard, a global service that rates news sources for their journalistic standards.