The Manipur East Sessions court on Tuesday ordered the immediate release of 42 year old Irom Sharmila who has been on a hunger strike for the past 13 years. Sharmila has been kept in detention at the Jawaharlal Nehru Institute of Medical Sciences (JNIMS) under guard for the past 13 years.
The direction by the court was in response to a revision petition filed by Sharmila's counsel Khadamani.A civil rights activist, Sharmila has been on fast for the repeal of the Armed Forces Special Powers Act from Manipur. She has been force fed through her nose for over a decade now.
She has been on fast for the past 13 years to demand withdrawal of Armed Forces Special Powers Act (AFSPA) from Manipur.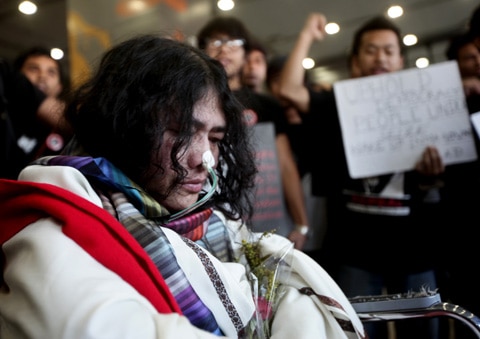 Sharmila had been placed under arrest under section 309 of the Indian Penal Code that is attempt to commit suicide, a case which had been slapped on her by the Manipur state government. Ordering her release, the court observed that the prosecution has failed to establish Sector 309.
"The court said that no evidence has so far been found that Sharmila has indeed been trying to commit suicide," said Khadamani speaking to The Indian Express.
On June 1, 2014 Imphal East judicial Magistrate Nouteneshwari Devi had accepted a charge sheet filed by the state government and ordered the framing of charges against Sharmila under Section 309.
"But today the sessions court has set aside the chargesheet filed by the government after hearing the public prosecutor as well as my arguments," said Khadamani.
This is the first time that a court has clearly thrown out the case of suicide against Sharmila and has directed that she be released. The courts order is yet to be received by the Manipur government and the Manipur police. Activists in the city say that the order did not mean that Sharmila will actually be released but that it was a "significant victory'' for civil rights in Manipur.
Sharmila has been on indefinite hunger strike to demand repeal of the Act after killing of 10 civilians allegedly by the Assam Rifles near Imphal airport in November 2000.
The Indian Express website has been rated GREEN for its credibility and trustworthiness by Newsguard, a global service that rates news sources for their journalistic standards.