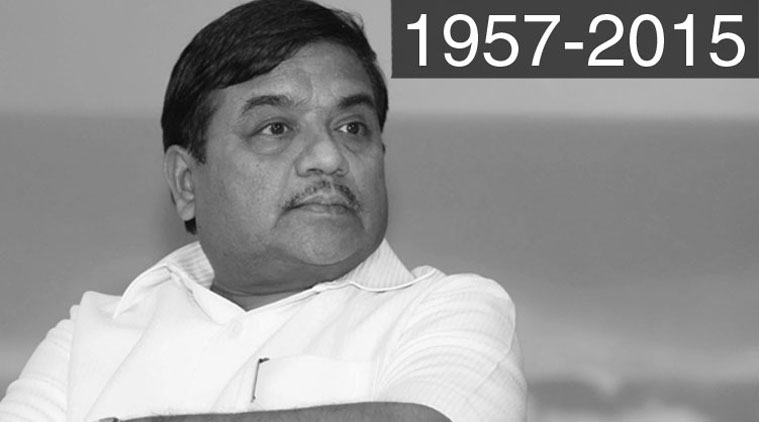 Raosaheb Ramrao Patil (58), former deputy chief minister and home minister of Maharashtra died at a city hospital on Monday in Mumbai after battling cancer for three months.
Patil's political career spanning over 25 years has been marked by both milestones and controversies which he always handled confidently. Patil was suffering from oral cancer.
Read also: Tributes pour in for RR Patil
"The doctors and hospital team tried really hard to stabilise him but since last two days his condition worsened. His organs started failing one after another and he could not be revived. Few days back his condition was improving and he was responding well to the treatment," said NCP leader and Patil's close aide Chhagan Bhujbal.
"Patil's body will be taken to the NCP head office at 6 pm from the hospital for "Darshan", confirmed Bhujbal. The body will be taken to his native village in Sangdi, Tasgaon, and final rites will be held in his village on Tuesday at 12 noon.
A fortnight ago, Patil reassured NCP president Sharad Pawar who called on him, "Saheb, don't worry. Let me just come out of the hospital. I assure you I will take up the battle against this government on my shoulders. We will once again return to power."
Pawar senior, who had himself undergone an operation for a hip fracture, visited Patil. Pawar's daughter Supriya Sule (MP), said, "Aaba always came across as a very confident person."
In 2005-06, much against the wishes of his party colleagues, Patil went ahead with the decision to ban the dance bars across Maharashtra. And despite a legal battle, he stuck to the decision till the end. Patil, who was deputy chief minister in the Congress-NCP government which was in power until mid 2014 and was in-charge of the home portfolio, remained the rural face of NCP. Often projecting himself as a simpleton, his oratorical skills in Marathi packaged with the rural tone and context often marked him apart from others in the political arena. Not surprisingly, Patil was tagged as the "blue eyed" boy of Pawar senior.
Read also: RR Patil – Life and times
After the terror attack in 26/11, Patil landed in trouble for his controversial remark, "Bade bade shaharon mein, chhote chhote ghatna hote raheti hain…" ( In big cities, small incidents happen). That remark proved to be costly for him as he had to quit. However, after 2009 assembly elections, Patil regained the home ministry portfolio which he retained till the assembly elections held in 2014.
The most debated decision in his second innings as the home minister related to the police transfer policy. He was not totally in favour of wresting complete control of police transfers and leaving decision making to the police force. He believed that if the home minister had a limited role to play, there was no point in holding the job.
Coming from a humble background, Patil, after completing his law studies plunged into Congress politics. Till the last, he remained grounded to his rural roots to such an extent that he ensured his children Smita and Rohit also study in a zilla parishad school and Sangli college.
In 1990, he was elected as MLA from Tasgaon constituency in Sangli district in western Maharashtra. Throughout his political career what remained the hallmark was his loyalty to the Maratha leader Sharad Pawar. Not surprisingly, in 1999 when NCP was formed, Patil also quit Congress. Pawar who had meticulously groomed the second generation leaders including R R Patil always held him above the rest for his straight forwardness and honesty.
The Indian Express website has been rated GREEN for its credibility and trustworthiness by Newsguard, a global service that rates news sources for their journalistic standards.