In an exclusive interview to The Indian Express, Haryana Chief Minister Manohar Lal Khattar said that Muslims can continue to live in this country, but they will have to give up eating beef because "the cow is an article of faith here".
Here is the full transcript of the interview
Nirupama Subramanian and Varinder Bhatia: Congratulations. You are about to complete one year in office. What are your government's achievements so far?
Manohar Lal Khattar: Firstly, we have worked on building people's confidence in the government… we have proved to the people that a thing like government exists and it can work for the welfare of people. When we were in opposition, we used to see governments working for their vested interests. They did not take steps for the welfare of people. We have tried to give transparent governance. We have taken certain hard-hitting steps to assure people we will not permit corruption. This has also instilled confidence among people. Besides this, the poor, farmers, illiterate people, villagers etc., they believe they have a say now. Be it the 'CM window', or our direction to officers and ministers that they must meet and hear people's grievances daily for a particular time, we have ensured that nobody who is coming to meet us goes back unattended. Be it an officer or a minister, someone will definitely meet him. We have seen times when people used to come here from outside and keep lying outside for three-four days and nobody would meet them. That's why, we have increased public approach, accessibility. We are taking people's problems one by one. For instance, teachers – so many issues concerning teachers including JBT, guest, computer – one by one we are taking care of those issues. The previous governments had taken wrong decisions, because of which the courts had to order removal of back-door entrants [teachers]. Against this, we have started the procedure of regular recruitments. About 40,000 posts have already been advertised. We have got requisition of 50,000 posts. Vacant posts shall be filled within four-five months. There are number of issues concerning officers. HCS officers are due for promotion and their seniority cannot be fixed because of the wrong policies of the previous government.
Listen To Khattar Saying Muslims Have To Give Up Beef
You said that you have taken hard-hitting steps against corruption. Actually, this is one of the criticisms against you that you raised certain issues before polls, be it land dealings of Hooda government or other issues of corruption. You have constituted a Commission of Inquiry, but you really haven't taken any other steps.
We are doing what we said. Immediately, after taking over we had to take some positive steps. If we had started chasing the wrongdoings, and the previous systems continued, the wrong policies would have continied. What was required was to change those erroneous policies. What resulted in corruption previously? It was only because of government's wrong policies. Our priority was to first rectify those policies. We adopted a positive approach and then thought that we shall check all those scams, but it was not our priority. But we are not going to let anybody go scot-free. We are not working with a feeling of vendetta, but shall definitely highlight the wrongdoing. If the government starts highlighting the wrongdoing right from the first day, it will result in mud-slinging. It will lead to politicisation. Now, since we have got sufficient material, be it against Vadra or anybody else, we shall take appropriate action. It is not that we have only constituted one Inquiry Commission, we have sent several cases to CBI, for instance RAXIL scam, 912 acres Manesar land acquisition scam etc. have been referred to CBI, Panchkula Industrial plots allotment scam – we are about to take action, MNREGA scam is being probed. More than 200 cases are being probed by state vigilance department. How many years did previous government take to register 200 vigilance cases?
You have been ordering probe after probe in the last one year. But no corrupt person has been nailed, it has not happened till date. Why?
Probes take time. It is not that immediate action can be taken against the culprits. For instance, even in vigilance cases when the inquiry report comes, people will go to courts against it. Based on vigilance reports, some officers have been placed under suspension. But they will also challenge the vigilance probes in the courts of law. Vigilance probes are such in which the quantum of corruption is low, the bigger scams take time. For instance, the pillar box scam is a huge scam. Vigilance is doing a lot of work to unearth that scam. Final report is awaited but it will take time to submit the final report. Another Rs. 10,000 crore VAT scam that came to light through Lokayukta, we have taken corrective measures to avoid that such a scam can ever taken place again. It will take time to unearth the names of those behind the scams. It is not possible to do everything in one year. First six months go just in understanding these people and the system. Even if you analyse the past records, you will realise that any first time Chief Minister takes time. But whatever steps we have taken in this one year, you will not find similar pace during any other CM's tenure. We are committed that we shall not allow any wrong to happen in future and the wrongs that has already taken place are lying in files with us. It is important for us to take action against us so that people know them and the guilty are punished.
The bureacurats, who had raised their voice against such scandals have been sidelined during your tenure and those who were actually calling the shots in previous government, they are the ones running your government as well. You did not help whistleblowers, for instance Mr. Ashok Khemka.
There is no question of helping any particular officer or going against the other. Every officer has a job to do. The government has to take work from all the officers. The bureacurats about whom you are talking, they are fixed in number. They cannot come from outside. These are the people who have to run any government. Somebody will run it by sitting in "A" position, another shall run it by sitting in "B" position. People who were against such scandals earlier, they are against it today as well. Officers who were earlier involved in these things might be involved today as well. But we have given them a direction that whatever has happened till date, it shall not be tolerated in future. And if they had done something wrong in the past, the moment they are caught they shall face the action. It is not right to put a question mark on anybody's integrity till they are actually caught. It cannot be believed that the entire previous lot was corrupt. Government is always in continuation. We shall catch the black sheep. We have to choose among the officers that who is right and who is wrong. If any complaint comes to our notice against any officer, we take it seriously.
But why Mr. Khemka is languishing in a post that is not considered important in the government setup?
He is our very dear officer. He is doing a good job. We meet often. He gives us information. Whatever he writes, we consider it. He is not facing any difficulties. The post is not important. What is important is what we get out of him. Somebody has to stay in that post as well where Khemka is posted. That post also has work. But over and above that work, whatever task we assign to Khemka, he fulfills it.
You have made number of promises during your run up to the elections. For instance free laptops to students, pensions for old age people etc. Not many of those promises have been fulfilled yet.
We have fulfilled lots of things, and the rest shall also be completed in due course of time. It is not possible for us to complete all such promises in one year and we never said that. We have to fulfill our promises in a period of five years and we shall do it. We need to take care of the budget also. Whichever thing we have to do, it shall involve a cost for which we need to make provisions in the budget. At this stage, our aim is to first correct the wrong system that was prevailing in the State's governance. For instance, providing jobs to people, improving quality of education are our priorities. We are committed to open 21 medical colleges across the State. Besides that, universities are being opened. We are going to open a Sainik school near Jhajjar. Cancer centre is coming up in Bhadsa. A cardiac centre is coming up. We are getting nine more national highways. Work on KMP was stalled for four years. We resumed work on that. One tender is already done and the second one is due to be issued soon. We are working for getting an International Airport in Hisar. The process is already on. All these things, we have done in the first one year of our tenure. We have introduced numerous e-services across the State. In half an hour, you can get your Driving License renewed. All these things and many other facilities are being offered to residents of Haryana.
[related-post]
On one hand you are saying that there is no money to actually do everything very fast. But you have announced Rs. 50 crores for Saraswati project, which has so far been very unproductive. There is no evidence that there was such a river in reality in this part. And another is education, on which you are being criticised for bringing in a communal agenda. What do you have to say on this?
We have a population of 2.5 crore. If 10 per cent of them are school students, it means 25 lakh children are studying in our schools. One laptop costs approximately Rs. 30,000. By that calculation we would require Rs. 7500 crores for distributing laptops to all the students. And we need only Rs. 50 crores for Saraswati river project. Both things cannot be equated. Spending Rs. 10 or 20 or 50 crores is not a major budget issue. but Rs. 7500 crore definitely is. It affects the budget.
Secondly, society has a living sense. Like a human has a living sense, society too has a living sense. We call it soul. Society too has a soul. We need to keep that soul alive. Social concepts, social beliefs need to be taken care of. In our society, we have specific places for the cow, the Gita, and in the same way there is place for Saraswati. It is the faith of this region. We need to maintain people's faith. We should not break it. Saraswati is this region's faith. It has been scientifically proven that Adi Badri is the path of Saraswati. With the passage of time, because of the disturbances that took place in the hills, the water got distributed. Some went in Satluj, Chenab and Ravi and the rest went into Ganga and Yamuna. Satellite images show that under current of Saraswati river still exists. We have satellite pictures.
When Saraswati's path got disturbed, it resulted into drought in Rajasthan. The path of Saraswati river originally passed through Rajasthan and went upto Kutch. I have studied the entire civilisation of this area. Thousands of years ago, disturbances took place. But today, we have found an entire [Harappan] city buried underground in Rakhi Garhi. I don't know if science agrees with that or not. More than 5000 years ago, there was Saraswati river and Kurukshetra, Pehowa were located on its banks.
Are you confident that you are going to discover the river?
No, we will not discover the river in its original form in which it used to exist. But at least in a symbolic way, even if we have to create it artificially, it can maintain our social faith. We will dig and if we manage to flow some water into it, and it can be seen as a pilgrimage by the people.
You just spoke about the Gita, gauraksha, and Saraswati as having a special place in this country. But these are Hindu symbols. And this country is plural, it is diverse, and you have seen in the last two or three weeks how divisive these have become. Don't you think these are polarizing the country? The BJP is being criticized for following a communal agenda.
Those who criticise us cannot reach the deep layers from which we are looking at these things. Now, take gau raksha. I went to Mewat. Even an ordinary person in Mewat, culturally he has become Muslim, but even today, he respects the cow. They have made a gau shala there. They gifted us cows. And took an oath that they will not eat beef. In our Assembly, a law has been passed for the protection of the cow. There are three MLAs from Mewat. They stated in the Assembly that their forefathers also prayed to the cow, we are also not against the cow and we believe that the cow should be saved become an economic resource for society.
How do you view the Dadri lynching incident?
It came out of this. It is a result of a simple misunderstanding. It should not have happened, from both sides.
Both sides means?
There shouldn't have been a loose comment about the cow. Beef cannot be recognised in this country.
But you will agree that there is a significant Muslim minority in this country, they eat beef, Christians eat beef..
Muslims can live here, but in this country, they will have to stop eating beef. The cow is a matter of faith in this country. Muslims can live without beef, can't they? It is nowhere written in Islam that you must eat beef, nor is it written in Christianity.
Culturally, we are democratic. There are freedoms in a democracy, but there are limitations to these freedoms too. It is freedom up to the extent that it does not hurt the next person's faith.
But don't you think these are constitutionally guaranteed individual rights, what people eat, what they wear?
Not at all. Our Constitution also says respect another person's faith. You cannot hurt a person's sentiments. This is in the Constitution.
So do we now have to live with Dadri-like incidents?
Jis cheez key bina kam ho sakta hai, usko karna hi chahiye. Those who eat secretly, which is not in the public domain, they will eat. But if someone eats openly, it will be opposed. So this opposition would have been there in Dadri also. Against this opposition, when someone openly says something about beef, every community has some beliefs, so they must have started attacking. But I say that attacking and killing the person was also wrong. And three or four more sections under the law could have been included in the case against him. The attack was also wrong, but it does not mean the other person did no wrong.
We have passed a law in Haryana — – killing a cow is punishable with 10 year imprisonment. And a person caught eating beef gets five years.But people have feelings, and with those feelings, if someone commits a bigger offence than this, he will also be punished. He should have complained against him, brought a case against the person. But he could not stop within the law. But he says I consider the cow as my mother. He is killing my mother. Someone who sees his sister being molested, what goes through his mind. He feels angry. There is nothing in the law that he should attack the molestor. The law only says that he should complain to the police against him. But he doesn't stop with complaining. He starts fighting.
We have to stop [such incidents]. Even if he has done it, we have to invesitgate what were his beliefs that made him do this. Nobody can tolerate his sister being molested. The molestor cannot think, okay, I will be punished, so what? I can still molest this girl. There is limit to tolerance, and we will have to understand why he did that. He will be punished too, but we have to understand why he did what he did.
What about people who keep cows and look after them, but when the cows get old, and those who are rearing them want to sell them? What about them? Aren't you blocking a source of income and livelihood for people?
When our parents grow old, how do we treat them? Don't we look after them. It is not right to earn a living by any means.
The Prime Minister said that it was an "undesirable incident", but it is being felt that he should condemn it in the strongest words, so that a message goes out to all BJP functionaries from top to bottom that these incidents will not be tolerated. What is your view?
Which incident should be condemned? Two things happened in Dadri, and both have to be condemned. If we condemn only one, then we are giving the other [disrespect to the cow/beef eating] recognition.
Various writers have returned their awards in protest against what is happening. It is an unprecedented move. It has not happened anywhere in the world before. How do you take it?
These are pressure tactics. They should have sat together and discussed why it happened. It should not have happened. They should sit together and find a solution to the problem. If they will move towards finding a solution, everything will be good. Only by saying that "I return my award", it is no solution to the problem. They have expressed their anger. It has raised an issue of concern that such a thing should not have happened, but this is not the solution.
Then what is the solution?
Solution is this only that we should respect each other. We cannot have a one-sided thought.
One of your ministers, Anil Vij, has started a campaign to replace the national animal with the cow? What do you say on that?
It could be his individual opinion. And if his campaign takes off further, the government has no opposition to that. But till now, there is no decision taken by the government on that. It is his individual opinion, although we do not oppose it.
You have had some differences with Mr. Anil Vij over the last few months?
There is nothing like that. We meet often. We have meetings at each other's places as well. There are no differences. It is a part of our life. We keep going to each other's residence. There is no question of any difference. Since 1991, we are together in the party.
You have been to the U.S to canvass for investments from abroad. What have you achieved from the visit? What is the situation of investments coming into Haryana?
Our government's delegation and a few business delegates visited various states in US and met their politicians and even met the NRIs. We have got good response. Their attraction towards India has increased instead of China. Earlier their trade interests were towards China, but now it has shifted towards India. Of course, wherever they will get better facilities they shall come. We have promised them full cooperation and assured them that they shall not face any sort of difficulties if they come to our State for business. We have invited them. We signed five MoUs there and three more were signed here with the people who came to us from there. We hope that we shall achieve our targets. In February, we are organising a Haryana Investors Meet and people from all across the world shall be invited. I think, we shall be able to convince them to invest in Haryana. We have a target of Rs. 1 lakh crore worth investment and four lakh jobs in the next four years. A number of Delhi based markets are coming to Haryana.
Your government has recently hiked the power-tariff and it has sparked off protests. Apparently, there is a rethink on that decision. Why?
All these decisions are taken by the Electricity Regulatory Commission. They analysed the expenditure, previous losses etc. and took the decisions. It is right that we also give our opinion, but finally whatever the commission decides, we have to adopt it. They did a few things, which we also did not like initially, but we never expected that it would amount to such a hike. Four months arrears accumulated and were passed on to the consumer in one go and a few slabs of consumers were affected. Then opposition raised the issue, we also told the Regulatory Commission and now they have assured us to rethink about this tariff-hike.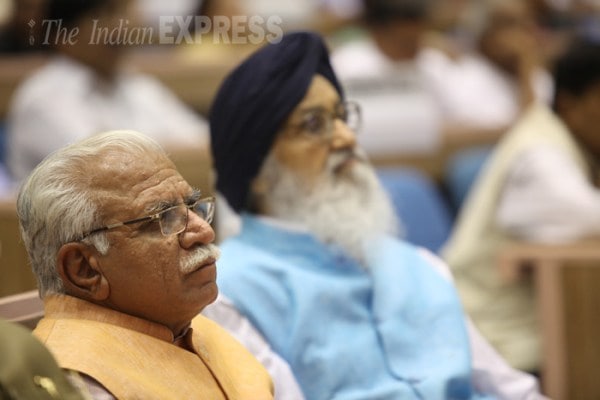 So, are they going to roll back the hike?
No, but they shall find a way out. Roll-back doesn't mean that the entire tariff-hike will be abolished in one go, but they will find a way out to adjust the excess hike, which we also realise is on the higher side. It is not that if I say roll back the entire tariff-hike and they will do it. There shall be some modification/ adjustment. I cannot say when the Regulatory Commission will do it.
There are some of the unresolved issues between Haryana and Punjab till date, for instance SYL canal. What steps have you taken to resolve those issues? What is the state of talks with Punjab on it?
First of all, a presidential reference is pending since all these years. We have requested the Supreme Court for an early hearing. If the hearing begins, the decision shall come soon and I hope that the decision will be in Haryana's favour. The issue is about our water and we only have to get our share of water through this canal, be it SYL or Hansi-Butana. An environment of talks with the neighbouring state is also building up. Even in front of the Prime Minister, on stage, I have requested Punjab CM that he is like an elder brother and if he takes a step forward to resolve these issues, then it shall not lead to any wrong meaning. But sometimes, these issues get politicised. We don't want these issues to be politicised since it is in the interest of both the States. It is better if these issues are resolved soon.
The white-fly attack hit the cotton crop both in Punjab and Haryana, but unlike in Punjab, there was no major agitation here. Do you think Punjab mishandled the situation?
I cannot say anything about Punjab. All I can say that we have handled it in a good way. We have started the girdawari (crop damage assessment). We spoke with the farmers and took them into confidence. Last time during the crop damage, we distributed a compensation of Rs. 1100 crores and that too in a record time. The process of disbursing the compensation took merely one month. Thus, we got the confidence of our farmers and they know that whatever compensation shall be calculated, the government shall give them. And we are ready to pay whenever the reports come to us. That's why we are not facing any such problem.
What do you say about the Dera Sacha Sauda factor? There was an unspoken alliance between BJP and Dera before Haryana Vidhan Sabha polls and it is said that you won in a few constituencies because of that. Do you see that the SAD has also made up with Dera keeping in view political calculations?
Firstly, I would like to say that we care more about Haryana than any other State. We are not so much bothered about what happens in any other State. As far as alliance is concerned, an alliance is always between two political parties or alliance between two religious groups. Sacha Sauda is not a political party. We are a political party. They have freedom to support any party. Last time, they supported us but that does not mean any alliance. There are many organisations that support political parties and individuals. They supported us. We always work for seeking support. I went to Mansa Devi temple, what does that mean? If anybody goes to a social or religious organisation, what's bad in that?
Your decision of including specific conditions for contestants in Panchayat polls has led to litigation. Do you consider it a setback that SC had stayed the polls?
The conditions and criteria that we have put in place for Panchayat polls are very good. That's why we imposed it. It is not a setback that SC has stayed the polls. Hearing is on in the court and I hope that decision will be in favour of our government, because we have only introduced good things. If we have barred a person who is chargesheeted in a case that has 10 years of imprisonment, is it a bad thing? If we have said that whoever has a pending electricity bill, cannot contest, what's wrong in it? If a leader is a defaulter, how can he inspire the people of his area? I think we got good response. In the first phase [of the panchayat election for which the process had begun before the election was postponed after the Supreme Court stay on the conditions] we recovered Rs. 12 crore pending arrears of electricity tariff. If it continues for the remaining two phases also, we could have got over Rs. 24-25 crores. It will be beneficial for the society. Educational qualifications criteria was also imposed, because if a Sarpanch of a village is illiterate, how can he use the budget worth lakhs of rupees. We are even planning to take computer education to the villages. In such a case, if a Sarpanch is not literate, how would he cope with it?
Is it correct that at many places across the State, it was hard to find people eligible to contest Panchayat polls, as per the criteria imposed by you, especially women candidates?
I don't agree with this. There is not even a single such village, where there are no people to contest who meet the educational criteria introduced by us. In fact, in the first phase of the polls, we received more than 90,000 applications out of which 62,000 applicants meet the criteria introduced by us for contesting the panchayat polls. Only during those two days when SC observed that we should give opportunity to all those also who don't meet the criteria, more people filed their applications. Contesting an election is not anybody's fundamental right. Exercising the vote is a fundamental right. We are giving a chance to a person who is having a qualification of a particular type. For instance, minimum age for contesting an assembly election is 25 years, whereas an 18-year old can vote. Is it an infringement of the fundamental right of the people from 18-25 years of age who don't contest polls. The People's Representation Act comes under the purview of the parliament. As far as Panchayati Raj poll is concerned, the Constitution has given a right to State Assembly to form an Act. Parliament has given it a name – People's Representation Act, and we have given it a name – Panchayati Raj Act. We have all the right to form and introduce such qualifications. Even Rajasthan had already done it. Contesting an election is not the fundamental right. It is a statutory right.
The Indian Express website has been rated GREEN for its credibility and trustworthiness by Newsguard, a global service that rates news sources for their journalistic standards.