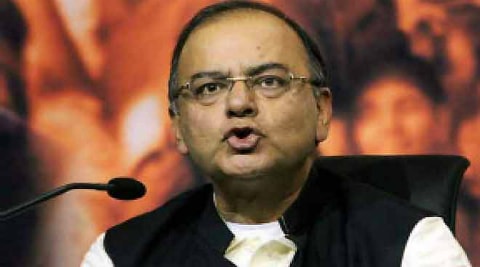 The Finance Ministry on Friday indicated that the government could review its fiscal roadmap for the next year to give a boost to growth and spur public sector investments, and said it was committed to meeting the fiscal deficit target of 4.1 per cent of the GDP in 2014-15.
"We have to re-evaluate the fiscal strategy on spending on various schemes and what we need to do to spur growth," Arvind Subramanian, chief economic adviser to the Finance Ministry, told reporters on Friday after the Mid-Year Economic Analysis 2014-15 was tabled in Parliament.
His comments come at a time when the Finance Ministry has announced austerity measures to keep the deficit under control, which is burgeoning despite a cushion from lower crude oil prices. Subramanian, who is the lead author of the report, also made a case for increasing public sector investments to boost economic growth in the medium term and hinted at more expenditure cuts in the current fiscal.
Pointing out that attracting new private sector investment, especially in infrastructure, has been difficult, the mid-year review stressed, "It seems imperative to consider the case for reviving public investment as one of the key engines of growth going forward, not to replace private investment but to revive and complement it."
There are stalled projects worth Rs 18 lakh crore amounting to 13 per cent of the GDP of which 60 per cent are in the infrastructure sector which need to be cleared, the report noted, adding that much of it is because of low and declining corporate profitability as more than one-third firms have an interest coverage ratio of less than one.
Meanwhile, the report termed the fiscal deficit target as ambitious and said it is especially challenging due to over-optimistic revenue projections, weaker than expected tax base due to unanticipated moderation in inflation, legacy of carried over expenditure and a "strongly pro-cyclical" fiscal consolidation policy.
While warning that despite the sprouting of green shoots, a robust recovery is yet to fully take hold, the report, which traditionally takes stock of developments in the economy since the passage of the Budget, however, painted a more optimistic picture estimating that the GDP would grow at 5.5 per cent this fiscal. This is, however, lower than the previous estimate of 5.8 per cent  growth this fiscal.
However, it stressed: "There has been a striking turnaround in India's macro-economy and investor sentiment since the government took over, reflected in lower inflation, a lower current account deficit, surging capital inflows and stock market valuations, and the bottoming out of the growth deceleration seen for nearly three years."
Betting on promising medium term growth prospects for India, the report said that the trend rate of growth of 7 per cent to 8 per cent should be within reach. It also noted that inflation has fallen dramatically and that declining oil prices will help in containing CAD at around 2 per cent of GDP.
It pegged retail inflation to be in the range of 5.1-5.8 per cent in the next five quarters starting December 2014. However, it maintained that the RBI is likely to hold rates at the current level till March 2015.
📣 The Indian Express is now on Telegram. Click here to join our channel (@indianexpress) and stay updated with the latest headlines
For all the latest India News, download Indian Express App.
The Indian Express website has been rated GREEN for its credibility and trustworthiness by Newsguard, a global service that rates news sources for their journalistic standards.