Jamil, Juhi Garg and Meera Prasad don't know that the killer dust in Delhi's air, RSPM (respirable suspended partculate matter), began falling after CNG was introduced and then, seven years ago, took a treacherous U-turn for the worse.
What they know is that their children cough and wheeze into each night — Jamil lost his first child to pneumonia — and after several trips to the hospital, there's only one advice doctors have for them: Leave Delhi.
WATCH VIDEO
Easier said than done, of course, but that advice betrays the sense of despair in the city's health establishment over public policy failing to respond to a public health disaster in the making.
[related-post]
Records investigated by The Indian Express from the Out Patient Departments (OPD) of Delhi's leading hospitals show that after the Supreme Court order of 1998 led to public transport vehicles switching to the cleaner CNG fuel, the two main hospitals handling a bulk of respiratory ailments reported a clear dip in cases.
Like the RSPM curve, which this investigation mapped yesterday, the number of OPD cases at the Vallabhbhai Patel Chest Institute (VPCI) and All India Institute of Medical Sciences (AIIMS) hit a low a few years after that verdict.
ALSO READ: Even the Chief Minister is a victim
Then, they started to spike, as RSPM levels rose from 161 µg/m3 (microgram per cubic metre) in 2007 to 316 µg/m3 in 2014.
Consider these:
VPCI: The number of OPD cases dipped from 51,694 in 2003-04 to 47,887 in 2006-07 and then started rising to reach an all-time high of 65,122 cases in 2013-14.
AIIMS: The trend is similar, from 10,296 OPD cases for respiratory ailments in 2005-06 to a low of 9,519 in 2007-08 and again, an all-time high of 37,669 in 2014-15.
To place that last figure in context, AIIMS started a separate respiratory department in 2013.
Admitting that these numbers are cause for serious alarm, Dr Randeep Guleria, head of respiratory medicine, AIIMS, told The Indian Express: "What is most worrying is that 10-15 years ago, when air pollution levels had come down, our average OPD attendance and admissions in respiratory medicine at AIIMS saw about a 20% decline. We seem to have lost out on our own achievements. As pollution levels have gone up, our public health success has been reversed."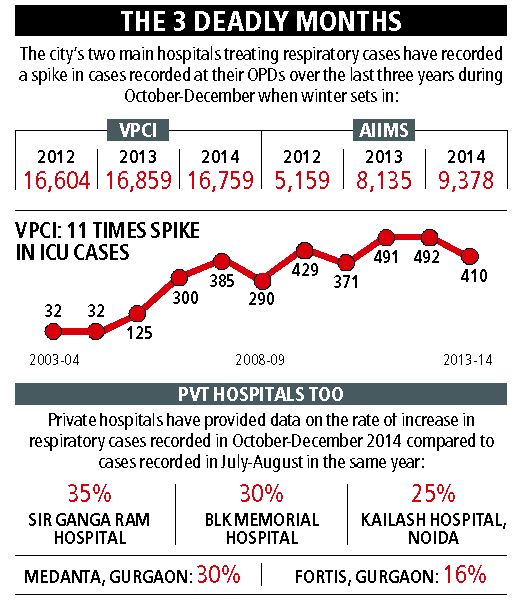 Dr Rahul Nagpal, paediatric chest specialist at Fortis VK, said, "I have lost count of the medical certificates I have written for schoolchildren this winter. As a doctor, I am often forced to advise holidays to patients because a change of environment with better air quality helps them improve faster."
What's needed, says Dr Guleria, is action at the policy level.
"The poor air quality has persisted for too long, and there is enough evidence of its link to health effects. It is time that we see some policy action to not only control this but also ensure that we hold on to any success we achieve this time," he said.
Additional data accessed by The Indian Express from AIIMS and VPCI also confirm that the the air we breathe is most dangerous around when the winter begins to set in from October to December. That's when the cold air creates low pressure conditions that prevent pollutants in the air from dispersing, leading to episodes of smog and fog.
But now, data shows, patient numbers during this period have been sharply rising over the last three years (see box).
Dr Rajendra Prasad, director, VPCI, said that this is the time "when we see more of patients with chronic or long-term respiratory diseases like Asthma and Bronchitis having complications".
Data from the institute shows that the number of patients admitted in its respiratory wards increased by 79% — from 2,160 cases in 2003-04 to 3,873 in 2013-14.
"The admissions and emergency cases are reflective of such exacerbation in symptoms. So in our experience as a tertiary care hospital, which sees more referrals of complicated cases, air pollution not only causes respiratory symptoms but also exacerbates underlying respiratory diseases," Dr Prasad said.
According to Prof S K Chhabra, head of cardiorespiratory physiology, VPCI, "Evidence clearly shows that both acute respiratory and chronic respiratory problems as well as all-cause and respiratory mortality are associated with worsening air pollution. Evidence has accumulated to show that particulate air pollution is also linked to cardiovascular morbidity (angina, myocardial infraction, heart failure) and mortality."
The doctors said that in very serious cases, they almost always remind the patient of the option to move out of Delhi.
"That's what doctors at Lady Harding Medical College advised me to do if I wanted to save my children," said Jamil, a driver from East Delhi.
Jamil added that he lost his newborn son to pneumonia five years ago in December. "Last November, about a week after Diwali, my four-year-old daughter started coughing and wheezing. It was the same cough. My wife and I can never forget the sound or sight of our girl struggling to breathe. Within days, our third child, a newborn daughter got the same cough," he said.
Both the girls recovered but Jamil said he will never forget those days or the advice that the doctors gave him. "They said I should send my daughters to my village, near Gorakhpur, every year after November because it gets difficult in Delhi at that time," he said.
Meera, a resident of Gurgaon, said that her eight-year-old son has "never had a free childhood".
"He has given up on activities like swimming and skating which he loved. He avoids dust. Even if he climbs a fleet of stairs, he feels tired. Every year, his condition worsens after Holi in April, and after Diwali around November. Doctors told me that both correspond to an increase in pollution levels," she said.
Juhi, a chartered accountant from South Delhi, said that doctors have clearly linked the "respiratory problems" of her 11-year-old daughter to air pollution.
"My daughter is an asthmatic. From the age of 5-6 years she has been on medicines like anti-allergens, and even now I always carry a nebuliser. She was hospitalised 3-4 times earlier from asthmatic attacks, when she missed school. Doctors have told me pollution is a factor in her respiratory problems," she said.
Dr Arup Basu, director of chest medicine, Sir Ganga Ram Hospital, said that it's not just respiratory diseases that are triggered by Delhi's dirty air.
"There is a direct co-relation not only between pollutant levels and respiratory diseases, but also with cerebrovascular problems, blood pressure levels and even cardiac events," Dr Basu said.
"When our respiratory attendance spiked this November-December, we convened a meeting of all consultants and analaysed the data. We realised that while earlier only upper respiratory complications such as cough phlegm, and breathing difficulties were common, now more patients complain of serious lower respiratory problems indicating that pollution has entered the lungs."
Dr Basu also urged the government to take "scientific measures" to resolve the crisis.
"We do not need another winter like the one we saw with so many patients, especially children and the elderly, falling so sick and taking longer to recover. We need the government to take scientific measures to prepare an action plan to prevent what has become like an annual cycle," he added.
The Indian Express website has been rated GREEN for its credibility and trustworthiness by Newsguard, a global service that rates news sources for their journalistic standards.