Adivasis or Scheduled Tribes are the most deprived among rural households in India, despite their suffering much lower levels of landlessness and dependence on manual casual labour compared to the Dalits or Scheduled Castes.
According to the results of the Socio Economic and Caste Census 2011, nearly 79 per cent of rural adivasi households are considered "deprived". This is higher than the 61 per cent for all rural households, the 55 per cent for non-SC/STs, and the 73 per cent for Dalits.
The higher incidence of deprivation is notwithstanding the fact that just over half the ST households are dependent on manual casual labour as a source of income, as against well above two-thirds for Dalits. Also, 38 per cent of Adivasi families — twice the proportion for SCs — are engaged in cultivation, which is indicative of their owning land. Around 45 per cent of SC households are both landless and derive a major part of income from manual casual labour. This proportion, too, is below 30 per cent for adivasis.
How do higher landlessness and manual casual labour dependence among Dalit families square up with their lower deprivation incidence, as per the SECC data? It has to do with the way the deprivation numbers have been arrived at.
[related-post]
The SECC has identified 14 parameters of exclusion. Fulfilling even one of them would result in a household being treated as non-deprived. The parameters include households paying income or professional tax; having any member who is a government employee or earning more than Rs 10,000 per month; owning a 2/3/4 wheeler, refrigerator or landline phone; staying in a pucca house with three rooms; and farming over 2.5 acres of irrigated land. The results show more rural Dalit households (91 lakh or 27.4 per cent) than adivasis (42 lakh or 21.4 per cent) fulfilling at least one of the 14 parameters that disqualify them from the deprivation category. There are more motorised vehicle, refrigerator or pucca house owners among SCs than STs (see table).
One reason for the ability for even landless manual labour-dependent families to be able to own consumer durables may be wages. These have risen even after adjusting for inflation over the last decade, thanks to non-farm employment generation from high economic growth and also welfare programmes like MGNREGA.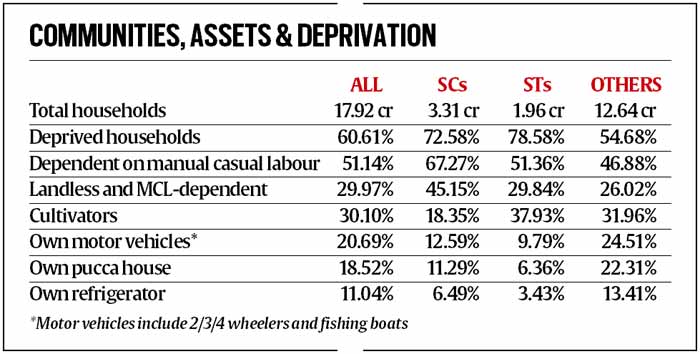 But can ownership of consumer durables be used as criteria for excluding households from the deprived category? "You cannot equate ownership of a two-wheeler with having a government job. The latter promises permanent income, whereas the former can be had even with borrowings or remittance monies from relatives in cities that aren't sustainable," said Sukhdeo Thorat, former UGC chairman.
Making a similar point, Raja Sekhar Vundru, a Haryana-cadre IAS officer, noted that a new 100cc motorcycle costs less than a buffalo: "I have myself seen many landless Dalit families manage to acquire a second-hand bike or refrigerator. But it probably means little in value terms. Ultimately, owning land or something that can generate income is what matters."
Thorat said he was not surprised over landlessness being higher among SCs than STs. "The Dalits were historically, by customary rule or even by law in some states, not allowed to own land. The adivasis, being outside the caste systems, were victims more of isolation than discrimination extending to even ownership of land," he added.
A growing economy helped rural landless families, especially Dalits, to earn more from their only real asset: labour. But with the current slowdown, even that seems to be coming under challenge.
The Indian Express website has been rated GREEN for its credibility and trustworthiness by Newsguard, a global service that rates news sources for their journalistic standards.