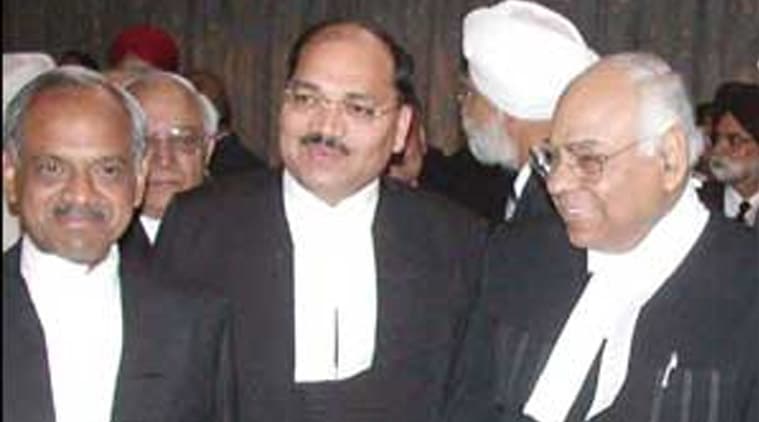 Among the long list of demands by representatives of higher judiciary at the recently held conference of chief ministers and chief justices was a call to more than double their salaries and perks. They also demanded an increase in post-retirement benefits to high court judges, including a liaison officer to help them get medical appointments and transport facility to ferry them for same.
The judges also sought protocol assistance for retired judges for, among other things, "making special arrangements for their visit to major tourist and religious destinations, assistance for obtaining train tickets, air tickets".
[related-post]
Besides, the documents prepared by the judiciary and taken up for discussion at the conference — which were accessed by The Sunday Express — show that the justices sought a National Judicial Council and State Judicial Councils "for effectively looking after the administration, including finances, of the Supreme Court and the high courts", as well as "financial autonomy" for the Supreme Court and high courts as "this is an essential requirement for the independence of judiciary".
They also urged that a retired judge be allowed to engage a domestic help, selected by the judge or his or her spouse, who should be paid salary equivalent to the basic pay of a peon plus dearness allowance, free transport up to 1,000 km per month, house guard, etc.
Seeking a hike in the salary and emoluments for judges, the judiciary said it was needed to "meet the variety of challenges of the changing times".
The gross monthly salary of a high court chief justice is Rs 2.10 lakh while that of a high court judge is Rs 1.85 lakh. Besides, each high court judge gets perks such as free government accommodation, an official vehicle, free electricity, leave travel allowance, medical reimbursement etc.
The judges want the salaries now raised to Rs 4.50 lakh per month for a high court chief justice and to Rs 4 lakh for a judge.
"The rise in salaries of judges in HC and SC has not been commensurate with the increase in their workload, whereas the salaries of members of All India Services have been marching forward and today they are at par with the salaries of HC judges. This shows a stepmotherly treatment to the judiciary," a note tabled at the conference reads.
The judiciary also demanded "an institutionalised framework for periodic revision in judges' salary by setting up a separate pay commission for the judiciary". This commission, the note suggests, should consider revision in salary at least once every five years "to keep pace with the rise in cost of living index".
As for post-retirement benefits, the judiciary asked that retired high court judges be allowed to avail medical facilities from private hospitals like serving judges. They demanded that transport be arranged to take retired jobs for medical treatment while a liaison officer be appointed to help them take appointments.
The Indian Express website has been rated GREEN for its credibility and trustworthiness by Newsguard, a global service that rates news sources for their journalistic standards.