A new dengue vaccine has proved effective on two out of every three children tested, a study published in the New England Journal of Medicine has reported, a finding that raises hope for India where the seasonal disease has been a concern every year.
Two phase-III trials of Sanofi Pasteur's dengue vaccine, prepared in line with World Health Organization guidelines, protected 66 per cent children aged nine years and above against dengue infection, pharmaceutical firm Sanofi announced on Tuesday. The results of the first 25 months of the phase-III trials had been published last year.
In the latest study, the vaccine, named CYD-TDV, was administered to 31,000 children aged between two and 14 in the Asia Pacific region and between nine and 16 in Latin America. In 80.8 per cent of the cases, children were protected from dengue requiring hospitalisation; in 93.2 per cent cases, severe dengue infection could be prevented. The vaccine, however, was more effective on children over age nine, its efficacy on children under nine being 56.1 per cent.
Though dengue incidence is high in India, the only control mechanism at present is early treatment. Data gathered from the National Vector Borne Disease Control Programme (NVBDCP) shows 19 deaths and 5,874 dengue cases in India until June 28 this year, with the maximum deaths, 13, reported from Kerala.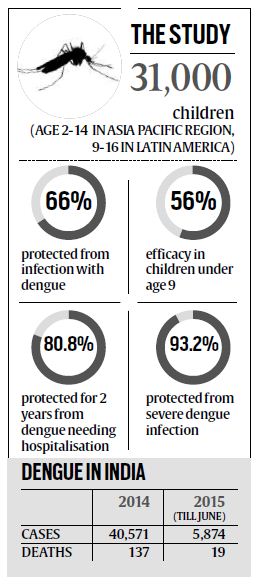 In 2014, dengue affected 40,571 people and caused 137 deaths. Dengue escalates after the monsoon from July and continues until November.
"If WHO guidelines have been followed and a sample population from different countries yielded similar results, then there is little need to conduct a separate trial for India," said Dr Balkrishna Kamble, assistant director at NVBDCP. "An expert panel in collaboration with WHO can decide the implementation of the vaccine." But he highlighted the risk of virus mutation. "If the virus changes, the vaccine will cease to be effective," he said.
Dr Kalpana Baruah, joint director at NVBDCP, said India has no dengue vaccination programme as of now. "If approved by the Drug Controller General of India, this will be the first vaccine. But it has been noted that the efficacy of this vaccine is less on the Den-II virus. Sanofi is working on it."
A Sanofi India spokesperson said a 2014 study of the vaccine on Indian adults (18-45) in Delhi, Ludhiana,Bangalore, Pune and Kolkata found the vaccine safe, with results comparable to other clinical studies in Asia.
Of the four dengue serotypes (Den-I, Den-II, Den-III, Den-IV) India has a higher incidence of Den-II and Den-IV, Dr Kamble said. "These two serotypes are more severe. They cause haemorrhagic shock syndrome," he said.
Dr Maria Rosario Capeding of the Research Institute for Tropical Medicine in the Philippines, a lead author on the NEJM article, says, "This large, at-risk population includes the most dynamic members of the community who have the potential to spread disease widely and also contribute most to dengue's heavy societal impact in terms of school absences and lost work productivity. Certainly, individuals 9 years of age and older represent a compelling target group for an immunisation program against dengue aimed at significantly reducing overall disease burden."
📣 The Indian Express is now on Telegram. Click here to join our channel (@indianexpress) and stay updated with the latest headlines
For all the latest India News, download Indian Express App.
The Indian Express website has been rated GREEN for its credibility and trustworthiness by Newsguard, a global service that rates news sources for their journalistic standards.