Written by
Ashwani Sharma
| Shimla |
Published: September 21, 2015 8:40:07 am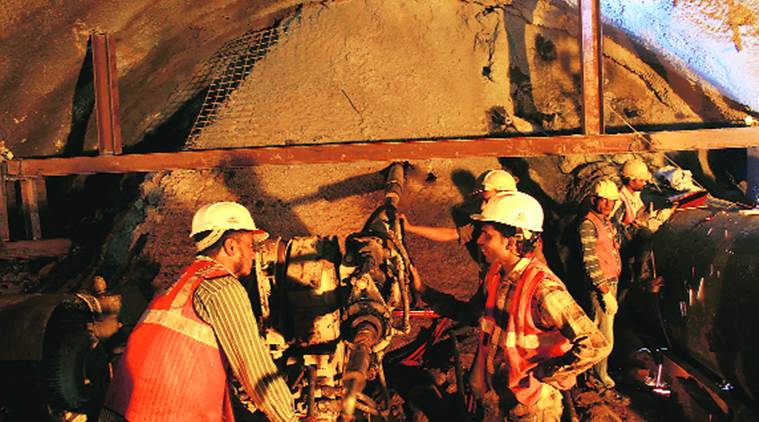 The operation to rescue the three trapped tunnel workers resumed today morning, a day after it suffered a setback due to a high-speed drilling machine developing a snag.
A portion of the under-construction tunnel of the Kiratpur-Nerchowk-Manali four lane project had caved in last Saturday. Since then the efforts were on to rescue the three trapped workers.
Superintendent of Police (Bilaspur) Balbir Thakur said on Monday that the second machine which was brought to the site to replace the earlier drill, has successfully started drilling the cavity beyond 39.5 meters vertically. There is only one meter of soil left to be drilled to hit the tunnel surface.
"The NDRF team is already on standby. Once the bore is complete, the NDRF men will go down into the tunnel to reach out the workers, two of them are already in contact over a remote camera and microphone with the authorities," Balbir said.
He admitted that Sunday was a bad day for the eight-day long operation, but Monday morning has brought some hope as it has stopped raining, which was hampering the operation. It's just a matter of hours when the trapped workers will be out.
Deputy Commissioner Mansi Sahay Thakur, who had been co-ordinating the entire operation being carried by the Himlayan Construction Company, expressed satisfaction over the working of the new machine and said that the technical snag of the bigger drill was also being fixed.
"Let's pray that things end well and the ordeal of the workers and families ends today. The search for the third one will also be done once the NDRF men goes down the tunnel"
For all the latest India News, download Indian Express App