Alongside strides in school enrolment, India is also close to gender parity in the classroom, notes UNESCO's Education for All Global Monitoring Report, 2015. India is, however, behind in goals set for quality of learning outcomes, adult illiteracy and checking the mushrooming of private schools in urban slums.
The girls-to-boys ratio in primary classes is already 1.02 while that in secondary school is 0.94. "In fact, India is predicted to be the only country in South and West Asia to have an equal ratio of girls to boys in both primary and secondary education," says the report, released in Delhi by HRD Minister Smriti Irani on Thursday.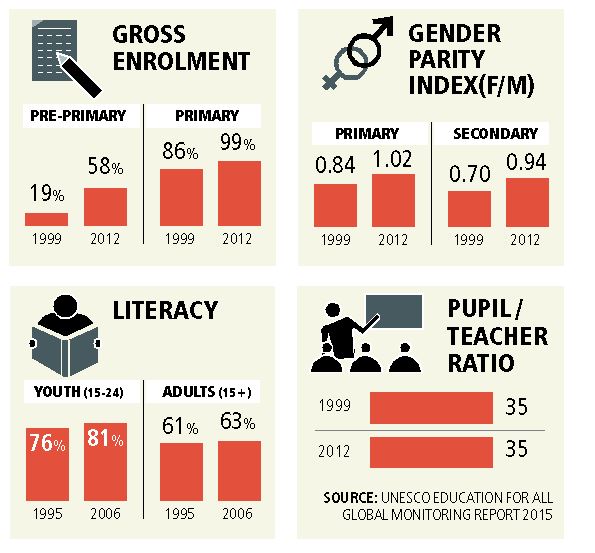 India has brought out-of-school children down 90 per cent in 15 years. Gross enrolment in pre-primary education touched 58 per cent in 2012, in comparison to 19 per cent in 1999. While 47 per cent of the countries achieved universal pre-primary enrolment, eight per cent of the countries, including India, are close to doing so.
[related-post]
"Improvements in early childhood education, universal primary education, the huge reduction in out-of-school children and gender equality are big achievements for India, a country where more that 220 million children are in schools," said Aaron Benavot, the report's chief author.
Irani said initiatives to improve enrolment and "a new paradigm of education that fosters knowledge, analytical skills, vertical reasoning and the ability to imagine beyond the given is being adopted". Enhanced focus was being laid on science and mathematics, she said.
The report cites the 2014-15 Annual Status of Education Report (ASER) to point out wide disparities in students' basic skills across states. It mentions a "strong preference" of parents to send their children to private schools to learn in English, and highlights a swelling number of contract teachers and teacher absenteeism.
On literacy, it says, "The one measurable goal that India did not reach was to reduce its illiteracy rate by 50%… Women represent the majority of illiterate adults with 68 per cent of illiterate adults in India being women."
Of the 781 million illiterate adults worldwide, 265 million are Indians.
The report says 32 per cent of the countries, including India, are still "very far" from achieving adult literacy.
The report also urges the international community to find, in partnership with countries, the means to bridge the $22 bn annual financial gap for quality pre-primary and basic education for all by 2030.
The Indian Express website has been rated GREEN for its credibility and trustworthiness by Newsguard, a global service that rates news sources for their journalistic standards.