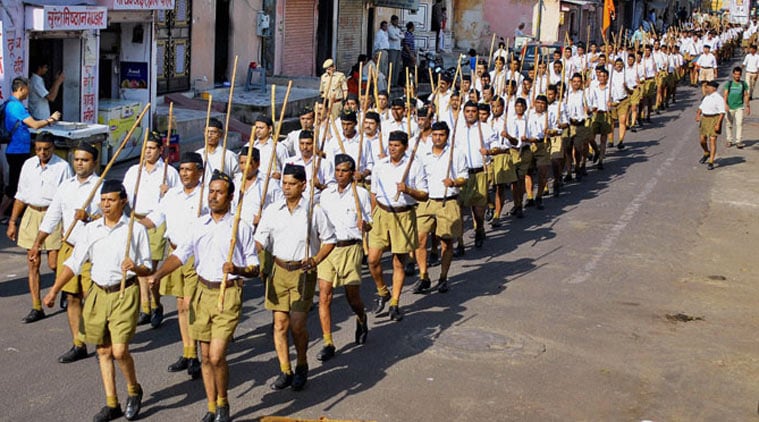 The RSS, which has so far kept women out of its shakhas, has of late been striving towards a gender balance. It has stepped up efforts to get more women enrolled in its affiliates and asked these to appoint women as office-bearers too.
A series of four events with this objective began on Independence Day, with a two-day meeting of the Delhi units of prominent RSS affiliates in Vrindavan (Mathura). Delegates of various affiliates submitted details of the representation of women in their ranks.
[related-post]
A meeting of six organisations — Akhil Bharatiya Itihas Sankalan Yojana, Pragya Pravah, Sanskar Bharti, Vigyan Bharti, Sahitya Parishad and Adhivakta Parishad — called will be held on September 5-6 in Delhi. Each affiliate has been asked to try to send at least two women to the event, called Vichar Samooh, which is expected to have around 60 participants.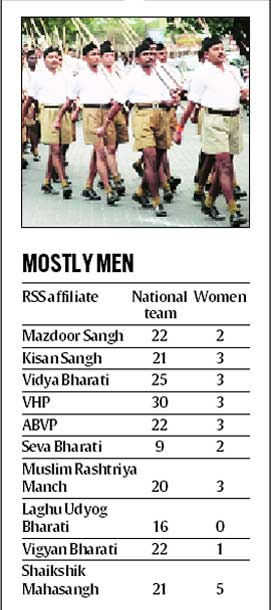 A special two-day conclave organised by Mahila Samanway will follow in Ahmedabad on September 12-13, with around 300 delegates (mostly women) expected from various affiliates.
From December 24 to 26, Akhil Bharatiya Itihas Sankalan Yojana (ABISY) will hold a three-day conference in Mysore, where around 1,000 delegates will discuss "Women in Indian culture: through the ages". "We will discuss their strength and their importance in various phases of Indian history. Women in Rig Vedic times enjoyed a high status in society but due to several reasons their status began to decline," said Balmukund, an RSS pracharak working with ABISY.
Sources say an RSS meeting in Nainital discussed the gender ratio in RSS affiliates (see chart). "Representation of women is gradually increasing in our organisations. At the Ahmedabad conclave, we will discuss several aspects of women empowerment and their role in our organisations," said Mahila Samanway  chief Geeta Tayi Gunde, who coordinates among the affiliates on women's issues.
Though RSS shakhas don't allow women, a separate organisation called Rashtra Sevika Samiti holds women's shakhas on the lines of RSS shakhas.