Lakme Fashion Week,Mumbai city's flagship fashion event kicked off its Summer Resort 212 at 12 noon this afternoon.
Seven young designers splashed jute shrugs,striped saris and flower prints,underlining why youth has it own reasons that reason cannot understand.
The GenNext show is noted as one of the most buzzing and significant properties in Indian fashion so far. Spearheaded by fashion biggie Anil Chopra in 2005,who headed Lakme Fashion week till last year and quit Hindustan Lever in 2011,this was a turning point in the way Indian fashion's intimidating hierarchies would work out their future grammar. 'The future of fashion',they called it and soon enough,it worked out to be a prediction that turned true.
Every GenNext show since 2005,swear audiences,dunks spectators into an unexplainable mix of hope,warmth and mushiness. Some amusement perhaps but a lot of curiosity. It has a quivering anecdotal history and a personality that fuses the new with 'future tense' without the aura of power.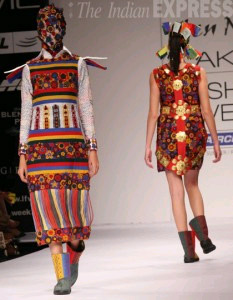 What do emotions have to do with fashion you may ask. Well,plenty. You see talent here in a raw form,even though it has been mentored (this time by Aki Narula,formerly Wendell Rodricks was the official mentor). You see hope and vanity (two inescapable truisms from the sins and wins of fashion) but without swagger.
Most of all,you can see how the younger generation among designers are interpreting fashion and style in a way that is distinctly different from the veterans. If there is a problematic generation gap between fashion's big daddies and the kids,it gets played out here,but quietly. Besides,applications to GenNext have multiplied by leaps and bounds down the years.
Till 2010,when it was in its fifth year,68 designers debuted here. Compared to 25-odd applicants in 2005,the Autumn season of 2010 saw 172,an 81 per cent growth—even when compared to the figures of March 2010. Entries came from more than 35 towns. After that,the ascent has been as steep,and entries pour in (believe it or not) less from Delhi and Mumbai,more from small towns—Kochi and Rishikesh.
This is where some of the best,brightest and most meaningful of the contemporary fashion industry debuted. Nachiket Barve,Sailex Ngairangbham,Rahul Mishra,Nitin Bal Chauhan,Aneeth Arora and Kallol Datta.
So who will be the star this time? Find out soon on Unfashion.
For live streaming of shows,go to the fashion week stream at http://www.lakmefashionweek.co.in/LFW-TV/