Written by
Surabhi
|
Updated: July 14, 2015 11:58:18 am
The Union Budget 2015-16 that was presented five months ago may have been silent on a roadmap for reduction of subsidies but over the last few months, the government seems to be taking steps towards better targetting of subsidies to help bring down its bill.
A big boost to the move is expected from the recent results of the Socio-Economic and Caste Census that the finance ministry plans to use for better identification of beneficiaries that revealed that out of the total number of 24.39 crore households in the country, 10.69 crore households are considered as deprived. The data is expected to help in better targeting of beneficiaries through the proposed JAM (Jan Dhan-Aadhar-Mobile number) trinity.
Additionally, the finance ministry has also started working on bringing in food and kerosene subsidies on the same platform through Aadhar-linked bank accounts. Subsidy for cooking gas cylinders has already been brought on the direct benefit transfer (DBT) platform under the revamped scheme 'Pahal'. In a significant move, it has decided to roll out cash transfers for food and kerosene under the public distribution system (PDS) in three Union territories including Puducherry, Dadra and Nagar Haveli and Chandigarh by September this year. Initially, Rs 500 to Rs 700 would be transferred to each eligible household every month, which would increase when kerosene is also brought into the scheme.

Additionally, it plans to introduce biometric identification machines in public distribution shops in Daman over the next few months.
Government officials point out that rolling out DBT for LPG was much simpler as the data was already available but it is a tougher job for payments such as MGNREGA and PDS as the database has to be digitsed and Aadhar-linked.
"Over the past one year, we have seen how 'Pahal' for LPG has helped cut down subsidy by eliminating ghost beneficiaries and reducing leakage. Similarly, we are now trying to see how far it is possible for food and kerosene as well … Puducherry, Dadra and Nagar Haveli, Chandigarh and Daman are all Union Territories and it is easier to roll out such measures in these areas," said a senior government official with the DBT Mission.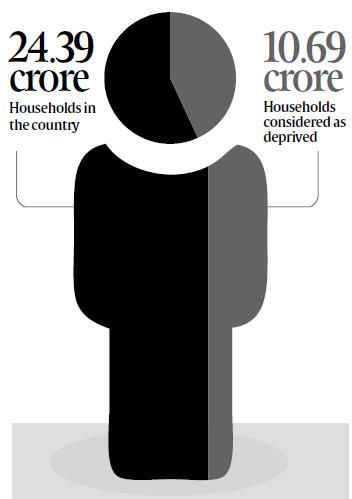 While there are no exact estimates on savings through DBT for PDS, estimates range between anywhere between 10 per cent and 15 per cent of the food subsidy bill to as high as 20 per cent to 24 per cent.
"But it is too early to hazard a guess," warned a second official.
Introduction of 'Pahal' for cooking gas has already shown that it can help in a significant pruning of the subsidy bill.
In 20014-15, an estimated Rs 12,700 crore were saved in LPG subsidy based on sales and subsidy levels for 2014-15 while this fiscal could yield savings of Rs 6,500 crore, according to Arvind Subramanian the chief economic adviser in the finance ministry.
Of the Rs 15 crore subsidised LPG connections, about 3 crore customers have been weeded out and 12 crore beneficiaries have authenticated their connections under the DBTL by linking their bank accounts.
In 2015-16, the Centre's subsidy bill is estimated at Rs 2.27 lakh crore as against Rs 2.53 lakh crore last fiscal. Some additional savings are estimated on the back of the lower crude oil prices. Of this, Rs 1.24 lakh crore is budgetted for food subsidies.
State governments, too, are being prodded to identify at least one district where DBT for food and kerosene can be started on a pilot basis.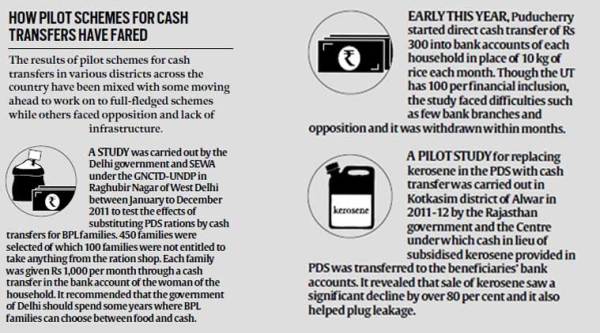 "It is modeled as a two-option system, whereby states have the choice to either provide cash or food transfers," said the official, stressing that the ultimate objective it better targeting of subsidies.
According to estimates, while grain surplus districts may opt for cash transfers that would allow them to then consume other items such as proteins or milk, about 90 per cent of the districts would still require PDS.
In order to streamline the process of distribution of civil supplies, all 5.25 lakh fair price and PDS shops in the countries will also soon have biometric identification devices where the identities of beneficiaries are authenticated through their Aadhar cards.
"Initial testing of biometric devices has started and states have been asked to procure these by the end of the year," said the official, adding that it will help in rolling out DBT for kerosene, which is sold through these shops.
Pilot studies have already shown the efficacy of the move in weeding out ghost beneficiaries. For instance, in Krishna district in Andhra Pradesh 97 per cent of data on all beneficiaries are digitsed, helping in saving Rs 100 crore.
At present, about 89 per cent of data on beneficiaries for PDS has been digitised by states but only about 15 per cent of the data has been seeded with Aadhar numbers. It is expected that by September Aadhar seeding of all beneficiaries would be complete.
States have also been asked to digitise the database of beneficiaries for food subsidies using the software for the National Food Security Act by December this year and further allocations would be decided based on their success in completing the exercise.
Meanwhile, other welfare payments such as scholarships and pensions too are being brought on the e-payment and DBT platform.
While a dozen scholarship schemes are already on the e-portal, allowing for electronic transfer of the funds to the students, the government is planning to put another 27 such schemes on the portal soon.
Efforts are on to also digitise old-age pension schemes but officials point out that problems of first to last mile connectivity continue.
How Pilot Schemes for cash transfers have fared
The results of pilot schemes for cash transfers in various districts across the country have been mixed with some moving ahead to work on to full-fledged schemes while others faced opposition and lack of infrastructure.
A study was carried out by the Delhi government and SEWA under the GNCTD-UNDP in Raghubir Nagar of West Delhi between January to December 2011 to test the effects of substituting PDS rations by cash transfers for BPL families. 450 families were selected of which 100 families were not entitled to take anything from the ration shop. Each family was given Rs 1,000 per month through a cash transfer in the bank account of the woman of the household. It recommended that the government of Delhi should spend some years where BPL families can choose between food and cash.
Early this year, Puducherry started direct cash transfer of Rs 300 into bank accounts of each household in place of 10 kg of rice each month. Though the UT has 100 per financial inclusion, the study faced difficulties such as few bank branches and opposition and it was withdrawn within months.
A pilot study for replacing kerosene in the PDS with cash transfer was carried out in Kotkasim district of Alwar in 2011-12 by the Rajasthan government and the Centre under which cash in lieu of subsidised kerosene provided in PDS was transferred to the beneficiaries' bank accounts. It revealed that sale of kerosene saw a significant decline by over 80 per cent and it also helped plug leakage.
📣 The Indian Express is now on Telegram. Click here to join our channel (@indianexpress) and stay updated with the latest headlines
For all the latest India News, download Indian Express App.