An exhaustive investigation by the Indian Express reveals that in spite of numerous studies and alarm bells ringing at repeated intervals, political inaction and the administration's apathy has turned the air of India's capital into poison and set in motion a major public health disaster in the making.
A historic Supreme Court judgement in 1998 forcing all public transport vehicles to run on CNG had reduced levels of respirable suspended particulate matter (RSPM) considerably, but over the years, all those gains were frittered away. From a high of 409 µg/m3 in 1995, it went down to 191 µg/m3 in 2000 and then further to 161 µg/m3 in 2007. But today, it stands at 316 µg/m3, nearly 16 times what is considered healthy by the World Health Organisation (WHO), and nearly twice that of Beijing, the next most-polluted city in the world.
The question is why did it have to be this way?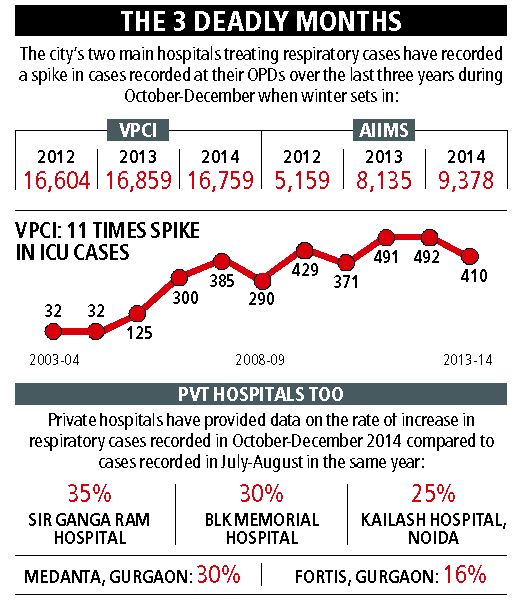 Here are the pollution-related studies that no administration ever acted on.
'There has been complete laxity on part of the government in holding on to the benefits. The last government in Delhi for three terms, and at the Centre, did nothing despite so much data from so many organisations warning about deteriorating air quality," said Kuldip Singh, who was known as the "green judge" after he presided over a number of PILs on environmental issues.
"I don't hold one person responsible for this but the entire administration, right up to the prime minister. People at the helm just fell asleep. How could you allow your national capital to become such a global shame?" said MC Mehta, a lawyer based in Delhi, who was behind the PILs that led to key Supreme Court judgments on environmental issues.
Sheila Dikshit, who was the chief minister of Delhi from 1998-2013, said, "You have to understand that there are various lobbies. If auto manufacturers have buyers, for them it looks unfair that we are stopping their growth. On the other hand, the air quality has become worse. Unless there's a collective decision and the lobbies come together for the good of the people, nothing can be done. I find it a little disappointing. We have been through it, innumerable meetings with the lobbies. Because we, the people of Delhi, were the most disturbed by it."
The second part of the investigative series focuses on how pollution affects people with respiratory disorders. The doctors have only a single advice for them: Leave Delhi. In fact, the story was so popular that the phrase 'Leave Delhi' was trending for the entire day on Twitter.
Records investigated by The Indian Express from the Out Patient Departments (OPD) of Delhi's leading hospitals show that after the Supreme Court order of 1998 led to public transport vehicles switching to the cleaner CNG fuel, the two main hospitals handling a bulk of respiratory ailments reported a clear dip in cases.
And then they began to spike. At the Vallabhbhai Patel Chest Institute (VPCI), the number of OPD cases dipped from 51,694 in 2003-04 to 47,887 in 2006-07 and then started rising to reach an all-time high of 65,122 cases in 2013-14.
Randeep Guleria, head of respiratory medicine, AIIMS, told The Indian Express: "What is most worrying is that 10-15 years ago, when air pollution levels had come down, our average OPD attendance and admissions in respiratory medicine at AIIMS saw about a 20% decline. We seem to have lost out on our own achievements. As pollution levels have gone up, our public health success has been reversed."
The doctors said that in very serious cases, they almost always remind the patient of the option to move out of Delhi.
"That's what doctors at Lady Harding Medical College advised me to do if I wanted to save my children," said Jamil, a driver from East Delhi.
In fact, the city's high pollution levels is one of the reasons why Chief Minister Arvind Kejriwal was forced to go for a detoxification programme at the Jindal Institute of Naturecure in Bangalore last month, doctors who treated him told The Indian Express.
The third part of the investigation showed how an unprecedented study, by the Kolkata-based Chittaranjan National Cancer Institute, one of the landmark studies of air pollution, was buried forever. Read how.
Embassy schools, where a large number of children of foreign expatriates studied, were the only places where alarm bells kept ringing.
The fourth part of the investigation pointed to one of the major sources for the city's toxic air — 80,000 trucks which kept flitting in and out of the city during the night while its residents slept soundly.
"You might think there's a fire here, but it's just the smoke emitted by these vehicles," says a staffer at the toll booth, turning towards the nearly 50 trucks in queue to be cleared. "Some of them are 10 years old, some 15, some 20. And most of them run on a mixture of kerosene and diesel to save money."
Trucks contribute more than 60 per cent of the pollutants spewed by diesel vehicles inside Delhi, and have created what is being labelled as "a third peak hour" in the night when an estimated 80,000 of them are allowed to enter the city.
Add to that, the ignorance of the authorities and bureaucratic red tape when it came to constructing expressways and peripheral roads for trucks to avoid the city.
Even after repeated prods by research organisations and NGOs, the administration's negligence is stark.
Responding to the investigative series, Union Environment Minister Prakash Javadekar said it was good that the media was highlighting the issue as it would force local authorities to take urgent action to curb pollution.
Twitter response
.@IndianExpress keeps up run of superb investigations into Delhi's pollution crisis. http://t.co/FqCfMvD4tc

— Sreenivasan Jain (@SreenivasanJain) April 3, 2015
.@IndianExpress running a powerful series on Delhi's deadly air pollution http://t.co/LYmO4njjTt Leave Delhi say Doctors. @anantgoenka

— Rahul Kanwal (@rahulkanwal) April 1, 2015
"Leave Delhi" cover of @IndianExpress today #pollution pic.twitter.com/R9F4Pop3v5

— Annie Gowen (@anniegowen) April 1, 2015
An extraordinary series of stories on air pollution. Congrats to @IndianExpress http://t.co/MAY5YXMK5c

— Gardiner Harris (@GardinerHarris) April 3, 2015
CALLING FOR CO-OPERATION FOR BREATHE-ABLE AIR. The Delhi Govt. is aware of the pollution level. #AAPatWork https://t.co/pD5wwzcWt5

— Aam Aadmi Party (@AamAadmiParty) April 3, 2015
#DeathByBreath While you are sleeping: 80,000 trucks enter #Delhi every night #PoisonOnWheels http://t.co/iWlCoGiNhy Delhi Bypass Needed

— Dibang (@dibang) April 3, 2015
Trucks love affair with Delhi. And the poisoning of Delhi air. Excellent series of reports in IE. http://t.co/Q2aCXOsybT

— Ankur Bhardwaj (@Bhayankur) April 3, 2015
Thanks to the Indian Express stories on Delhi pollution (much overdue)… family's advising me to leave Delhi. Ok then.

— Colleen Braganza (@colleenbraganza) April 2, 2015
Chilling series abt what Delhi's air is doing to your children. Read, share, be scared. @Pritha88 @aniruddhg1 http://t.co/ssbIaBP0E1

— amrita dutta (@damrita) April 2, 2015
My child suffers because of Delhi's Toxic Air.Friend's child sick too.Applaudable story by @IndianExpress .@Pritha88 pic.twitter.com/yopJsdPt15

— Dr.Shalini Singhal (@drshalinisdiet) April 1, 2015
For all the latest India News, download Indian Express App