During their recent visits to Chhattisgarh, Union ministers Rajnath Singh and Venkaiah Naidu praised the upcoming administrative capital Naya Raipur and underlined the possibility of its being included in the proposed list of 100 smart cities by the NDA government. Spread over 8,013 hectares, it has had over Rs 4,000 crore already spent on it. The government calls it the dream project of CM Raman Singh, though the need for a new capital was first underlined by first chief minister Ajit Jogi. The spot he had identified, around 20 km from Raipur, is in the same area where the capital is coming up.
"It's our dream project and we wanted to build the best, modern and a dream city of the 21st century in India. We spent more than five years in planning … This is going to be the first smart city of India," said N Baijendra Kumar, chairman of Naya Raipur Development Authority and additional chief secretary, housing and development.
At present, the state secretariat and police headquarters are functioning from here, besides a few other government offices. Curiously, the administrative junction that has secretariat and police headquarters is called Capitol Complex.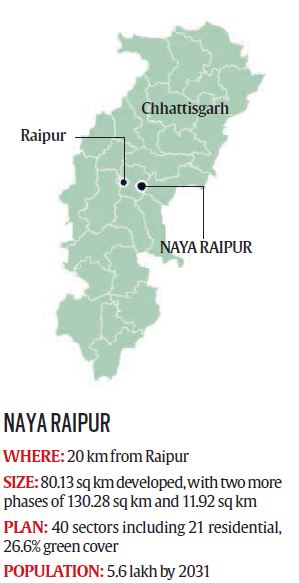 Layout and infrastructure
As much as 26.6 per cent of the total area earmarked for recreation with tree cover or water bodies. It is divided into 40 sectors, of which 21 are for residential purposes. The city will have a road network of 225 km, of which 75 km has been completed.
Basic networks such as electricity, water and sewerage are SCADA-enabled (supervisory control and data acquisition), with all data supervised and analysed at one place.
Buildings will have a mechanism of rainwater harvesting.
Business & industry
There is a proposed central business district, besides area earmarked for industry and software companies. The government has offered a host of incentives for industries with an intention to make it an investment destination.Raman Singh has offered 100 per cent exemption on electricity duty for 12 years for IT and ITES sectors, 100 per cent exemption on stamp duty and entry tax, besides up to 90 per cent discount on land premium.
The biggest is "bespoke incentive" under which the government commits itself to providing customised incentives to meet special requirements of a unit, even free land in certain cases. "If investment is more than Rs 100 crore, we will provide bespoke incentive. It's the first instance of a government providing such customised incentives," Aman Singh, IT & ITES secretary said.
However, while some MoUs have been sealed, it will be some years before industry formally arrives in Naya Raipur.
Was it needed?
A new city or a suburb such as Navi Mumbai is developed following extreme pressures on the existing city. In Raipur, on the other hand, many housing units are waiting for occupants. Chhattisgarh has a population of just over 2.6 crore. With all its quality amenities, Naya Raipur will be a mere administrative capital largely populated by the government staff or employees of private units, as and when they come up. In fact, the government estimates a 5.6 lakh population in Naya Raipur by 2031, when it reaches its maximum development.
Hard to access
Naya Raipur is over 20 km from Raipur, in between just roads lined with trees or farmlands. With both the police headquarters and the secretariat already shifted to Naya Raipur, people complain that the government is now out of the public reach. Once all major offices are shifted, it can widen the distance.
Jogi says, "My plan was an integrated and simultaneous development of peripheral areas. You cannot suddenly take the government offices away from people to their disadvantage."
Baijendra Kumar of the development authority disagrees. "It is only 20 km from Raipur city. When it is completed, both cities will merge and it will become a satellite city of Raipur. It is a city of the future," Kumar says.
What Jogi wanted
Jogi disagrees with the pattern of development. "Sensing the need of a new capital, I had invited global tenders during my tenure. Of the 17, 15 had recommended this site where they are now developing Naya Raipur," he says.
"I am disappointed by the present site. I would have wanted a feel of Chhattisgarhia culture and local architecture, which would have made the new capital look unique and wonderful. That's how you build world class cities without bargaining the local touch. At present, it looks like a matchbox city," Jogi says. "There is no architectural vision."
For all the latest India News, download Indian Express App