Only about 4 per cent each of rural Scheduled Tribe and Scheduled Caste households have a member in a government job, according to the findings of the Socio Economic and Caste Census 2011 released earlier this month.
Of the country's rural ST population of 1.96 crore households, 8.60 lakh — or 4.37% — are in government jobs, as compared to 3.96 per cent (13 lakh of 3.3 crore) among the SCs. The STs represent 11 per cent of the base rural population of 17.91 crore households, the SCs 18 per cent.
Zonewise, North has the highest share among ST households with a government-salaried member, at 16 per cent. North Zone comprises J&K, Himachal Pradesh, Haryana and Punjab.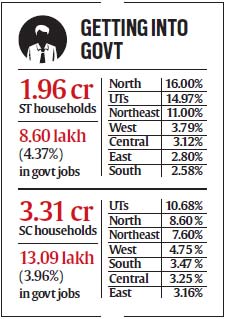 North is followed by the Union Territories at 14.97 per cent, the Northeast at 11 per cent, and West at 3.79 per cent. East has 2.80 per cent and South is at the bottom with 2.58 per cent. Surprisingly low in the list is Central Zone, which comprises states such as Madhya Pradesh and Chhattisgarh with a substantial tribal population. In this zone, only 3.12 per cent ST households have someone in a government job.
Among the Scheduled Castes, the zone with the highest proportion of households with a government employee is the Union Territories, which comprise the National Capital Territory of Delhi, Chandigarh, Daman and Diu, Dadra and Nagar Haveli, Lakshadweep, Puducherry, Andaman and Nicobar Islands.
The UTs with 10.68 per cent are followed by North Zone, Northeast, West, South and East (see graphic).
Rajasthan
Dalits and tribals in Rajasthan's villages follow a trend in keeping with the national one, despite over six decades of caste-based reservations. Rajasthan's 17.99 lakh ST households account for 17.64 per cent of the state's 1.02 crore households, and its 18.91 lakh rural SC households 18.51 per cent. A total 79,516 rural ST households, or 4.41 per cent, have a member in a government job. Among rural SC households, the count is 74,408, for 3.93 per cent.
As a proportion of the entire rural population in the state, ST households with a member in a government job account for only 0.78 per cent, while such SC households account for 0.73 per cent. The fact that the STs have a slightly higher representation could be attributed to the large number of Meena (ST) households sending members to government jobs.
📣 The Indian Express is now on Telegram. Click here to join our channel (@indianexpress) and stay updated with the latest headlines
For all the latest India News, download Indian Express App.
The Indian Express website has been rated GREEN for its credibility and trustworthiness by Newsguard, a global service that rates news sources for their journalistic standards.