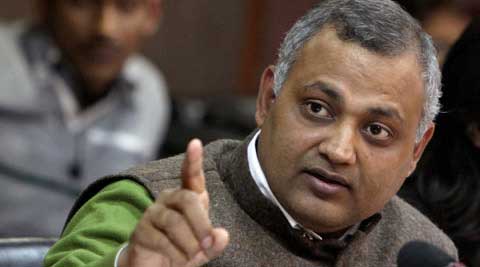 AFTER BEING slammed for the midnight raid on people from Africa by Delhi's controversial Law Minister Somnath Bharti, the Aam Aadmi Party sought to hit back at its critics Friday as it circulated eight videos that seemed to show Africans in poor light.
The videos do not clearly mention where, when or by whom they were shot, but some of them seem to be of the night the raid took place in south Delhi. Bharti is clearly visible in two of the videos and his voice can be heard in a third.
The AAP communique also included the party's point-by-point rebuttal of allegations leveled against them and Bharti by four African women, in which not only their names, but addresses are also mentioned despite a police investigation on charges of molestation being underway.
The party also circulated an application to AIIMS, purportedly from the police, to conduct drug tests as well as earlier complaints by residents of Khirki Extension, who are not named.
In the early hours of Friday, the Twitter account of Bharti also saw a video of an altercation between two African men, with the tag line "fight between drug peddlars in Khidki", being posted.
The following are the videos circulated by the Media Cell of AAP:
* Condom and liquid spilled in a private car: The video shows police checking a car, where condoms are found in a dashboard. Bharti is heard speaking in the background.
* Lady police: Two lady police constables are seen closing the door of a car in which at least one African woman is seated.
* Naked in front of police 1: An African man is seen pacing a busy street, and waving his arms around in the nude. His private parts are blurred.
* Naked in front of police 2: The same man is seen running down the street, and the person taking the video seems to follow. A little later, the footage shows the man lying down in the middle of the road with police personnel around him. Intermittently, people can be heard saying that the man should be beaten up.
* One girl caught: The person holding the camera seems to run down a dark alley. After a while he reaches a spot where a policeman is holding an African woman by her jacket.
* Racial Discrimination by police: The video shows Bharti with ACP B S Jakhar, with several other policemen. The conversation in the video seems to revolve around Africans but is largely indiscernible.
* Trying to hide drugs: The footage shows three African women seated in a car. One of them puts on gloves, and seems to clutch something white.
* Written complaint: Somnath Bharti is seen telling ACP Jakhar repeatedly to call DCP South B S Jaiswal. Jakhar says the DCP has been given the message, but Bharti says, "Do you not want the DCP to come here? I know that only he will take action. I don't know what message you have given. I will give the message. Call him."