After more than 50 years, a committee of India Meteorological Department (IMD) scientists is working on redetermining onset dates of the monsoon across different states. The normal onset date for Kerala, however, will remain unchanged at June 1.
"Work is in the preliminary stage and we are collating data and reworking dates for every state. For example the normal dates for Maharashtra (June 10) and Delhi (June 29) are all being looked at," said IMD deputy director general Medha Khole. She would not set a time for when the new dates will start being followed.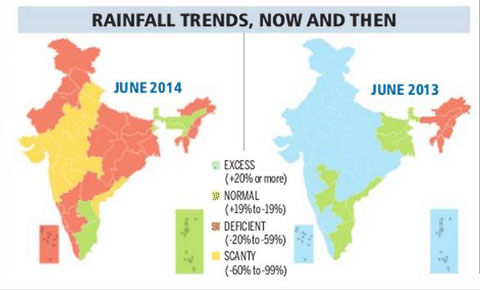 Khole said the committee, of which she too is a member, noted that the current onset dates are based on rainfall data from 1901 to 1940 collected from 150 stations. The onset date being key to agriculture and water resources management, the committee felt a revision is necessary. "This year too the onset date was delayed to June 6 as against June 1," said an official.
The study being carried out is based on rainfall data between 1971 and 2000. The new normal is being derived using rainfall data of 569 stations.