Written by
Aamir Khan
| Mumbai |
Updated: September 12, 2015 4:44:10 am
More than nine years after bombs exploded on board seven suburban passenger trains in Mumbai, claiming 189 lives, 12 men were convicted by a designated court Friday.
Of the 13 who faced trial in the July 11, 2006 blasts case, one was acquitted. The others were convicted for conspiracy and committing offences against the country in an organised manner — crimes that attract a maximum punishment of death.
The exact quantum of punishment awarded to the convicts will only become clear Monday.
Watch video: (App users click here)
The 12 men were convicted under various sections of the Indian Penal Code (IPC), the Maharashtra Control of Organised Crime Act (MCOCA) and the Unlawful Activities Prevention Act (UAPA).
The only person to be acquitted is Accused Number 8, Abdul Wahid Deen Mohammed Shaikh (38). He was booked for allegedly sheltering Pakistanis, accused of playing a role in the blasts, at his house in Mumbra.
[related-post]
"The role attributed to him was that he had given shelter to Pakistani planters. One of the witnesses turned hostile. Evidence was weak. Despite that, other material was there (against him). However, unless I see the judgment, I cannot comment on the acquittal of the accused," Special Public Prosecutor Raja Thakare told The Indian Express.
Those convicted are Kamal Ahmed Mohammed Vakil Ansari, Dr Tanveer Ahmed Mohammed Ibrahim Ansari, Mohammed Faisal Ataur Rahman Shaikh, Ehtesham Kutubuddin Siddiqui, Mohammed Majid Mohammed Shafi, Shaikh Mohammed Ali Alam Shaikh, Mohammed Sajid Margub Ansari, Muzammil Ataur Rahman Shaikh, Sohail Mehmood Shaikh, Zameer Ahmed Latifur Rehman Shaikh, Naveed Hussain Khan Rasheed Hussain Khan and Asif Khan.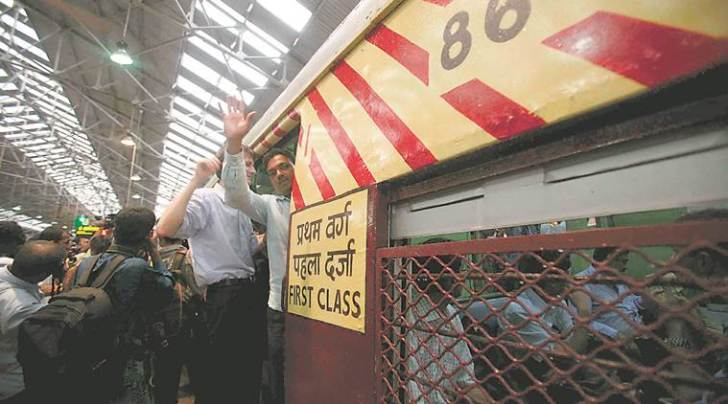 2006 Mumbai train blasts verdict: Commuters board coach 864A, which was destroyed in the 7/11 blasts last year, at Churchgate station in Mumbai
Their roles, police said, range from training in Pakistan, transporting Pakistanis from the Nepal border to Mumbai, procuring explosive material and planting the bombs.
Thakare said he was relieved at having discharged his duties and "fulfilled" what was expected of him as special public prosecutor. "In terror cases, naturally the first feeling is that 189 innocent lives have been snuffed out and 800-odd people are badly injured, apart from the trauma caused to society that cannot be calculated. Therefore, people who have carried out the conspiracy in a calculated manner should be given the highest penalty," Thakare said.
According to the charges, Kamal Ansari, Faisal Shaikh, Ehtesham Siddiqui, Naveed Khan and Asif Khan played a key role in the blasts. These men were convicted under Section 302 (murder) read with Section 120 B (criminal conspiracy) of the IPC and also under Section 3 (1) (i) of MCOCA for the offence of organised crime. The maximum punishment under both laws is death.
In addition, the convicts were found guilty under several other sections of the Unlawful Activities Prevention Act (UAPA), the Explosives Act, Explosives Substances Act, Prevention of Damage to Public Property Act and Railways Act.
Barring Kamal Ansari, Mohammed Majid Shafi and Naveed Hussain, all others were also convicted for sedition under Section 124 A of the IPC.
Barring five reporters, the media was not allowed to witness the proceedings inside the courtroom. Those present in the courtroom when Judge Y D Shinde began to read out the order included the 13 accused, 10 officers of the Maharashtra Anti-Terror Squad, special public prosecutor Raja Thakare and over 20 defence lawyers.
According to some of the policemen who witnessed the proceedings, the judge took about 15 minutes to address each accused individually and inform him of his conviction. Thereafter, the judge accepted applications from defence lawyers to consult with their clients. After consultations, which lasted about half an hour, the accused were led out of the court and back to jail.
Outside the court, the ATS team was jubilant, greeting each other with wide smiles and posing for photographs. Retired IPS officer K P Raghuvanshi, who was chief of the ATS during the blast probe, hugged each of the 10 officers — some of them now retired — and congratulated them on securing the conviction.
"In any blast, be it the London tube bombing, the 1993 blasts, Bali bombing, or any other big blast, there was always an unexploded bomb that helped as a lead. Or some clue left behind. In this blast, there was no clue left, it was a crowded scene, it was raining, it was getting dark," Raghuvanshi said. On the alleged involvement of Pakistanis, he said, "The plot goes back to Azam Cheema, who masterminded the bombing. In fact, he ensured that he sent three sets of people through three different routes to Mumbai to execute the bombing." He added that some of the wanted accused are Pakistani nationals.
Current ATS chief Vivek Phansalkar said, "135 officers worked day in and day out to collect evidence and record statements to put the entire case together. The verdict brings great satisfaction."
For the families of the 189 victims, it was an emotional day. When her father died in a train between Mira road and Bhayandar, Hemlata Dilloud was 18. She got a job with the Western Railway as a peon at Malad station and is now a booking clerk at Bhayandar. On being informed about the court's verdict, she began to sob. "These people should be hanged. I lost my father when he was just 40. Their families should also miss them," she said.
Among the families of the convicts, there was anger and bitterness. "The system has failed us miserably. We have not got justice. My brother was in office when the blast occurred. There is clear proof that he was in office that day," claimed Aziz Khan, the elder brother of Asif Bashir Khan. Khan, born in Jalgaon, was charged for conspiracy, procuring explosive material and planting a bomb.
A relative of another convict, Mohammad Sajid Mugrub Ansari, claimed that call detail records (CDR) showed that Sajid was not at any of the blast sites that day. Sajid, who was 29 at the time of arrest, ran a mobile repair centre in Jogeshwari and lived with his wife and children. Sajid is, incidentally, the brother-in-law of Wahid, the only person to be acquitted.
The Indian Express website has been rated GREEN for its credibility and trustworthiness by Newsguard, a global service that rates news sources for their journalistic standards.