The recent revelations regarding alleged tapping of VVIPs by an ex-Essar employee should be made part of ongoing proceedings in the Essar leaks case in the Supreme Court. The latter relates to emails "leaked" by a whistleblower that show an alleged "nexus" between the company and politicians, bureaucrats and journalists.
Calling for this, the petitioner in the Essar leaks case, Prashant Bhushan, Supreme Court lawyer whose Centre for Public Interest Litigation (CPIL) has filed a PIL in the matter, said Tuesday that reports of alleged phone-tapping done by Albasit Khan, as first reported in The Indian Express, were "groundbreaking."
Watch | Essar Phone Tapping: Centre To Order Police Probe
READ | Essar phone tapping: In ex-staffer's scrapbook, pictures of snoop equipment
Responding to The Indian Express on email from the US, Bhushan said: "This (the tapping) should form part of court proceedings. This (allegations of phone interception) is more significant than the Radia tapes since these tapes contain confessions of serious crime by the persons who committed the crime."
"We will inform the court about them (the Essar tapes) and ask for a thorough independent investigation," Bhushan said. "The government should immediately get the CBI to register an FIR and order an investigation." The next hearing in the Essar leaks case is expected in July when the court returns from its vacation.
Bhushan, however, added: "Given the record of most governments when it comes to large corporates like Essar and Reliance, it is unlikely the government will move on this." The latest allegations against Essar were triggered off by Supreme Court lawyer Suren Uppal first sending "caution" notices to Essar and other corporates whose phones were allegedly illegally tapped and then sending a detailed complaint to the Prime Minister's Office (PMO). The PMO has since routed the complaint to the Home Ministry.
According to this complaint, between 2001 and 2006 — during one NDA and one UPA government — Khan, allegedly acting on instructions from the management, tapped several telephones of VVIPs including Cabinet Ministers, corporate chiefs including Mukesh Ambani and Anil Ambani and many bureaucrats.
READ | Set of six logbooks Khan left with lawyer Uppal could hold key to Essar Tapes
The purported conversations that were thus recorded reveal widespread peddling of influence in corridors of power, "corruption in the business milieu," brokering of deals and blurring of lines between business and government, according to the 29-page complaint submitted on June 1 to the PMO.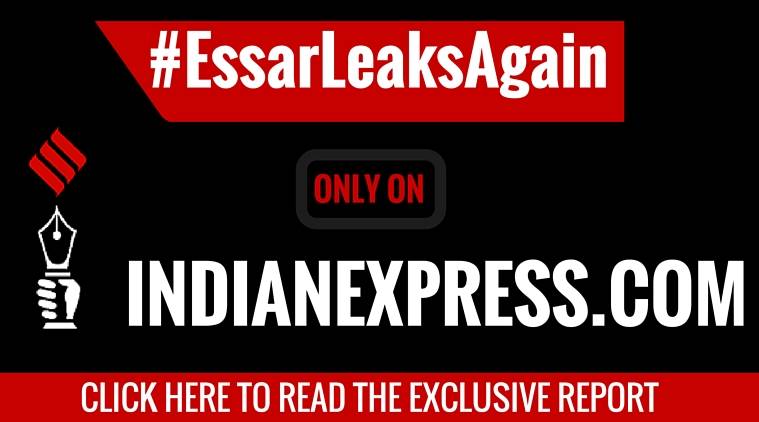 Khan and Essar have both denied these charges saying Uppal has concocted a story. Today, Uppal wrote to the Home Ministry saying he wished to "submit," to a designated investigating agency, the CDs — containing about 25 hours of allegedly intercepted conversations — and documents which Albasit Khan had left with him.
READ | Ex-Essar employee slams lawyer Uppal who, in turn, shows emails to 'establish link'
"Although I have tried to retain the same in my safe custody, till such time the same could not be handed over to the designated investigating agency, I apprehend the same is not safe with my offices," Uppal wrote.
Recently, a bench led by Chief Justice T S Thakur asked Additional Solicitor General P S Patwalia to put on record the government's response to the petition moved by CPIL, which has sought a court-monitored probe into the alleged "political bureaucratic corporate nexus."
Watch Video: What's making news
READ | Essar leaks: 'Tip of iceberg…(chats) expose corruption in business, govt, politics
The PIL was filed by CPIL after The Indian Express reported in February 2015 how a "whistleblower" had decided to go public with Essar Group's internal company communications – the correspondence are attached to the petition as instances of alleged impropriety.
Urging the court to either direct the CBI or set up a special investigation team to probe the alleged complicity adversely impacting matters of public policy, the CPIL also asked for framing guidelines to regulate relationships of corporate groups with individuals in positions of power and influence.
The company's communications, the plea contended, "indicate how Essar has been cultivating ministers, politicians, bureaucrats and journalists in order to serve its business interests."
In March 2015, the bench issued notices to the Essar Group and the Centre, asking for their replies to the PIL. Essar filed its counter-affidavit last November, arguing that there is "nothing illegal or improper" in politicians and bureaucrats making job requests and that some small favours to government servants are "common courtesies extended by corporate houses".
Watch Video: What's making news
The company said there is no wrongdoing in giving gifts to people in public life or in the civil service since there has been no attempt to obtain undue favour, and added: "As far as job requests are concerned, in the Indian environment, considering the enormous demand for corporate jobs, people in office or in public life frequently make requests for getting jobs. There is nothing illegal or improper in such requests." It claimed that no appointments were made "only based on the recommendations".
Seeking the dismissal of the PIL, Essar questioned the authenticity of e-mails calling them "highly questionable"; "unverified", "pure hearsay" and added they relate to "matters of commercial sensitivity"." In a statement, RIL said that it "expected authorities to take a serious view of these alleged violations of our right to privacy if indeed there has been any illegal wire tapping".