Last month, when women and child development minister Maneka Gandhi was pushing through amendments to Juvenile Justice Act in Parliament that would lower the age of culpability as an adult from 18 to 16, she cited a rising number of crimes by juveniles. In the year following the December 16, 2012, gang rape of a student, Delhi was declared the most dangerous city for women in India as it witnessed a 350 per cent rise in rapes over 2012, according to National Crime Records Bureau (NCRB).
In 2007, the Samajwadi Party went to Assembly polls with an ad campaign where it claimed that crime was very low in Uttar Pradesh. The advertisement, featuring Amitabh Bachchan, cited NCRB figures with the slogan: "UP mein hai dum, Kyonki jurm yahan hai kam" (Uttar Pradesh is strong because there is little crime here).
These proclamations beg the obvious question: Does rising crime graph as visible in data mean deteriorating law and order and vice versa? If international data on crime is analysed, it shows that countries perceived to have better systems of law and order also have high rates of crimes (number of crimes per 1 lakh population), while countries with dysfunctional governance, most of the times, display low rates of crimes.
[related-post]
According to United Nations Office on Drugs and Crime (UNODC) data, on seven counts of serious crimes — which include murder, rape, sexual violence, assault, kidnapping, burglary and theft — Sweden (with 6,456 crimes per 1 lakh population), Denmark (6,041) and the Netherlands (5,523) have high rates of crimes.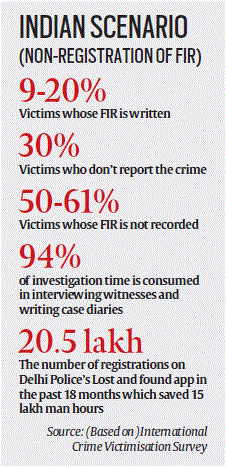 The countries with low rates of crimes are Somalia (1.5), Iraq (2), Libya (2.9) and Haiti (5). It would be naive to argue that Somalia is safer than Sweden. India's crime rate (87) itself compares with that of Lebanon (59), Yemen (67) and Kazakhstan (96). Within India, Kerala, considered to be a better policed state has one of the highest crime rates, while UP, whose poor law and order issues often hit headlines, has one of the lowest.
Why is it so? The answer lies in the response of government and civil society to crime data and how sense of law and order in India is measured solely through registered crimes.
As soon as crime graph of a particular region, as reflected in data, rises, the minister responsible reprimands the concerned officer. The officer, in turn, tries his best to keep the numbers to the lowest. One of the ways this is allegedly done is by refusing FIRs.
Former Director General of Police (DGP) of UP and police reforms crusader Prakash Singh narrates an interesting anecdote. "When I was a young Superintendent of Police (SP) in UP, the then principal secretary (home) BJ Khodaiji, on instructions from the government, issued an order. It said that crime should be brought down by 50 per cent. Since it was not possible, officers resorted to burking i.e. non-registration of FIR. Later when Mayawati came to power, she asked for crime to be reduced by 70 per cent. At least half a dozen officers were suspended as they could not score more than a 30 per cent drop," says Singh.
Non-registration of FIRs was reflected as a chronic problem of policing in as many as four presentations at the conference of DGPs of state and Central police force in Bhuj, Gujarat, last month. One shortlisted presentation, by UP cadre IPS officer Rajeev Krishna, claims that only 9-21 per cent of all crimes in India get registered by police. According to Krishna, who has arrived at the figures by applying International Crime Survey Data to Indian scenario, 30 per cent people never report a crime to the authorities, while over 50 per cent are turned away by the police.
A 2003 crime victimisation survey conducted in Tamil Nadu by noted criminologist K Chockalingam found that only 4 per cent of sexual offence victims report the crime.
In a judgment on November 12, 2013, a five-judge Supreme Court bench headed by then Chief Justice of India P Sathasivam, said, "Burking of crime leads to dilution of the rule of law in the short run; and also has a very negative impact on rule of law in the long run since people stop having respect for rule of law." In his detailed presentation, that quotes the UNODC data and the SC order cited above, Krishna proposes changes in laws and systems that he claims would not only make police more efficient but also transparent.
Some of the suggestions made by Krishna include legal recognition of calls made to Dial 100 (police control room) as FIRs, statutory status to crime victimisation survey, digital recording of complaints and oral evidence and step-by-step tracking of investigations through technological interventions.
"In developed countries in Europe and the Americas, governments regularly conduct crime victimisation survey (CVS) to get a sense of the level of crime in a region or state. The difference between survey results and crimes actually registered are taken seriously and the attempt is to minimise the gap. No such system exists in India," said Krishna.
A proposal sent by Bureau of Police Research and Development (BPR&D) to the home ministry recommending CVS has been gathering dust over the past several months.
The consequence is that policies to combat crimes are formulated on the basis of limited data of registered crimes only and thus fail to have desired results.
"If all crimes are registered, realistic patterns can be drawn and preventive measures taken accordingly," said Krishna who argued that rule of law is just as important for the country's GDP. Krishna cites a survey conducted by The Economist Intelligence Unit among 301 top executives of Forbes 500 companies. The survey held that rule of law (88 per cent) was the third most important consideration for companies after 'stable political environment' (92 per cent) and 'ease of doing business' (92 per cent).
Krishna's suggestion of Dial 100 calls to be registered as FIRs, however, poses the formidable challenge of investigating such huge number of crimes by an overburdened police. The presentation provides for checks in the form of elimination of cases that do not need investigation or have no evidence at a preliminary stage and making the offence of knowingly lodging a false complaint cognisable. According to experts, only in India, once a case is registered, it always lands up in court. In most countries there is a system of screening to reduce the number of cases that are chargesheeted or prosecuted after chargesheeting. The Criminal Procedure Code (CrPC) even has a provision for this under Section 157. But NCRB data shows that this section has been invoked in only 0.03 per cent cases in 2014.
Former DG of BPR&D NR Wasan said, "In UK, if your vehicle is stolen from an unauthorised parking, the police does not investigate the case. But greater emphasis is laid on violation of personal liberty. Thus if you are robbed or raped, it will always be registered and investigated." Krishna has also suggested a string of technological interventions, at a total cost of less than Rs 1,000 crore, to help meet the expectations arising out of better registration of FIRs. These include up-gradation of police control room with police specific call centre software which is compatible with CCTNS and acceptance of electronic case diaries in courts under Evidence Act.
That 94 per cent of investigation time is wasted in writing case diaries and recording statements, is an argument in favour of technological solutions and better policing.
The Indian Express website has been rated GREEN for its credibility and trustworthiness by Newsguard, a global service that rates news sources for their journalistic standards.