Written by
Ritu Sarin
| New Delhi |
Updated: July 12, 2016 12:56:37 pm
THE Essar tapes episode has taken a dramatic turn with Albasit Khan, the ex-Essar employee who allegedly handled the tapping of VVIPs for five years — reported first in The Indian Express  on Friday — distancing himself from Suren Uppal, the Supreme Court lawyer who says he represented him and who had complained about the tapping to the Prime Minister.
Khan who, Uppal said, had recently snapped all communication with him surfaced today to claim, in an email, that he never hired Uppal. And that the lawyer had "concocted" the tapping story to "extract money from corporate bigwigs."
Watch | Essar Phone Tapping: Centre To Order Police Probe
Also Read | Essar leaks: 'Tip of iceberg…(chats) expose corruption in business, govt, politics'
Khan's email to Uppal, curiously, was sent to The Indian Express by a top Essar spokesperson from his official email ID.
Uppal said this didn't come to him as a surprise.
Read full coverage of stories from Essar Leaks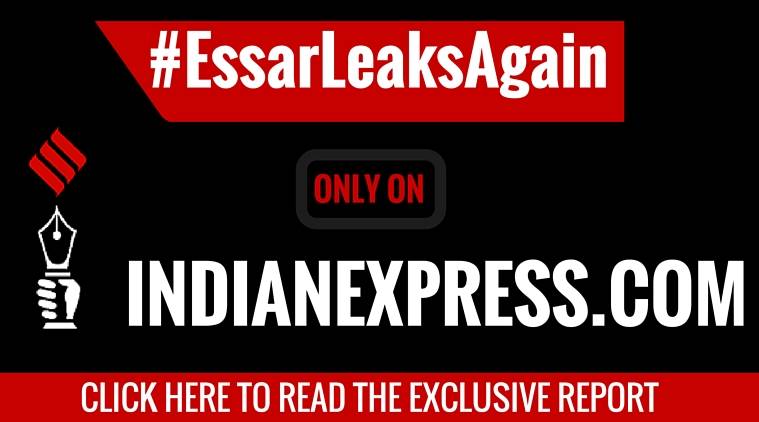 "I have said in my complaint to the Prime Minister that Essar has won over Albasit Khan," Uppal said. "I have enough evidence with me that Albasit Khan was in touch with me on the subject of the interception operations. I have logbooks of the entire operation handwritten by Albasit himself. I will prepare a PIL and hand over all this material along with the tapes, running into over 25 hours, to the Supreme Court."
Uppal had cited several details that, he says, establish that he and Khan were working together to "expose" the tapping.
Uppal has given The Indian Express copies of what he calls are e-mails he exchanged with Khan, a phone conversation purportedly between Khan and an Essar employee as well as copies of e-mails with transcripts of tapped conversations which Albasit Khan's son, Umair Khan, sent to him and copied to his father in February 2016.
Uppal added that the "caution notices" which he had sent to the Essar management were also copied to Albasit Khan. "Why didn't he distance himself from me at that stage?" he said.
The Indian Express has with it copies of some of Khan's alleged logbooks, transcripts of several of the intercepted conversations as well as purported emails exchanged between Albasit Khan, his son Umair Khan and Suren Uppal.
Watch Video: What's making news
In his email, however, Albasit Khan expressed "shock and dismay" at media reports on the alleged tapping. Calling this a "criminal activity," Khan told Uppal: "I have never hired you or given you the mandate to represent me."
He said that the whole episode hinged on you (Suren Uppal) sensing "an opportunity to extract money from many corporate bigwigs, you created and concocted this story about my having conducted such surveillance illegally during my employment with Essar Group."
Khan added, "It appears that since your allegations/notice were not being taken seriously, you have now resorted to having them published in the media so as to create prejudice and pressure me into taking a position supporting your illegal actions."
In their statement issued today, the Essar Group said that Suren Uppal, "has concocted a completely false and baseless story involving us in order to make extortionist demands from us in the name of an ex-employee. When made to realise that we have absolutely no interest in acceding to such illegal demands, he is now looking to defame and pressurise us by using the media."
Between 2001 and 2006 — spanning one NDA and one UPA government — the Essar Group allegedly tapped several telephones of Cabinet Ministers, top corporate heads including Mukesh Ambani and Anil Ambani and many bureaucrats. The purported conversations reveal widespread peddling of influence in corridors of power, "corruption in the business milieu," brokering of deals and blurring of lines between business and government, said Uppal's complaint to the Prime Minister.
In a statement today, RIL said: "We are shocked at reports which suggest that we have been victims of unauthorised and illegal tapping of our telephones…We expect the authorities to take a serious view of these alleged violations of our right to privacy if indeed there has been any illegal wire tapping. We will render full co-operation to any authority in ascertaining the truth."
📣 The Indian Express is now on Telegram. Click here to join our channel (@indianexpress) and stay updated with the latest headlines
For all the latest India News, download Indian Express App.